Villa Milagro Vineyards
by
Kathy Sullivan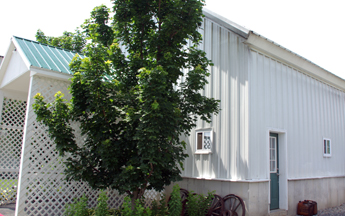 Summary: Villa Milagro Vineyards located in Finesville, New Jersey, is a small boutique winery focusing on organic and sustainable practices. Commander Cody, a friendly German Shepherd, patrols the vineyards and also greets visitors.
A journey to Villa Milagro Vineyards amid the New Jersey countryside is delightful. Wine enthusiasts will be greeted by Tuxedo, one of two cats, who will wind around your legs as you visit with Steve and Audrey Gambino, owners of Villa Milagro. Commander Cody, a large friendly German Shepard, if not patrolling the vineyards will also be there to greet you.
Villa Milagro is Spanish for "place of miracles." The name reflects the burnt earth that becomes green in the spring. Villa Milagro is owned and operated by Steve Gambino and Audrey, his wife. While Steve grew up in New York City, Audrey's childhood had been on a farm. Both Audrey and Steve are people of many talents. Early on, Steve was a race car driver, established Milagro Associates, Inc. in 1997 and is a BNI Executive Director. Audrey is a well-known nutritionist. Eventually they decided to search for a small piece of property in the country. After purchasing many acres, they discussed developing a produce farm that would supply vegetables and fruits to restaurants. Eventually they talked about the idea of making wine and that was the beginning of Villa Milagro Vineyards.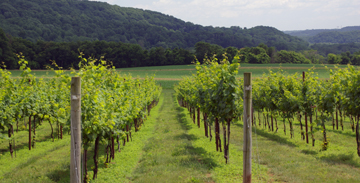 Vineyards
Steve and Audrey planted the first grapevines in 2003. They use organic and sustainable principles such as hand cultivation and tilling the weeds under the vines rather than the use of pesticides or herbicides. The couple wants to preserve the land for the present and for future generations. Currently the vineyards have 11 acres under vine. Varieties include Cabernet Sauvignon, Chardonnay, Vidal, Syrah, Norton, Pinot Gris, Cabernet Franc, Malbec, Frontenac and Sangiovese.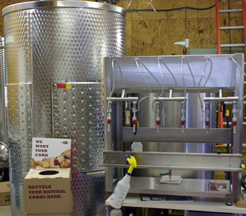 Villa Milagro Winery
Villa Milagro currently hand produces fewer than 1,000 cases. All wines are available at the winery. The tasting area is set apart in the winery building. A table with a red tablecloth adds a cheery note to the area. A bouquet of flowers adds more color. The colors highlight the bottles of Villa Milagro wines. The winery collects wine corks for the ReCork program that recycles natural corks.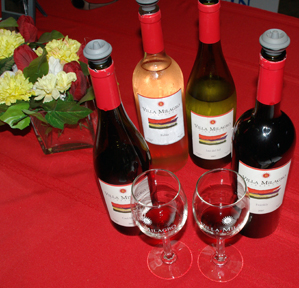 Wines of Villa Milagro Winery
The focus of the winery is producing serious wines including wine blends. They note that the world is bigger than Cabernet Sauvignon and Chardonnay. Winemaker and nutritionist, Audrey, believes that it is important wine be considered as a food. Frequently they offer tidbits to sample with wines.
Luz del Sol 2007 was a straw color. This wine was a blend of Chardonnay, Villard Blanc and Muscat Canelli. The aroma offered tropical and floral notes. The taste had nuances of yellow stone fruit and orange blossoms. The finish was crisp. Frankly 2007 was produced with 100 percent Cabernet Franc, The color was ruby with Sienna hues. There was licorice on the aroma while the taste had plum, raisin and licorice notes. The finish was crisp with mild tannins. The fruit yielded to spiciness. Rubia, a blush wine, was slightly sweet. Casi Dulce 2007 was aged in oak for two years. It was blended with a sweet wine and the result was a red wine with notes of sweetness. Consider pairing this with chocolate. Note the colorful label on the wine bottles.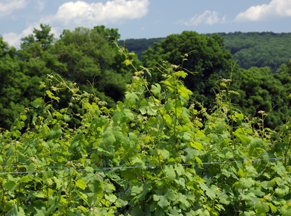 Visit Villa Milagro Vineyards and/or stop at the farmer's market in Flemington, New Jersey to find their handcrafted wines. The winery is open on Saturdays and Sundays. The farmer's market is on Sunday.
Villa Milagro Vineyards
33 Warren Glen Rd - Route 627
Finesville, New Jersey 08865
GPS: N40º 36.101' W75º 11.214'
---