Monsaraz
by
Kathy Sullivan
While visiting wine regions and individual wineries in Portugal, our tour included a visit to the historic village of Monsaraz. This is one of the oldest historic villages set high above the landscape. Visitors and travelers can wander through its narrow cobblestone roads lined with white washed and stone buildings immersing themselves in Portugal's intriguing history.

Monsaraz, a historical village in southern Portugal, is small and quaint, with a long history. This is one of the oldest historic villages in Portugal. The village includes the Monsaraz castle which was declared a national monument. Tourists, historians, artists will undoubtedly enjoy a visit to this museum-like village.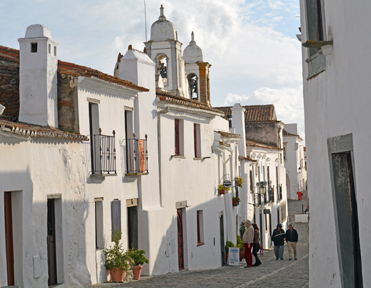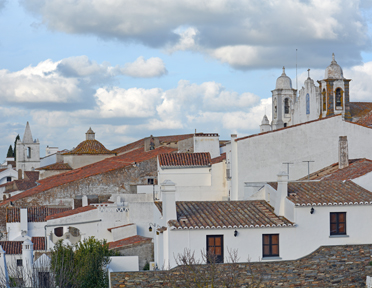 The high hill that is the location of Monsaraz has been occupied during several time periods including: Paleolithic, Neolithic, Chalcolithic, Bronze Age and the Iron Age. The village of Monsaraz is located high above the surrounding Alentejo landscape which features a countryside view of land stretching to the horizon. Its elevated location made it a likely place for use as a fort and castle, as it must have been considered a strategic site from which to see approaching enemies. At one time this area was called Saris or Sarish. During its long history, it has been occupied by Visigoths, Arabs, Mozarabs, Jews and Muslims. During the 1200s, Monsaraz became Christian.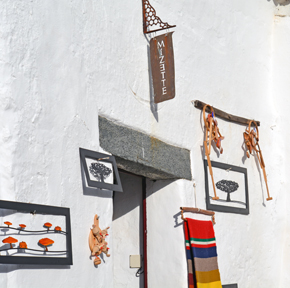 Visitors and tourists climb a long slope from the parking area. Monsaraz is a walkable village with a menagerie of buildings including churches, white washed and short stone buildings, and a few boutique shops offering artistic giftware and souvenirs.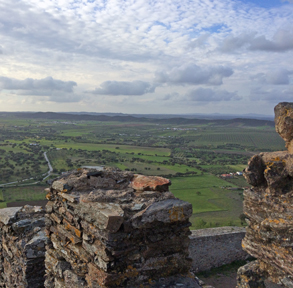 As one views the landscape, one sees mostly land with scattered trees/shrubs and large bodies of water in the distance. According to the book Reguengos de Monsaraz, Vines and Wine by Gabriela Carvalho, "An anonymous historical record from Reguengos is recognised [recognized] as proof that the area around Monsaraz was rich in olive groves and cork plantations. Descriptions of their clearing show that the trees grew vigorously, were productive and bore many good olives from which olive oil was made, any surplus going directly to Lisbon."

Because of its strategic location, Monsaraz has a long and complicated history. Below is a brief timeline, beginning with prehistoric times, indicating the many trials and successes of the village.
• Prehistoric times: signs of a fortified settlement.
• VIII century: Muslim invasions, renamed Saris/Sarish.
• 1167: Monsaraz was recaptured from the Muslims by Geraldo Sem Pavor.
• Eventually control of Monsaraz was lost and control returned to the Moors.
• 1232: King Sancho II with help from Knights Templars took control; the king donated the village to the Templars.
• 1300s: King Dinis built Monsaraz Castle.
• 1400s: Village is plundered by the English; the village is recovered.
• 1500s: Igreja Matriz de Nossa Senhora da Lagoa constructed; a church built over a destroyed Gothic church.
• 1640: new line of fortifications built providing better protection for the village.
• 1646: King João IV added memorial stone above the Gothic arch which hovers over the main village door.
• 1851: Monsaraz was the head of the municipality until this time; today Reguengos de Monsaraz is the head of the municipality.
While planning a visit to Monsaraz, be sure to include a stop at the nearby monolith. This monolith, was moved to its current location when Alqueva Lake was constructed.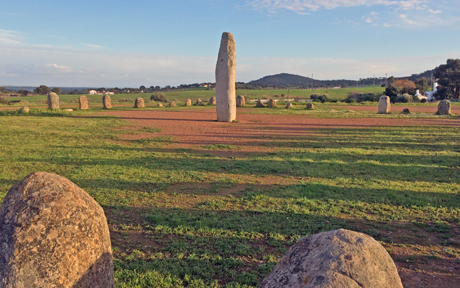 The village of Monsaraz is small but add plenty of time so you can take time to amble past the many historical sites and perhaps stop at one the boutique craft shops along the way.

Article written September 2018