White Oak Lavender Farm
by
Kathy Sullivan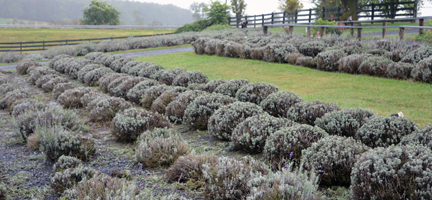 Summary: White Oak Lavender Farm provides a delightful, unique experience that combines a wonderful lavender experience with a relaxing and soothing Discovery get-away experience for adults, families and children. As one meanders through the large lavender fields and Discovery Area, one may even sense they are in a little bit of heaven. In addition to the Discovery experience, a gift shop offering, all things lavender related, is open daily. White Oak Lavender Farm is likely a destination that you wish was in your own backyard!
We stopped by White Oak Lavender Farm to visit their onsite vineyard and tasting room; but we were pleasantly surprised by the lavender farm experience. We met Rebecca Haushalter who took us on a detailed visit of the lavender fields and the Discovery Area low stress experience. White Oak Lavender Farm is a member of Shenandoah Valley's Farm Trail.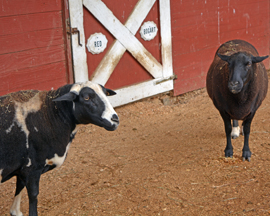 Rebecca noted that her mother Julia believed that cancer can be caused by stress; therefore one of the purposes of the White Oak Lavender Farm experience is to lower stress and provide a relaxing spot away from the hustle and bustle of every day life. The farm has numerous acres of 30 different varieties of colorful, thriving lavender. Nearby, vineyards have been added. A variety of animals can be visited and photographed; although, Rebecca noted that this is not a petting farm. The owners want the animals to be housed safely, lovingly and to live as naturally as possible. The healthy animals to be seen include: rabbits in the Rabbitat, miniature horses, Welsh ponies, goats, sheep, alpacas, small pigs, Dottie the hen and Pumpkin the cat.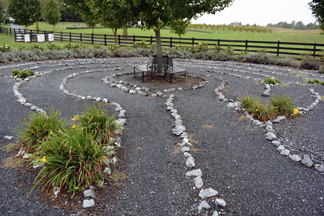 The Discovery Area includes seating areas for relaxing, a small pond to wander around, and a large labyrinth to walk. A sign describes the use of the labyrinth. "Labyrinth walking is a contemplative practice that allows us the opportunity to quiet our self, reflect on our life journey, and spend time with the divine. The labyrinths are an ancient symbol that has been found throughout history in all of the great faith traditions. Meditation is now accepted in our country regardless of faith background. Labyrinth walking can be experienced by individuals or groups for decision making, soul searching or even celebration!"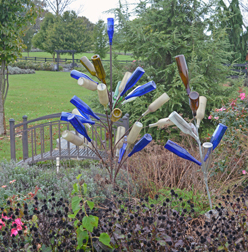 During our travels we occasionally have seen bottle trees. We thought of these as pieces of whimsical art. White Oak Lavender features a bottle tree with a sign noting the historical nature of bottle trees. "Bottle trees have been around for thousands of years! The tradition came to the United States from Africa during the time of the Atlantic slave trade. It was believed that bottle trees warded off evil spirits. We love the whimsical gift of the bright colors and the joy that the bottle tree brings to us each day!"
Another feature of the Discovery Area is the life-size checker set. Nearby is a large fenced-in duck pond with a small rippling waterfall and lush vegetation where visitors can sit and relax while listening to the sounds of nature.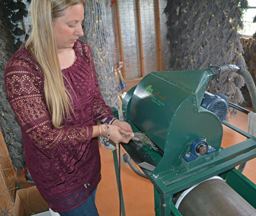 Our tour with Rebecca took us to a small building which was filled with wire racks for drying bunches of lavender. The racks reached from the floor to the ceiling. Rebecca demonstrated how the lavender seeds are removed from the stems, one bunch at a time. In another area, Rebecca showed us the large outdoor still where they produce lavender essential oil.
The lavender gift shop offers a large variety of lavender products. In addition to lavender essential oils, look for lotions, creams and aromatherapy. Visitors are likely to find a gift for the most difficult person to shop for. For those who can not travel to White Oak Lavender Farm, the products are available online. If you are planning to travel to the Shenandoah region of Virginia, plan to spend some time at White Oak Lavender Farm. Wine enthusiasts can stop by the onsite tasting room and taste wines, some infused with lavender.
White Oak Lavender Farm
2644 Cross Keys Road,
Harrisonburg, Virginia 22801
GPS: N38º 21.858' W78º 50.312'
Article written Otober 2016

---
Visit these Virginia wineries and wine tour groups that partner with Wine Trail Traveler.