Bagpipes Concert in Lisbon
by
Kathy Sullivan
On our second evening in Lisbon, our winery traveling group was treated to a bagpipes performance by a group of musicians who excelled in playing a range of bagpipes that have developed over many years. An extensive range of music was enjoyed by all.
Our group left the boutique and very comfortable Justin Hotel and walked along primarily dark, cobblestone streets up an incline. It was our second experience in walking on the cobblestones of Lisbon and we discovered that without extra caution it was easy to slip on the wet cobblestones, even with proper footwear. After a twenty-minute walk, we arrived at a multi-story building and were escorted up several flights of old wood stairs to what was once a classroom and now turned into a relaxed room for small performances.
The room had a small stage for the talent with a piano, chairs a large drum and a table with assorted bagpipes. The back wall had a large painting of a Knight Templar.
We quickly learned that bagpipe construction has changed over the centuries. One of our guides on a tour in Portugal, Georgi, is an accomplished bagpipe constructor. Bagpipes are not just Scottish instruments but can be found across Europe. Several types of bagpipes can be found in Portugal, but the bagpipes types have a regional influence. The primary bagpipes in Portugal are the Gaita found along the Atlantic coast and the Gaita Transmontana which is associated with Trás-os-Montes.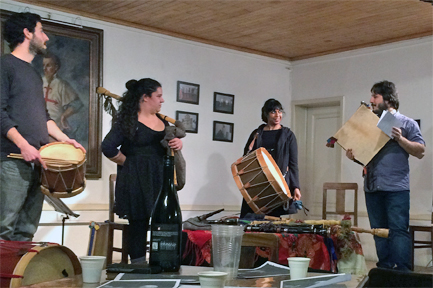 The performance included the use of different bagpipes depending on the the musical selection. In addition to the various bagpipes used during the performance, music instruments included cello, bass drum, Tom-tom drum, snare drum and bells.
The group's members included Ana Pereira who plays bagpipes, sings and plays the Adufe (a square tambourine; Silvana Dias who sings and plays the cello, Adufe, Bombo (Bass drum); and João Mendes who plays the timbalão (Tom-tom drum), Adufe, Tamboril (Snare Drum), Bodhrán (an Irish drum) and bells.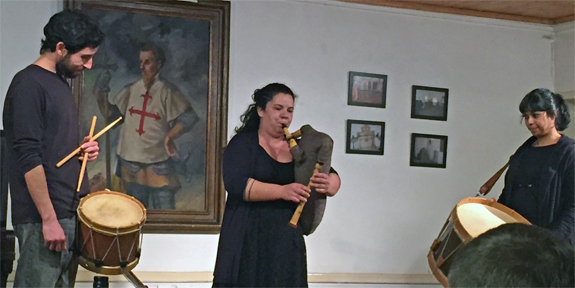 The music for evening included traditional music, traditional Trás-os-Montes music, and traditional Baixo Alentejo music. Between each selection each of the bagpipes were introduced and described to our group, a receptive audience.
While in Lisbon and elsewhere in Portugal, look for opportunities to enjoy a bagpipes concert.
Below is a video of one of the songs we enjoyed in March 2018. This traditional song was from Alentejo. Ilha dos vidros included Bagpipe, Cello, Voice, Bodrhán and Timbalão. The two verses of the song sung included:

Venho da ilha dos vidros
Da praia dos diamantes
Ando no mundo perdido
Pelos teus olhos brilhantes
Pelos teus olhos brilhantes
Pelo teu rosto de prata
Ter amores não me custa
Deixá-los é que me mata

Article written October 2018