Strawberry Acres
by
Kathy Sullivan
photos by Kathy Sullivan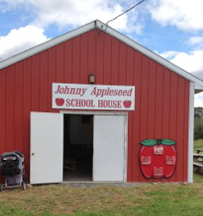 Summary: Strawberry Acres in Coplay, Pennsylvania offers a wonderful opportunity to enjoy Pennsylvania's countryside and have fun picking your own fruit. Despite the name though, visitors will no longer find strawberries to pick, but you can pick orchard fruits including cherries, peaches, apples and pears.
In September, our group of media from the MATPRA conference visited Strawberry Acres in Lehigh Valley, Pennsylvania. We began at the small red one-room schoolhouse, the Johnny Appleseed School House, where we learned the history of the farm property from third generation Pam Haas. In 1983, the orchards suffered from a hailstorm. They had a 50 percent loss due to the storm. The owners made the decision to offer pick your own fruit in the orchards. Pam and Daniel purchased the farm from his father, Daniel Haas in the mid 1980s.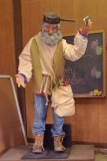 On the outside of the schoolhouse a large apple has questions that can be flipped for the answers. The questions include: "How many pounds of apples do Americans eat annually? Why do fresh apples float? How many apples are used to make 1 gallon of cider? Energy is needed from how many leaves to produce one apple?" The schoolhouse has a large over-sized mechanical statue of Johnny Appleseed. Children will enjoy a presentation of the seasons in an apple orchard.
The farm was purchased in 1925. It was in the 1980s when Pam and her husband took control of the land and headed the farm towards the pick your own fruit market. Now she runs the business and her brother is the orchard manager. Today Strawberry Acres provides pick your own fruit opportunities for visitors.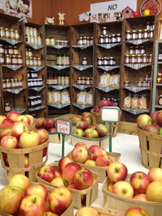 A one-story, long building also offers an assortment of foods including fruits. Look for McCutcheons jellies and jams, Shoe Fly pie mix, fresh baked pastries, and apple cider. Visiting in the middle of September, numerous colorful fall decorations were available for purchase. In the fall, pumpkins are available.
In addition to the opportunity to pick your own fruit, Strawberry Acres offers special activities for school children. Large cutouts for children are perfect for photos. A three dimensional "cow" allows children to experience "milking" a cow. Not far from the shop, a large playground apparatus provides an opportunity to run off excess energy.
Large wagons pulled by a tractor allow groups to view the many acres of orchards. The orchards are located on some of Pennsylvania's beautiful rolling hills. Currently the property has about five acres of cherries, five acres of pears, forty acres of peaches and sixty acres of apples. A late hard frost in the spring of 2012 damaged much of the apple crop. However, not all apples were affected by the cold and apples were still available.
While many people come to Strawberry Acres from the area, numerous numbers travel from northern New Jersey and Philadelphia.
Strawberry Acres near Allentown, Pennsylvania is a wonderful opportunity to experience the country life. Visitors can easily spend a few hours enjoying the many delightful country aspects including fresh air and fresh fruit.
Strawberry Acres is relatively close to Clover Hill Vineyards & Winery and Vynecrest Vineyards Winery. Consider a day of fun with visits to orchards and vineyards.
September 2012

Strawberry Acres
1767 Clearview Rd.
Coplay, Pennsylvania 18037
Website: http://www.strawberryacres.com