Images of the Amazing Village of Sighnaghi
by
Kathy Sullivan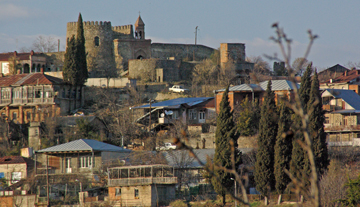 Sighnaghi is a small Georgian village located in the mountains, southeast of Tbilisi. In recent years the government has assisted with reconstructing the town. Remains of the fortress walls built in the village have been maintained. Numerous buildings have been restored or renovated.
Walking along the cobblestone streets makes one think of what life was like during the 18th century. Today some refer to Sighnaghi as a town-museum. The curved roads and quaint building styles offer a relaxing atmosphere. This is a town to visit when you have plenty of time to walk along the small shops lining the roads.
At one time Sighnaghi was a thriving village with many artisans and tradesmen.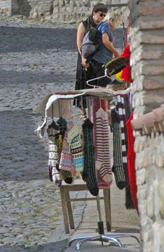 Today many accommodations are available in Sighnaghi, although most are on the small side and remind one of bed and breakfasts.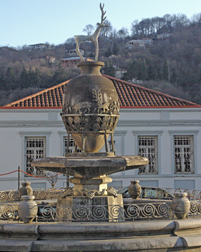 Our first stay in Sighnaghi in 2013 made us think of a home with rooms to rent. Breakfast was downstairs. Breakfast was adequate and our hostess was friendly. The next morning we discovered these accommodations were located on a side street that was home to several women who sell their handcrafted sweaters and other goods on the side of the street. Unfortunately just as I discovered this and headed towards the women, our driver arrived and I had to leave with a promise to myself I would make it back again. In 2014 I did get to Sighnaghi but with my foot in a cast made it too difficult to discover these handmade Georgian craft items.
Kabadoni Boutique Hotel
In Spring 2014, our lodging was at the Kabadoni Boutique Hotel, which appeared to be near the center of the village. Within a few blocks numerous boutique stores were available for the tourist's enjoyment. Kabadoni Hotel is an up-to-date modern style hotel. Private events including weddings take place here. What amazed us most were the views from our windows and balcony. With red clay tiles, towers and church steeple in the foreground we had views of the Alazani Valley in the distance. The Kabadoni hotel offers five different tours:
Tour #1 Kakheti Wonderland
Tour #2 Kakheti wine route
Tour #3 Kakheti Holy Land
Tour #4 In Touch with Nature
Tour #5 The Nature riches of Kakheti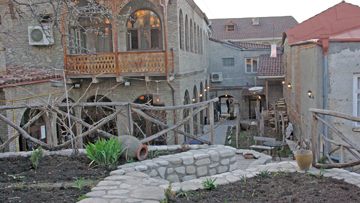 Pheasant's Tears Winery
This town is also home to Pheasant's Tears Winery, a combination of a qvevri marani, restaurant and event room. A dinner at Pheasant's Tears is special. As a professional artist, winemaker and owner, John Wurdeman has taken special care to decorate the restaurant with Georgian art. A large, detailed carved wood press is located near the front of the restaurant. Next to the restaurant is John's room where he showcases his artwork, available for sale. On a lower level John added a marani where several qvevri are buried and aging wine. The newly renovated event room is on a second floor and offers a great place to host a supra.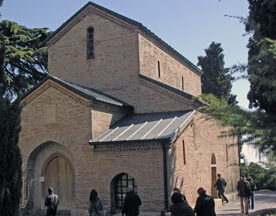 Bodbe Convent
About two kilometers from Sighnaghi is the Bodbe Convent. It is believed that Bodbe Convent was built early in the 4th century. When the Russians occupied the region, they built a Russian bell tower next to the church. The Bodbe Convent is the location of Saint Nino's body. St. Nino is believed to be the person who caused Christianity to be widespread throughout Georgia. She was able to accomplish this feat by following the instructions from the Blessed Virgin Mary who told Nino to go to Georgia with a cross-created with two grapevines tied with Nino's hair. The Georgians whose culture and life depended upon wine and vineyards listened to Nino. On the property of the Bodbe Convent a spring exists that people with perseverance can walk to. At one time St. Nino's Spring was located near the convent; however, during the Bolshevik annexation times, the spring disappeared, reappearing in a nearby ravine. Miracles have been recorded at St. Nino's Spring.
While walking along the cobblestone roads that lead through the village, look for statues, boutique shops, and the Sighnaghi Museum that was built in the 1950s and has been updated.
According to several sources, Sighnaghi is known as the city of love.
Article written July 2015