Allentown Fairgrounds Farmers Market
by
Kathy Sullivan
Summary: Allentown Fairgrounds Farmers Market offers a fun filled shopping experience for consumers. With more than 60 vendors, visitors are sure to want to fill a shopping bag. The market is open Thursday, Friday and Saturday.
Our group from MATPRA arrived at the Farmers Market and were immediately greeted by a costumed cow. Was it Elsie the cow? No, it was Moodonna the Allentown's Fair mascot.
The Allentown Farmers Market is enclosed primarily with brick and has 90,000 square feet of space. Colorful foods and signs add to the experience. When visiting many people will consider their own local grocery store to offer a skimpy choice of meats, vegetables and fruits will discover that Allentown Farmers Market provides a huge assortment.
The Farmers Market is located in the same location as the Allentown Fairgrounds. The Farmers Market located in a long brick building is the exhibition building for the fair. In addition to the many types of meats, fruits and vegetables, consumers can discover a variety of cheeses and pastries.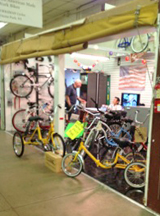 In addition to food shopping, other stands offer a variety of restaurant foods ready to eat. Look for barbecued chicken, seafood, pizza and dessert. Dessert types include fruit tarts and shoofly pie, candy and pretzels.
Other items available in 2012 included specialized bicycles, Clover Hill Vineyards tasting shop, and a kitchen gadget shop.
Strolling through the market taking photos, a woman asked who we were. After explaining we were a group of visiting journalists, she smiled and noted that she enjoys the market and has been "coming here for years."
The Allentown Farmers Market is open three days a week: Thursday, Friday and Saturday.
In the case of the Allentown Fairground Farmers Market, photos provide a look at the numerous items available along with the excitement, nuances and colors. Below are scenes captured by an iPad.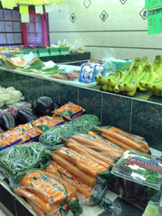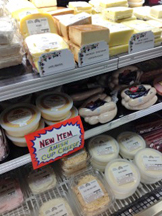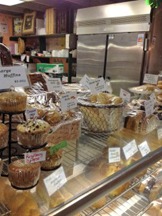 Allentown Fairgrounds Farmers Market
17th & Chew Streets
Allentown, Pennsylvania 18104
Article written January 2013.