Route 11 Potato Chips
by
Kathy Sullivan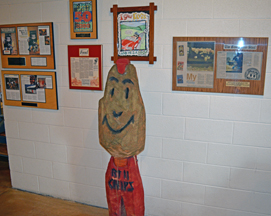 Summary: A visit to Route 11 Potato Chips in the Shenandoah Valley region of Virginia is a delightful surprise for potato chip fans. Visitors can view the process of making all types of yummy potato chips through large, plate glass windows and purchase an assortment of potato chips.
Once visitors enter Route 11 Potato Chips they will notice an eclectic assort of items to browse. Look for the antiquated American potato peeling machine, a large carved potato head figure, and colorful posters of potato chip packages. A good-size area is filled with a variety of Route 11 potato chips available to purchase. In addition to the wide variety, many different size packages are available. Having a party? You might want to consider a three-pound package of chips.
Route 11 Potato Chips is focus on making specialty old style kettle potato chips. The business originally started in a building on Route 11 in Virginia. An increase in the size of the potato production was the impetus for the business to move to a nearby industrial site. Now, Route 11 Potato Chips is located in a bright, white building.
We met Sarah Cohen, owner, who described her entry into potato chip making. Her family had been in the hotel/restaurant business and delved into potato chip making. Sarah is enthusiastic about potato chip making and quickly begins talking about why the Route 11 potato chips taste better. She noted that all of the potato chips are made with sunflower oil. According to Sarah, sunflower oil is the best oil to use for cooking potato chips because the oil has very little flavor and allows the taste of the potatoes to be more noticeable.
Since Sarah is surrounded by potato chips all day, we asked her if she enjoys potato chips at home. With a smile, she commented that she tries not to eat potato chips at home but does eat them at work.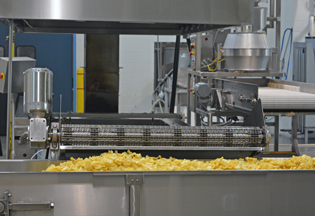 Route 11 Potato Chips dates back to 1992. At the time they had no packaging machine so people purchased the chips over the counter. Route 11 Potato Chips became a destination because people can view the process of making potato chips. The focus of Route 11 Potato Chips is on making a great product. The potato chips are kettle cooked in small batches.
Each day 15,000 pounds of potatoes grown on the East Coast arrive at the facility. It takes three days to chip them. At the time of our September visit, Route 11 staff had just finished a batch of potatoes from Virginia.
When making sweet potato chips, the sweet potatoes are sourced from an organically farmed sweet potato farm on the Eastern Shore.
Steps to Producing Route 11 Potato Chips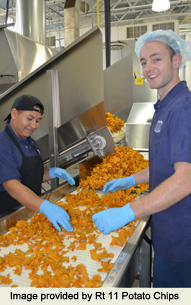 1. Pealing 50 pounds of potatoes in 20 seconds
2. Slicing potatoes, 42 seconds to slice 100 pounds
3. Cooking in sunflower oil, cooking the water out by evaporation
4. Chip inspection
5. Adding salt using unrefined sea salt from Utah
6. Adding seasoning
7. Bagging the chips. This takes place on the second floor. A large window is available for visitors to check this process out.
When talking about pairing champagne with potato chips, Sarah commented, "If you make a good product, it will go well with champagne."
Availability of Route 11 Potato Chips
These special potato chips can frequently be found in hotels and specialty shops. In late fall, sweet potato chips are available at COSTCO. For anyone who does not live near, Route 11 Potato Chips, an online shop is available.
Potato chip fans traveling in the Shenandoah Valley region of Virginia should be sure to visit Route 11 Potato Chips.
Route 11 Potato Chips
11 Edwards Way
Mount Jackson, VA  22842
GPS: N38º 43.182' W 78º 39.749'
Article written October 2016.