Hot Air Ballooning Over Southern California Vineyards
by
Kathy Sullivan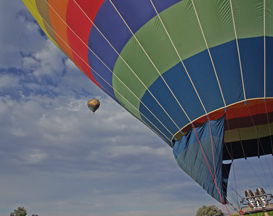 Summary: For anyone wide-awake at 5:30 am, hot air ballooning must be on the list of things to do before turning another decade older.
For those who can brave the early morning hours and are about to reach the big 3-0, 4-0 or beyond, hot air ballooning must be on a list of things to do before starting another decade. A hot air balloon ride is a delightful way to celebrate an anniversary, birthday or special occasion.
Hot air ballooning takes hard physical work by the crew while those taking the trip watch as the whole event unfolds. The adventure is well worth the inconveniences of early rising and locating the perfect spot for launching. A typical hot air balloon ride begins with riders meeting at a designated spot. From there they travel as a group with the pilot. A trailer follows behind with the necessary equipment including the basket and the deflated balloon.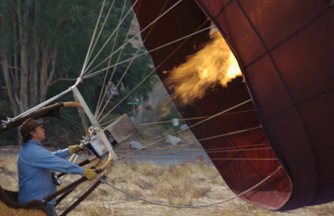 Hot Air Ballooning Weather Conditions
Upon reaching a potential launch site, a small balloon may be launched. The pilot of the flight carefully watches the airflow as indicated by the movement of the balloon. Using this information the pilot makes the decision on whether a safe launch is possible. If the pilot deems the site not safe, he may either cancel the flight for that morning or drive several miles to another location and send up another small balloon.
Launching a Hot Air Balloon
Once the decision is made that a hot air balloon launch is as safe as possible, the hard work by the crew begins. The large basket and balloon are heavy and it requires many hands to unload the equipment. The next step is to completely roll out the balloon. The engine is started and with the help of large fans, the balloon is filled with outdoor temperature air followed by heating the air. As the balloon fills, the basket is lifted into an upright position.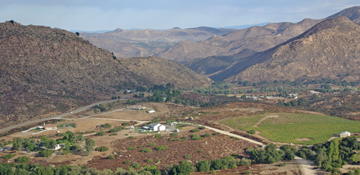 Views of Temecula Valley
The pilot climbs into the basket and soon travelers are eagerly following. The sides of the basket are high and there is no sense of possibly falling out. When all is ready the pilot fires the engine and the balloon slowly and gently begins to rise above the landscape. In Temecula Valley passengers will enjoy views of vineyards and orange groves. The vineyards and orchards with mountains in the background can provide stunning photo opportunities.
While the passengers are enjoying the landscape views, the balloon chase crew is on the ground following the balloon. The chase crew needs to be near the landing area to help with the balloon. If all bodes well, the landing will be smooth with just a minor bump. The crew will be ready to secure the balloon and basket.
Locating a Hot Air Balloon Company in Southern California
There are several hot air balloon companies in Southern California. Some are members of the Temecula Valley Chamber of Commerce. The owners of California Dreamin' are David and Gail Bradley. They have extensive experience in hot air ballooning and focus on safety. The Bradleys are also owners of La Vindemia winery. Other balloon companies include D & D Ballooning, Magical Adventure Balloon Rides, A Grape Escape Balloon Adventure and Above the Rest Hot Air Ballooning.
Hot air balloon rides are a perfect birthday, anniversary, wedding or Christmas gift.
January, 2011