Showalter's Orchard and Greenhouse
by
Kathy Sullivan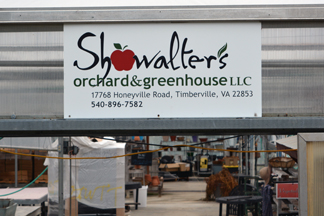 Summary: Showalter's Orchard and Greenhouse is a destination site for those who love anything apple, including hard apple cider. It is also the site for large greenhouses that house plants grown hydroponically. Showalter's is also known for Old Hill Hard Cider.
When we visited Showalter's a year ago, we concentrated on tasting and writing about the Old Hill Hard Ciders. This year we we returned to discover more about their apple history and production and see more of their greenhouses. Immediately, just outside of the shop, we noticed huge crates of pumpkins available for purchase.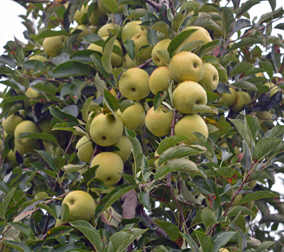 The Showalter family purchased the property including established orchards in 1965. Currently they have 25 apple varieties. This is apple country where others also have many acres of apple orchards covering the hillsides. Near the delightfully, old two-story farmhouse are several buildings used for apple production and apple cider making. While touring the area, a large trailer was seen loaded with large, wood crates filled with apples arriving at the sheds.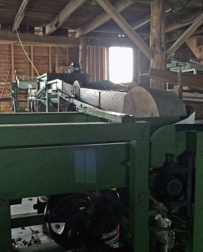 One building is the grading shed that has a 100 year-old grader. A sign in the shed, "The grading shed dates back to the early 1930s. Here the machine sorts the apples according to size. The apples are washed and sent by conveyor belt to quality control checkers to remove the not so pretty apples. The "cull" apples are put into a bin to be used for fresh cider. The sized apples are packed into bushel boxes to be sold to consumers in the selling barn."
Showalter's also has a cold storage building, although Kelli Lane, our guide, noted that they do not store apples too late into the winter.

Close to the orchards, a large, artistic LOVE sign is seen. The L, V and E are made of apple wood while the O is made of stainless steel.
The main focus for visitors is the building for shopping for apples. This is the spot for enjoying a yummy cup of hot mulled cider while deciding which variety of apples you should buy.
Pick Your Own Apples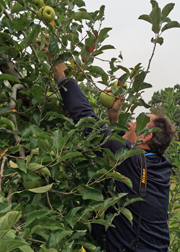 Showalter's offers the more adventurous folks the opportunity to pick their own apples. Visitors purchase a large black cloth bag for their trek into the orchards and are directed to the appropriate orchard area to harvest their own apples. The apple season traditionally extends from the end of August thru October. It was a windy/rainy day for our visit but we chose to purchase a half bushel of apples and quickly found ourselves in the orchard harvesting large Yellow Delicious apples to take home for apple pies, apple cakes and baked apples. Yum!
Greenhouses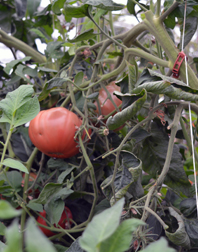 The hydroponic greenhouses at Showalter's are immense. Depending on the time of the year, visitors may find lettuce, tomatoes, cucumbers or an assortment of other produce. Showalter's is continuing to grow more and more vegetables and fruits hydroponically. Kelli noted that currently the greenhouses are dependent upon natural sunlight for their light source. In late September, tomato plants were reaching as much as 10 feet in the air. Kelli suggested that a good time for a visit to the greenhouses is perhaps April or May.
In the spring, visitors to Showalter's will find an array of plants available for their gardens at home. Just a few of the bedding plants available include the traditional tomatoes, peppers, eggplant, lettuce and more. Perennials are also available. During our visit in late September we saw many lush containers of colorful chrysanthemums also available for purchase.
The Produce and Gift Shop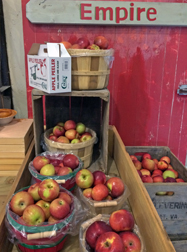 Apples, cider, Virginia food products and other products produced in Virginia are available in the shop. The store is laid back and shoppers can meander around while judging which apples are best for their eating or cooking needs. In the fall consider purchasing a glass of hot cider while choosing among the variety of items on display. Look for Virginia handmade soaps, linen spray, a shaving bar and even a Virginia laundry soap kit. Fresh vegetables from the greenhouse are also available.
Adjacent to the shop is a room where hard apple ciders crafted onsite can be tasted, enjoyed and purchased. For more information about Old Hill Hard Cider, read the Wine Trail Traveler article.
When traveling in the Shenandoah region of Virginia, make plans to stop by Showalter's to experience all they have to offer.

Showalter's Orchard and Greenhouse
Old Hill Hard Cider
17768 Honeyville Road
Timberville, VA 22853
GPS: N38º 40.125' W78º 47.780'
Article written October 2016.