Purple WOLF Vineyard
by
Kathy Sullivan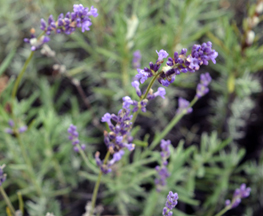 Summary: Purple WOLF Vineyard is the result of a lavender farm where owner, Julie Haushalter, became interested in establishing onsite vineyards and producing wine. The winery tasting room opened in 2015 and visitors will discover several traditional wines to taste but also uniquely infused lavender wines.
The Purple WOLF winery tasting room opened to the public in November 2015. The name for Purple WOLF came about as Rebecca Haushalter, Julie's daughter, grew tired of writing out White Oak Lavender Farm, instead she used the initials WOLF. The tasting room is in a separate building within steps of the lavender shop. Inside, the tasting room is cozy with a shining oak tasting counter. Windows are decorated with white curtains that are decorated with lavender. The color purple, reminiscent of lavender, is used everywhere at Purple WOLF.
Adjacent to the tasting room is a deck with tables and chairs where visitors can relax with a glass of wine while enjoying views of the vineyards and lavender fields.
Vineyards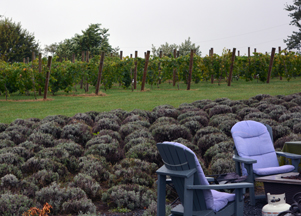 The Purple WOLF vineyards consist of one and a half acres. One acre is comprised of 1,100 Viognier grapevines; the other 1/2 acre has 200 Norton vines. The winery also sources grapes from Cave Ridge Vineyards.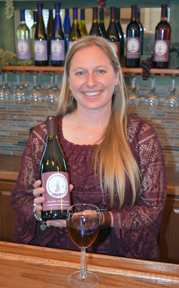 Rebecca studied at Virginia Tech where her studies were in hospitality and food preparation. During Rebecca's senior year she worked in Napa and Sonoma where she fell in love with the wine industry. After graduating from Virginia Tech, she worked in DC and then worked at Cross Keys Winery for several years.
Eventually Rebecca was inspired to plant her own vineyards and to begin winemaking. Today she has a remote license and Purple WOLF wine is made by winemaker Randy Phillips at Cave Ridge Vineyards with Rebecca's assistance.
Lavender Wines
The wines with notes of lavender are produced with lavender vegetable extract that is used to blend with a wine. The extract is made with a tea made from dried lavender and simple syrup. Rebecca mentioned that she had tried to use lavender essential oils with the wine but that the result was not what she wanted. A small bottle of lavender extract is available for purchase in the tasting room.
We tried several wines, both traditional wines and those with lavender extract added.
Viognier 2014 was a light yellow color with a floral aroma. The taste was of flowers and tropical fruits including melon, pineapple and citrus. The wine had a very smooth mouthfeel. Traminette 2015, with 12.5% alcohol, was a light yellow color that offered a floral and spice aroma. The taste had rose, lavender and violets with hints of cloves and cinnamon. Adding a drop of lavender extract seemed to add a soothing sense and peacefulness.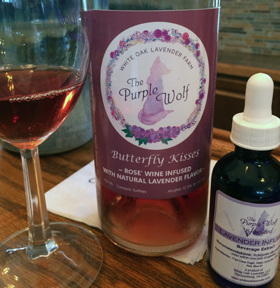 Riesling 2014 was a light yellow. The wine had floral and citrus notes. The finish was crisp. By adding two drops of the lavender extract, the wine was still crisp but with a soothing mouthfeel. Imperial Gem 2014 was infused with lavender. The yellow colored wine offered an aroma of apple, pear and floral. The taste was of apple, pear and honeysuckle. It was very smooth.
Chambourcin 2013 was an opaque ruby color with a purple hue. The wine offered notes of raspberries with a bit of leather. The wine had mild tannins and was full-bodied. The finish was crispy. Pardon My Purple 2013 was lavender infused. This translucent red colored wine with a ruby hue offered notes of raspberries and lavender. The mouthfeel was very smooth. The medium-bodied wine had mild tannins. Fruit and lavender were on the aftertaste.
Cabernet Franc 2012 was a translucent ruby color. The wine had dark fruit notes, including cherry and some plum. Leather notes were also noted. This full-bodied wine had tannins. The finish was crisp and fruity. Butterfly Kisses was a blend of Cabernet Franc and Chambourcin. This wine was infused with lavender. The wine was a translucent red color with a pink hue. The wine offered notes of cherry, raspberry and lavender. Some crispness was also noticed.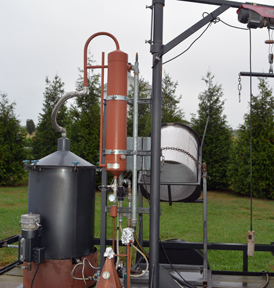 While visiting Purple WOLF winery be sure to plan to experience the entire destination including ambling through the Discovery Garden, visiting the lavender gift shop, seeing a still for making the essential lavender oil (pictured) and relaxing with a glass of wine on the deck. Be sure to try a lavender infused wine. Savor the Purple WOLF experience for yourself!
Purple WOLF Vineyards
2644 Cross Keys Road,
Harrisonburg, Virginia 22801
GPS: N38º 21.858' W78º 50.312'
Article written Otober 2016

---
Visit these Virginia wineries and wine tour groups that partner with Wine Trail Traveler.