Shendoah Vineyards
by
Kathy Sullivan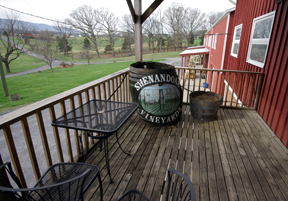 Summary: Shenandoah Vineyards was established in 1976 when the owners planted the first vines. The winery is the oldest winery in the Shenandoah Valley AVA. The tasting room has a relaxed atmosphere and is not stuffy. Emma French Randal, owner, believes that the winery offers a "wine for every palate."
Shenandoah Vineyards is just a short distance off Interstate 81. A long driveway with acres of vineyards on the right leads to the tasting room, located in an old Civil War era post and beam barn.
In front of the renovated tasting room and winery a grape arbor stands with nearby picnic tables available for anyone wishing to stop with a picnic lunch and enjoy a Shenandoah wine. Inside, the tasting room is charming. The old beams of the structure add to the coziness of the room. A section with several tables is available for guests who wish to share a bottle of wine with friends.

Emma and Jim Randel discovered the passion of winemaking after reading a Commonwealth Magazine article. Originally living in New Jersey, they continued learning as much as possible about vineyards and winemaking. In 1974, they experimented with producing their own wine in new garbage cans. Emma smiled when she remembered that the taste of those first wines was not so good. Today is an entirely different story. They continued learning more and in 1976 their family planted 5,000 French/American hybrid vines in Virginia's Shenandoah Valley. In 1977, they started making wine with grapes from other vineyards. Today they have 26 acres of producing vineyards that include Cabernet Sauvignon, Chardonnay and Riesling as well as Chambourcin, Vidal Blanc, Seyval Blanc and Villard Blanc. Other grapes are sourced locally.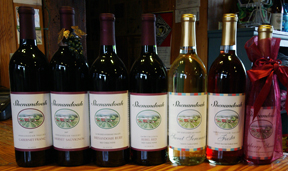 White Wines
Founders Reserve Chardonnay 2006 was aged in French oak for two years. There were apple notes and the wine was smooth with a crisp finish. Sauvignon Blanc was aged in American oak. The wine offered citrus notes and was smooth. Chardonnay 2006 was produced mostly in stainless steel. The result was a wine with citrus and apple nuances and a touch of butter. Johannesburg Riesling 2007 may remind one of a fruit salad with tangerine notes. The wine had 1.4 percent residual sugar. Shenandoah Blanc 2007 was a blend of Vidal Blanc, Riesling and Chardonnay. This wine was smooth with a sweetness from a 1.4 percent residual sugar.
Red Wines
Pinot Noir was a light sienna color with strawberry notes. The finish was crisp. Chambourcin 2007 is Shenandoah's signature wine. This wine was red with raspberries and cherry nuances. The mouth feel was smooth with spice notes. Cabernet Franc 2007 was aged in American oak. This dark red wine offered nuances of pepper, dark fruit and spice. Cabernet Sauvignon 2007 was aged in American oak. This wine had dark fruit and spice nuances. The finish was crisp with fruit and pepper notes. Shenandoah Ruby, aged in American oak, offered nuances of dark fruit, earthiness and mushroom notes. Rebel Red was fruity with a hit of sweetness. There were soft tannins. Raspberry Serenade was a blend of Cabernet Sauvignon, Chambourcin and raspberry juice concentrate. The aroma and taste of raspberry notes were delightful.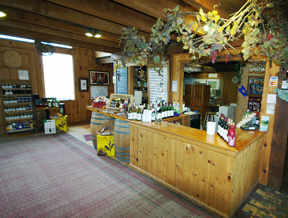 Tasting Room
The tasting room offers a delightful ambiance and room to move around and browse wine and food related products. Some of the available items include apple butter and spreads, peach salsa, crackers, elderberry jelly and sweet potato butter. Wine glasses and accessories are also available. Be sure to look for or ask about the Frozen Wine Cooler bag that allows you to make your own frozen wine cooler by adding wine. It's fun and tastes great! T-shirts are also available and include a couple of phrases like, "Not Old Just Vintage" and "At my Age I need Glasses" with six wine glasses below.
Events at the Winery
Shenandoah Vineyards offers events throughout the year. Examples of events include Valentine's Day Pairings, Wine and Cheese Weekends, Mother's Day Pairing, Annual Country Cookout, Harvest Festival and Holiday Open House. Check the Shenandoah Vineyards website for their current event listing.
Emma believes that the winery should not charge for tastings. She wants visitors to taste a wine before purchasing a bottle of wine to enjoy. Emma commented that Shenandoah Vineyards is a very friendly place that believes in education about wine. She wants people to have a good experience and to leave smiling. Emma believes that the best thing about a winery is the "interaction with people."
Enjoy a visit to Shenandoah Vineyards, the third oldest winery in Virginia.

Shenandoah Vineyards
3659 South Ox Road
Edinburg, Virginia 22824
GPS: N38º 50.936' W78º 33.524'
---
Visit these Virginia wineries and wine tour groups that partner with Wine Trail Traveler.