Cave Ridge Vineyard
by
Kathy and Terry Sullivan
Summary: Cave Ridge Vineyard, a family owned winery located in Mount Jackson, Virginia is an estate winery. Be sure to note the logo image of the fossil rock on some of the wine bottle labels. The fossil was discovered when planting the vineyard. Close to I-81, Cave Ridge Vineyard is in the Shenandoah Valley AVA.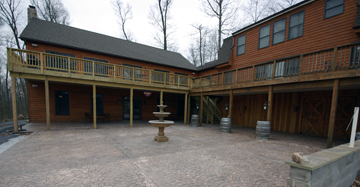 Cave Ridge Vineyard is located about twelve miles from Interstate 81 Exit 283, Woodstock. The approach to the winery is a long upward gravel driveway. Adjacent to much of this driveway is the vineyard. From the parking area, a walkway leads to a large patio with a fountain. The tasting room building is modern and has an event space located on the second level.
Cave Ridge Vineyard's first vintage was in 2005. Currently the winery produces 2,000 cases and most of the wine is sold directly from the tasting room. Cave Ridge Vineyard is an estate winery. The owners have complete control over the whole process from vineyard management to bottling.
Vineyards
The nine-acre vineyard was planted in 2000-2001 and now has Syrah, Chambourcin, Cabernet Franc, Traminette and Viognier vines. The owners plan to add more grapevines including Cabernet Sauvignon, Petit Verdot and Riesling. This area of Virginia has Virginia's driest climate and the hills allow for good drainage. The limestone soils offer a great location to grow grapes and is in the Shenandoah Valley AVA. Randy Phillips, owner and winemaker, agrees with the sentiment that wine is made in the vineyard. Randy grew up in the agriculture industry and knows how to grow a good product. He likes the connection between food and wine.
Tasting Room
The first winery tasting room opened in 2006 in the adjacent residence. A newer tasting room replacing the original opened in September 2009. Randy is also opening a tasting room in Harrisonburg where he will feature his wines as well as wines from another Shenandoah Valley winery each month. Randy wants to help the area wineries market their wines. The Harrisonburg tasting room opens in April 2010.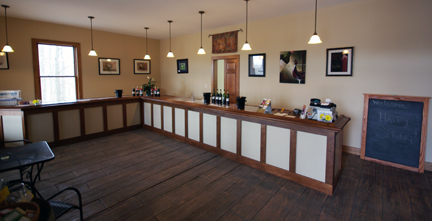 The tasting room at the winery has an L-shaped tasting counter that can easily accommodate a small group. There are some tables and chairs in the tasting room where visitors can sit and have a glass of wine. Visitors can purchase a plate of hummus and chips or a fruit and cheese plate to enjoy with their wine. A variety of wine related items can be purchased in the tasting room including handmade soaps with notes of "chocolate mint," "cinnamon orange," or "vanilla chai." Also available are items such as specialty coffee, olive oil, apple and thyme salsa, basil salsa, hot peach chutney and mango chutney, Bavarian Beer Mustard, Kickin' Cayenne and Firefly Hot Sauce. Framed paintings by local artists decorate the walls and are available for purchase.
On the day of our visit, we tasted several wines with Marcie Kavanaugh, tasting room manager.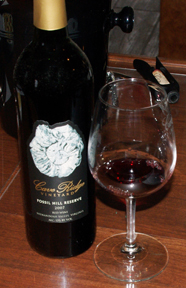 Cave Ridge White Wines
Riesling 2008 with one percent residual sugar offered a citrus fruit salad aroma and taste with apple nuances. The finish was crisp. Viognier 2008 had a pear aroma and taste with a hint of mineral. It too had a crisp fruity finish.
Cave Ridge Red Wines
Chambourcin 2007 with its dark purple color offered an aroma and taste of dark fruit with smoke nuances. The finish had smoky notes and tannins. Red Silk 2007 was produced with Cabernet Franc. This wine had a ruby color and velvety mouth feel. There were notes of dark fruit particularly plum and cherry. The finish was crisp with tannins and hints of mineral. Syrah 2007 was a ruby red. There were notes of dark fruit and pepper spice. Tannins added to the structure of the Syrah.

Winery Events
Stairs lead to a second level that is available for events. The room is spacious with many windows, light yellow walls and lightwood floors. Two ceiling fans, a fireplace and leather seating add to the ambiance. Public and private events can be held here. Several past events have included Chili Saturday, Wild Game Dinner, Mardi Gras Dinner and Wine Club events. Private events can include weddings, rehearsal dinners and reunions.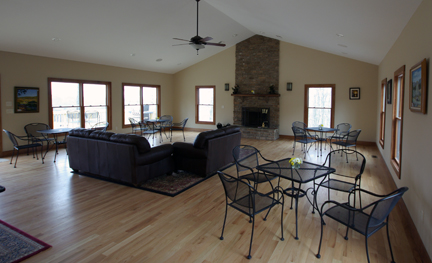 Enjoy a visit to Cave Ridge Vineyard. You can taste and learn about wines in a relaxed atmosphere.
Cave Ridge Vineyard
1476 Conicville Road
Mt. Jackson, Virginia 22842
GPS: N38º 48.904' W78º 40.152'
---
Visit these Virginia wineries and wine tour groups that partner with Wine Trail Traveler.