The Winery at Kindred Pointe
by
Kathy Sullivan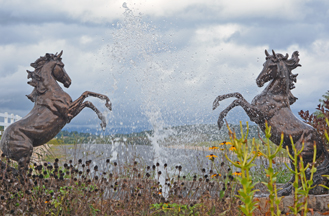 Summary: The approach to The Winery at Kindred Pointe is awesome as visitors pass immense gates and follow a driveway that winds its way through vineyards to the winery tasting room. The area near the tasting room has been extensively landscaped. Operations manager Jaz Draper says, "Treat everyone like they are long lost friends."
The long driveway to The Winery at Kindred Pointe begins at a wide gate with prancing images of horses. Visitors will find themselves winding between low hills covered with vineyards eventually reaching several buildings. One building is the tasting room, another is the winery and nearby, close to vineyards, is a large covered pavilion. Outside of the tasting room, two horse sculptures frolic before a whimsical fountain.
We met Amy Helsley who with her husband Bruce own The Winery at Kindred Pointe. Amy described their wine journey. Amy is a CPA and Bruce is in the carpet business. They purchased the property in 2005 which was originally all pasture. The industrious couple established a horse boarding facility, known as Kindred Pointe Stables. Amy and Bruce wanted to create a destination site. The demanding care that was needed for the horses at all hours of the day and night led them to reconsider the horse boarding business. Amy had become interested in wine earlier when she worked for a company that owned a winery. She discovered that she liked red wines, especially with Italian food. Eventually, Amy enrolled in winemaking classes at UC Davis.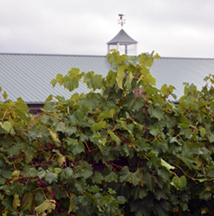 Vineyard
In 2008 Amy and Bruce planted an acre of Merlot grapevines. Today they have six acres of grapes that include Merlot, Malbec, Chambourcin, Petit Verdot and Seyval Blanc. Amy commented that "You need as much equipment to farm one acre as several acres." The couple discovered that a vineyard is capital and labor intensive.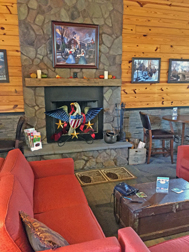 KIndred Pointe Tasting Room
The landscaping outside of the tasting room is dramatic. We quickly learned that Bruce enjoys landscaping and does all of the landscaping at the winery.
The stable was completely renovated into a tasting room with several comfortable seating arrangements. Wood walls of stained horizontal pine add a comfortable feel to the room. A fireplace is located on the wall opposite the tasting counter. The untrained eye will not realize that this was once a stable.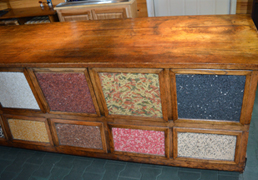 A long countertop runs along the length of the tasting room. Part of the counter was created from a local vintage shop counter built in 1905. A variety of grains are in the front display cases matching what would have been in the drawer in the counter. A small gift shop with an array of gift items is located near the entrance.
Visitors can purchase small plates of food. Look for food items such as: bread and olive oil, sausage and cheese, and soft pretzels.
Kindred Pointe Wines
We began with a tasting of Chardonnay. The grapes were sourced from vineyards leased in Charlottesville. This light yellow colored wine offered notes of pear, apple and vanilla with a hint of butterscotch. The full-bodied wine had a crisp fruity finish with vanilla and butterscotch on the aftertaste. The Viognier 2013 was produced in stainless steel. This pale, light yellow colored wine offered notes of white fruit including peaches. The taste was crisp and dry. The wine lingers on the aftertaste. This Viognier would pair well with food including the suggested cheese and seafood.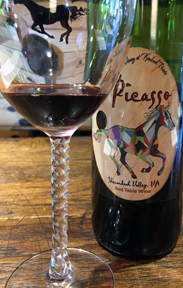 Merlot 2013 was produced with grapes from vineyards leased in Charlottesville. The wine was a translucent ruby color with notes of cherry. The mouthfeel was velvety. The taste included cherry and leather with a hint of cedar and tannins. This full-bodied wine had a fruity finish. Picasso 2013, also produced with estate grown grapes, was named after one of the horses. It was a blend of Chambourcin and Merlot. The wine was a translucent dark ruby color with notes of cherries and red berry fruit plus some leather. There were medium tannins. The wine was medium/full-bodied and the finish was fruity with leather and spice. Chambourcin 2014, from estate grapes, was aged in Kentucky oak barrels for 20 months. This translucent ruby wine offered red berry fruits, notably raspberries. Other notes included spices and tannins. This full-bodied wine had a crisp and fruity finish with some baking spices.
Oscar was produced with 100% Seyval Blanc. This semi-sweet wine had 3.5% residual sugar. The wine was a pale yellow color. The aroma offered a hint of spice. This is a full-bodied wine that finishes with lingering fruit notes. Suggested food pairings included sushi and spicy foods. The winery also suggested this as a wine for the "hot tub."
In addition to the wines available, Kindred Pointe offers a variety of ciders, made from locally sourced apple juice. The brand of hard ciders is called Life is Hard Cider, and was inspired by Bruce's brother. The hard ciders are crafted in a "beer style" which includes a cider infused with hops and another made with ginger. .

Events
The Winery at Kindred Pointe offers many public and private events. This is a delightful venue for weddings. The winery also celebrates Kentucky Derby, Preakness and Bellmont races with parties.
While in Shenandoah region, stop by The Winery at Kindred Pointe and discover all that the winery has to offer.
Winery at Kindred Pointe
3575 Conicville Rd,
Mt Jackson, Virginia 22842
GPS: N38º 47.811' W78º 39.123'
Article written October 2016
---
Visit these Virginia wineries and wine tour groups that partner with Wine Trail Traveler.