Cedar Creek Winery
by
Terry Sullivan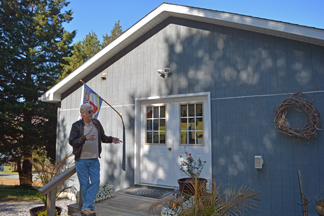 Summary: A slow country drive through the Shenandoah countryside brings you to Cedar Creek Winery. This winery produces wines from only estate grown fruit. The Chardonnay and Cabernet Franc wines showcase what a well-cared for and looked after vineyard can produce in Northwestern Virginia. Wine enthusiasts can enjoy a vertical tasting of two Chardonnays and several Cabernet Francs.
The driveway to the winery is along a long meandering gravel road. The ride is peaceful and one can feel the cares of the world melt away as your vehicle passes through wooded areas, pastures with cattle and over a small bridge crossing Cedar Creek. Eventually the landscape is planted with vineyards, a sign that the winery is near. Signs suggest where to park. Exiting our car we were greeted by winery owner, vineyard manager and winemaker Ron Schmidt.
Ron and his wife Chris were on hand to meet and greet visitors on this cool November Sunday. Ron talked about the vineyard, then took us on a tour of the production area. Following the tour, we sat at a table in the tasting room for a vertical tasting of the two varietal wines made at Cedar Creek.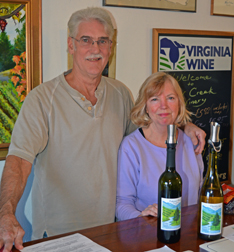 Wine Journey
Ron is a retired police officer. Ron and Chris purchased the present property without knowing what they were going to do with it during their retirement. One day a friend suggested planting grapevines. Ron and Chris liked wine and Ron even made a wine when he was 18 years old. Chardonnay and Cabernet Franc were planted because these varieties were what wineries were purchasing from growers. At first grapes were sold to other wineries. Ron made some wine for personal use. Then friends encouraged him to make wine commercially. The first commercial vintage was in 2008. Construction on the production space and winery tasting room was begun in 2007. During the early years of winemaking, wines were sold to restaurants.
Vineyard
Ron began planting Chardonnay and Cabernet Franc vines in 1999. The soil is mostly clay loam and shale with good drainage. Today there are five acres of grapes planted in the vineyard. Ron does all the vineyard work throughout the seasons. He noted that the weather in this valley is a bit cooler than in other valleys. "About once every ten years, a late spring killing frost will destroy the grape buds for that year." During most years, Ron can harvest very high quality grapes.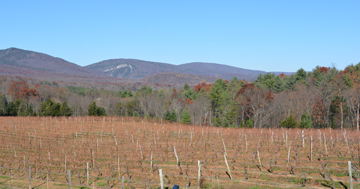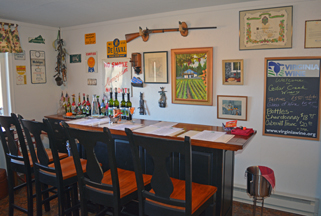 Wine Tasting
Since Ron only makes a Chardonnay and a Cabernet Franc, wine enthusiasts who visit the tasting room are treated to a vertical tasting. Most production is Cabernet Franc. During a typical tasting, visitors will taste two Chardonnay wines from two different years and three to four Cabernet Franc wines from different years. Ron talks about the years so tasters can discover how the weather events of that year played a role in how the wine turned out.
The tasting room has a small tasting bar with four chairs. There are other seating arrangements in the room allowing groups to have a leisurely tasting. A deck outside the tasting room overlooks the vineyards and countryside. Half Moon Cliffs are easy to observe in the distance. At the time of our visit, we settled at a table for our wine tasting. A large group arrived and enjoyed sitting at the tables on the deck.
The 2012 Chardonnay was a dark yellow color. The wine aged for seven months in American oak. It offered green apple on the aroma. The smooth taste included green apple and a hint of pear. The finish was crisp with apple yielding to vanilla and caramel. The 2011 Chardonnay was also a dark yellow color and was aged for seven months in American oak. This vintage had citrus, apple and a hint of pineapple on the aroma and taste. The aftertaste was crisp with a long citrusy aftertaste.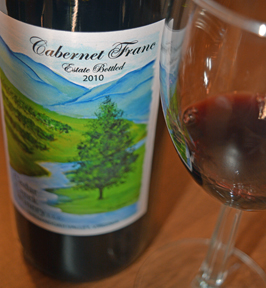 The Cabernet Franc tasting began with two Cabs that were made with the free run juice. The 2012 Cabernet Franc was a translucent ruby color. It had black fruits on the aroma. The taste reminded me of blackberries and black raspberries. The medium, full-bodied wine had mild tannins. There was a hint of pepper on the fruity finish. The 2011 Cabernet Franc was also made with free run juice. In 2011 this was a necessity since harvest rains caused the grapes to begin to rot. Ron did not cold soak the grapes or have extended maceration of the wine during this challenging year. The wine was a translucent dark ruby color. The taste had blackberries and plums and was full-bodied with mild tannins. The finish was crisp and fruity.
The next three Cabernet Francs did undergo cold soaking prior to fermentation and extended maceration. The 2010 Cabernet Franc was an opaque dark ruby color. The aroma and taste had blackberries and black raspberries. It was full-bodied with bold tannins. The fruity finish had a chocolate aftertaste. The 2009 Cabernet Franc was a dark ruby color. The aroma and taste were of dark fruits with a vegetal hint. The medium to full-bodied wine had medium tannins. The crisp finish was fruity. Ron is almost sold out of the 2008 Cabernet Franc, but did have a bottle opened. The opaque dark ruby colored 2008 wine had dark fruits and pepper on the aroma. The taste was predominately blackberries with a medium to full body and very bold tannins. The finish was crisp and fruity.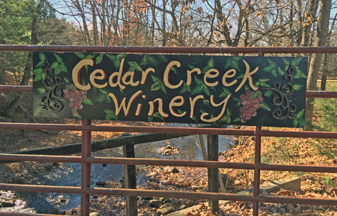 Cedar Creek winery offers visitors an escape to a peaceful environment. Ron and Chris personalize a tour of the vineyards and production area. Tasters will have the experience of a vertical tasting of both Chardonnay and Cabernet Franc. When crossing the wood bridge by the sign, notice Cedar Creek.
Cedar Creek Winery
7384 Zepp Road
Star Tannery, Virginia 22654
GPS: N39º 00.390' W78º 28.915'
Article written November 2015

---
Visit these Virginia wineries and wine tour groups that partner with Wine Trail Traveler.