Virginia Mountain Vineyards
by
Kathy Sullivan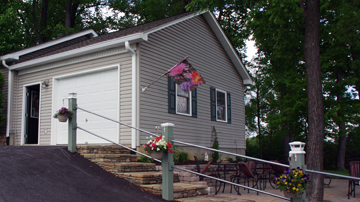 Summary: Virginia Mountain Vineyards located in Fincastle in southern Virginia produces estate wines. The boutique winery offers a delightful, small patio with a nearby gazebo. According to David and Marie Gibbs, this winery is a "best kept secret." When people discover the winery and the wines, they continue to return.
Prior to moving to Fincastle, Virginia, David and Marie Gibbs had lived in Connecticut and Richmond, Virginia. In 1996, David and Marie purchased 100 acres of property in Fincastle, Virginia at an auction with the idea of planting a vineyard. Today Marie and David laugh as they recall David kept raising his paddle at the auction. David says, "It was just so easy." By the time David had acquired 100 acres, Marie nudged David saying, "Don't you think that's enough?"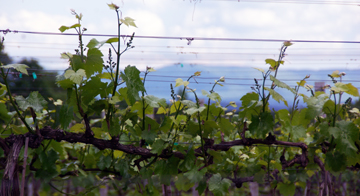 David and Marie have moved several times and now the Gibbs appear very pleased with owning the property and the vibrant vineyards on the property. The vineyards rest at 1,750 feet elevation and consist of almost 10 acres. In 1998, they planted Chardonnay and Cabernet Franc. In 2000, Traminette was added to the vineyard. Merlot and Petit Verdot were planted in 2002.
Half of the grapes produced are used in the winery while the rest are sold to other wineries.
Virginia Mountain Winery
Prior to building the winery, a friend told David that adding a winery would be four times the amount of work. However, David decided to go ahead with the winery. Today David notes that the work involved is more than four times as much work. Eighteen stainless steel tanks and eighteen barrels are housed in the winery facility. The first vintage was in 2005.
When they made their first wine blend, they used three different blends. They then offered an event with food. They invited a wide range of ages, from 21 to 75. Their goal was to determine which blend would be most enjoyed. They then went with the wine the group liked the most.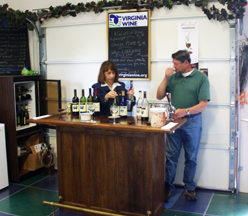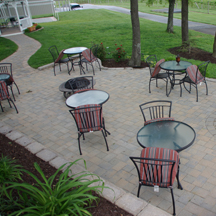 Tasting Room
The boutique winery tasting room opened in 2006. The small tasting counter offers an intimate wine tasting for visitors. A stone stairway leads to a small patio with a short curving pathway leading to a gazebo. A railing is decorated with hanging baskets of summer flowers. Five tables and chairs encourage people to visit and stay awhile. Deciduous trees provide shade during the spring and summer. Views from the patio include the vineyards with mountains in the background.
White Wines
Chardonnay Reserve 2008 was aged in French oak for six months. This straw color wine offered apple notes on the aroma while the taste had apple with caramel nuances. The finish was crisp with apple yielding to caramel. Traminette 2009 was a light crystal-like straw color. The aroma had floral nuances with a slight mineral touch. There was a bit of sweetness. The wine dried on the finish. Virginia White was a sweet table wine with sweet floral and fruit nuances. The color had a slight tinge of pink.
Acacia Gold, a proprietary blend, is produced with red and white grapes. The result is a smooth wine with very light fruit nuances that dries on the finish. This wine is known as the 3P wine as it is good for sipping at picnics, on patios and at a pool.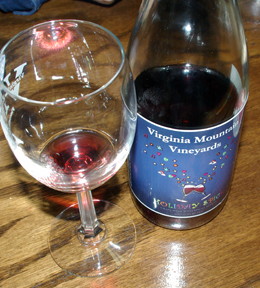 Red Wines
Merlot 2008 had an aroma and taste of cherry and earthiness. The finish was crisp with mild tannins. Petit Verdot 2009 was a dark ruby to purple color. Dark fruit nuances were on the aroma and taste. The finish had tannins and was fruity yielding to some oak. Trinity was a blend of Cabernet Franc, Petit Verdot and Merlot. The aroma and taste was of dark fruit with blackberry and black raspberry nuances. The finish was crisp with tannins and fruit nuances.
Virginia Red, a sweet table wine, was a delightful dark pink/light red. The wine offered nuances of spices with hints of pepper. Holiday Spice is good for any holiday of the year. The label for Holiday Spice was created with many holiday icons including hearts and shamrocks. The Holiday Spice had many spices as might be expected by the name. Nuances included cloves and nutmeg.
Enjoy a visit to Virginia Mountain Vineyards where you will discover a small friendly boutique winery and a beautiful spot to stay awhile and enjoy the views with a glass of wine.
Virginia Mountain Vineyards
4204 Old Fincastle Road
Fincastle, VA 24090
GPS: N37º 34.198' W79º 52.808'
---
Visit these Virginia wineries and wine tour groups that partner with Wine Trail Traveler.