Wolf Gap Vineyard
by
K. L. Sullivan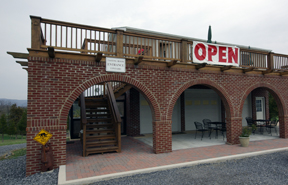 Summary: Wolf Gap Vineyard is named after the Wolf Gap in Little North Mountain that can be seen from the winery tasting room. The winery is located within a short distance of Interstate 81 in Virginia's Shenandoah Valley.
Wolf Gap Vineyard is the result of a father and son hobby of making wine together. Will Elledge became interested in making wine because his son was making wine. They would get together and make wine. After retiring, Will and Diane Elledge decided to further his interest in wine by having vineyards. Today he has vineyards and a 1,000 case winery specializing in small wine productions.
The vineyards were started in 2005. Today there are five acres of vines including Cabernet Sauvignon, Cabernet Franc, Chambourcin, Chardonnay and Traminette. Elledge began commercially producing wine in 2005 using grapes sourced from the Shenandoah Valley.
The winery and tasting room are located in one three-level building. An outside flight of steps leads up to the tasting room with light yellow walls. The room is bright and airy. Below the tasting room is where the wine is produced. The finished cases of wine are stored below ground.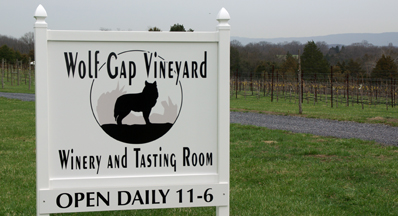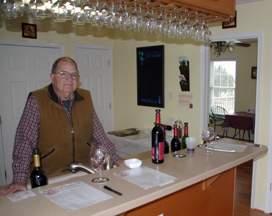 Events at Wolf Gap
An events patio was added recently. This is a perfect area for groups from 20 to 100. Consider hosting a wedding or other event at Wolf Gap Vineyard. In addition, each year the winery holds two music and wine festivals, one in the fall and one in the spring.
White Wines
Riesling 2006 was fruity with pear nuances. The wine finish was crisp and citrusy. A suggested pairing is fish. Viognier-Traminette 2006 was a blend of 50 percent Viognier and 50 percent Traminette. The result was a wine with a floral aroma and citrus/fruit salad nuances on the taste. The finish was crisp. Suggested pairings include fish, chicken, Italian dishes and shellfish. Estate Reserve Chardonnay 2009 offered an aroma and taste of apple and pear. The finish was crisp with a slight hint of oak.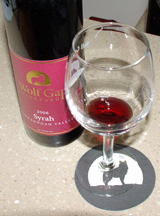 Red Wines
Cabernet Franc 2007 offered nuances of spice and dark fruit. The wine was very crispy. Cabernet Franc 2006 had dark fruit notes with a crisp finish. Mariage Reserve 2006 was a blend of 50 percent Cabernet Franc and 50 percent Chambourcin. The nuances were of dark fruit and the finish was crisp. Chambourcin 2006 offered black cherry notes. There were mild tannins and spices on the finish. Syrah Reserve 2006 was a blend of 75 percent Syrah, 15 percent Chambourcin and 10 percent Viognier. There were notes of black fruit and tannins. The finish was crisp and there was a long fruit aftertaste. Lobo Loca 2009 was a blend of three white grapes (Viognier, Riesling and Traminette) and a red grape Chambourcin. The result was a wine reminiscent of a fruit salad. The residual sugar was two percent. The crisp finish cut the sweetness.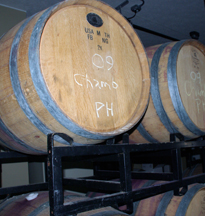 Fruit Wine
Wolf Gap Vineyard produces only one fruit wine. This is the Yummy Blueberry Wine produced with 100 percent blueberries. This dark pink wine had two percent residual sugar. The wine had a blueberry aroma and taste. Yummy Blueberry Wine has been such a big hit with visitors that Elledge is going to continue producing it.
Wolf Gap Vineyard is an easy drive from Interstate-81. Visit this winery and discover the wine produced by young vines in the Shenandoah Valley AVA.
Wolf Gap Vineyard and Winery
123 Stout Road, Edinburg
Virginia 22824
GPS: N38º 49.631' W78º 37.941'
---
Visit these Virginia wineries and wine tour groups that partner with Wine Trail Traveler.