Glen Manor Vineyards
by
Kathy Sullivan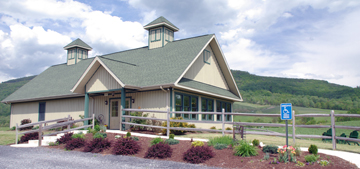 Summary: In a glen surrounded by mountains, Jeff White, continues to be a good steward to the land his family has farmed for a century. Jeff planted vineyards and later built a winery and tasting room. All wines are produced with grapes grown in the farm's vineyards and truly give a "taste of the place."
Jeff and Kelly White own and maintain the vineyards and winery at Glen Manor Vineyards along with Jeff's parents and two brothers. The vineyards are located on property that has been in Jeff's family since 1901.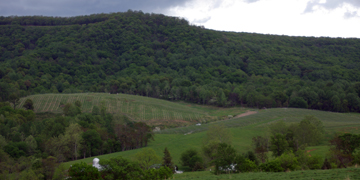 Vineyards
With more than 200 acres of land to choose from to plant grapes, Jeff selected sloping land at an elevation of 1,000 to 1,300 feet. At this height there is more frost protection with the cold draining towards the bottom of the mountain. The first vineyard with deep, well drained soils was established in 1995. Today that vineyard has several varieties including Sauvignon Blanc, Merlot, Petit Verdot, Cabernet Sauvignon and Cabernet Franc. Nearby a second vineyard has very rocky soil. The newer vineyard is home to Cabernet Sauvignon, Merlot, Cabernet Franc and Petit Manseng. Both vineyards are on the slope of the mountain known as Dickey Ridge. Looking up beyond the vineyards one can make out Skyline Drive, part of Shenandoah National Park.
Adding a vineyard to the 200 plus acres of land is a way for Jeff to have control of the land and make a living. Farming is in Jeff's blood; his great grandparents purchased the farm in 1901. Jeff frequently visited his grandparents while growing up. As an adult when his grandfather needed care, Jeff left his metropolitan career to help care for his grandfather.
Jeff wanted to stay on the farm and although he had some income from his family's nearby Christmas tree farm, it was not enough. While Jeff considered alternatives, his father said, "What about grapes?"
Jeff took the idea of grapes to heart. To learn more about vineyard management and winemaking, Jeff worked as a research assistant for Virginia Tech Dr. Tony Wolf at an experimental vineyard. In 1993, Jeff joined Jim Law at Linden Vineyards for the harvest. For a time, after harvesting grapes from his Glen Manor vineyards, Jeff sold grapes to Jim at Linden Vineyards. In 2007 ground was broken for the Glen Mar winery and tasting room. The winery is on the site of a former apple packing facility.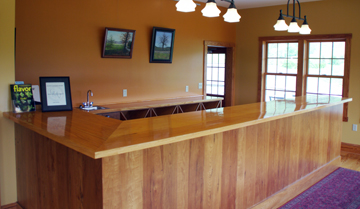 Tasting Room
The tasting room is bright with many windows. Fine stemware is used for wine tastings in the tasting room, Fusion produced by Wine Enthusiast. The outside of the building is tan with green trim. This is a friendly winery to visit with quality wines that say, "Taste the place." The winery is below the tasting room. Both oak barrels and stainless steel barrels fill the barrel room. Stainless steel tanks for white wine production are in another room. A large crush pad area is outside. The ride from the vineyard to the crushpad takes only minutes,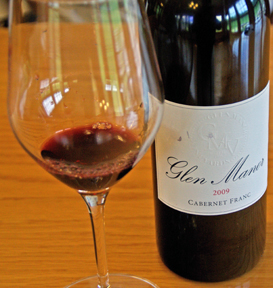 Wines
Current wine production is 1,000 cases but will increase as the younger vineyards mature. Jeff will only use grapes produced from the onsite vineyards because he wants to capture the essence of Glen Manor in the wine. Wine and food pairings suggested below were created by Jeff and Kelly, who was formerly a chef.
Sauvignon Blanc 2009 was a very light straw color. The wine offered an aroma of grass notes with some tropical fruit. The taste had tropical fruit and hay notes. The finish was crisp and refreshing. Pair with grilled shellfish, fresh garden greens and tangy cheeses.
Cabernet Franc 2009 was a ruby wine with dark fruit notes on the aroma. The taste also offered dark fruit notes with a hint of spice. The finish was crisp and fruity. This wine pairs well with outdoor grilled chicken or burgers with strong melted blue cheese. Hodder Hill 2008 was named for the Hodder Vineyard. Jeff named the vineyard for his grandfather whose middle name was Hodder. This wine was a blend of Cabernet Sauvignon, Merlot, Petit Verdot and Cabernet Franc. The wine was dark purple/ruby. The wine offered an aroma of black fruit. Black fruit notes accompanied the smooth taste. Tannins were on the fruity finish. Hodder Hill 2008 pairs well with grilled or braised red meats with pungent herbs and spices. Vin Rouge 2008 was a blend of Cabernet Sauvignon and Petit Verdot. The wine had black berry fruit on the aroma and taste. The finish was fruity with tannins. Pair with grilled flatiron steak, lamb or ratatouille tossed with fresh arugula.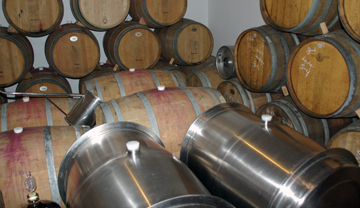 Enjoy a visit to Glen Manor Vineyards where you will discover Virginia's beautiful countryside, an inviting and friendly tasting room and wines that reflect the terroir of the hillside.

Glen Manor
2244 Browntown Road
Front Royal, Virginia 22630
GPS: N38º 50.404' W78º 13.771'
---
Visit these Virginia wineries and wine tour groups that partner with Wine Trail Traveler.