North Mountain Vineyard and Winery
by
K. L. Sullivan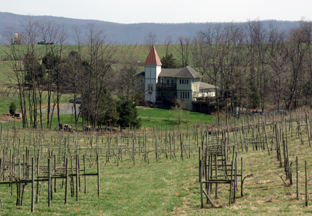 Summary: North Mountain Vineyard and Winery, located within 4 miles of Interstate 81, is a family-owned winery situated in an idyllic area with hillsides filled with 12 acres of vineyards. German and Austrian grape varieties help to set the winery apart from others. The owners believe in producing well-made and balanced wines. The owners would like the public to know that they have a "friendly staff, atmosphere and attitude." North Mountain Vineyard and Winery is pet friendly. The winery has a large following of customers.
As we traveled south into Virginia along Interstate 81, we enjoyed traveling through the countryside. Past Strasburg we turned off I-81 unto some narrow country roads and then a gravel road that we followed to North Mountain Vineyard and Winery.
The winding driveway led past vineyards on the left to the winery tasting and event building. A large, two-level deck wraps around part of the structure. A tall, gleaming copper covered steeple decorates the top of the tasting room and can be seen from a distance. The small room overlooking the vineyard is called "Die Weinstube".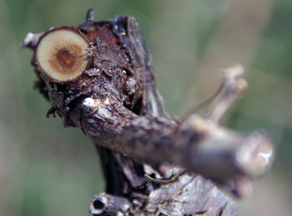 The vineyards date back to 1982. The current owners, Brad Foster and Krista Jackson-Foster, purchased the winery in 1998. Their son, John Jackson, is the winemaker. John is a geologist with a background in organic chemistry. Brad enjoys the vineyard and winery business. He said that it is a good mix of "play, work and science."
The vineyards consist of 12 acres of Vidal Blanc, Chardonnay, Cabernet Sauvignon, Cabernet Franc, Petit Verdot and Traminette. Four more acres will be added in the spring of 2010 adding Petite Verdot, Zweigelt and Gr2ner Veltliner. The weather is conducive to vineyards as they are relatively safe from frosts after spring bud break.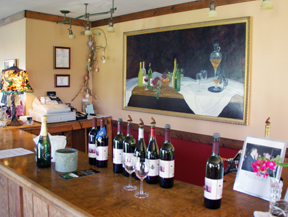 Once inside the tasting room we were delighted with the comfortable ambiance. Much time has been taken by Krista to decorate the rooms to make them comfortable for visitors to stay and enjoy a glass or bottle of wine. A small side room adjacent to the tasting counter has three small tables and a book about wine is on a pedestal for people to peruse.
Currently, the winery is producing 2,500 cases and would like to reach 3,000 cases. Krista commented, that people "will find wines here you won't find anywhere else." Two wine lists are available. One is referred to as "fun" wines and the other list is "serious" wines. Several wines are available for tasting during the winery's Wednesday thru Sunday hours. However on Sunday, sparkling wine is available for tasting between 2:00 pm and 4:00 pm.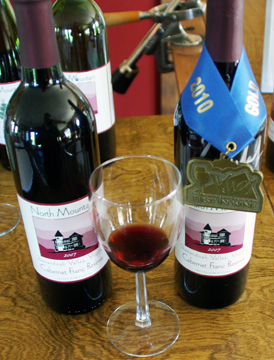 White Wines
Vidal Blanc 2007 offered citrus aromas. Suggested food pairings included crab cakes, basil chicken and spicy Asian dishes. Chardonnay 2007 was a very light yellow with apple and citrus notes. Oktoberfest, non vintage, was a Riesling and Vidal Blanc with 2.8 percent residual sugar. There were apple and pear nuances. This wine had a smooth mouth feel with a crisp, fruity finish. Pair this wine with German dishes.
Red Wines
Claret 2007 was 100% Cabernet Sauvignon. This wine had herbaceous and black cherry nuances. There were light tannins and the wine had a fruity finish. Tom's Brook Red 2007 was a Cabernet Franc. This wine had one percent residual sugar. There were nuances of sweet, dark fruit. Cabernet Franc Reserve 2006 was a light purple with notes of dark fruit and pepper. Chambourcin 2005 is the winery's flagship wine. The color was a transparent ruby. There were notes of spice, dark fruit – black cherry and tannins.
Sparkling Wine
The winery has recently begun producing a sparkling wine. Groenendael Trocken is produced with 100% estate grown Chardonnay.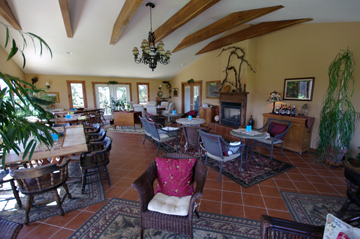 North Mountain Winery Events
The family has enlarged the winery tasting room to include a large event room. This room with picture windows allows a substantial amount of sunshine in and many green plants are growing prolifically. Seating in the event room is arranged in conversation centers and a white piano in the corner adds to the ambiance. Outside the event space are decks that provide additional seating and a relaxed atmosphere during nice weather.
With a large deck and a good-size event room, North Mountain Winery has plenty of space for events that are held throughout the year. In addition, private events can take place here. A kitchen is available for caterers and a large outdoor tent is available for larger groups. Some of the events throughout the year include Homemade Gourmet Soup Saturdays in January, winemaker's dinners, music events, Mother's Day and Father's Day special events. Private events include rehearsal dinners and weddings.
Whether planning a trip to Skyline Drive or a pleasant drive into the countryside, plan to stop at North Mountain Vineyard and Winery where you will be welcomed with friendliness and an invitation to enjoy the atmosphere and the wine.
North Mountain Vineyards and Winery
4374 Swartz Rd., Maurertown, Virginia
GPS: N38º 56.967' W78º 28.696'
---
Visit these Virginia wineries and wine tour groups that partner with Wine Trail Traveler.