Blue Ridge Vineyard
by
Kathy Sullivan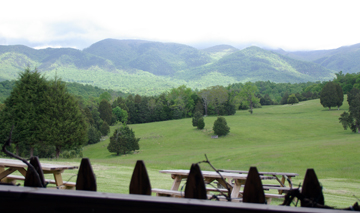 Summary: Blue Ridge Vineyard is a delightful winery to visit located just outside of Eagle Rock, Virginia. Picnickers, children and dogs on leashes are welcome to visit and enjoy the ambience of the location with wonderful views of the Blue Ridge Mountains.
Perhaps the best description of Blue Ridge Mountain Vineyard is "a little bit of heaven." Jim and Barbara would like visitors to have a good time and have an authentic real farm and real wine experience. With rolling green fields and the photographic views of the Blue Ridge Mountains, this is a delightful location to visit. Visitors can bring a lunch and buy a bottle of wine to enjoy while watching the sun cast shadows over the nearby mountains. The green fields are a child's delight to run and play in as was evident the day of our visit.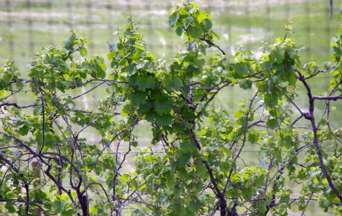 Blue Ridge Vineyard Background
Jim and Barbara moved from Texas and purchased the farm property in 1985. Since they had a farm, they wanted to do something with it. They took many classes and attended many seminars to increase their knowledge of viticulture and winemaking.
Not long after, they began planting a vineyard. Today the 10-acre vineyard is home to Gewürztraminer, Riesling, Pinot Noir, Cabernet Franc and Traminette. After selling their grapes commercially for the first 15 years they decided to begin winemaking on a commercial scale.
Barbara and Jim have extensive educational backgrounds. Barbara has a B.S., M.S. and PhD (ABD) in molecular biology and microbiology. She has been making wine for over 25 years. Now Barbara can devote her time to fulltime winemaking. Jim has a Master's degree in Physics. He is an Air Force pilot and a commercial pilot. Jim is the viticulturist, carefully caring for the grapevines. Barbara is the winemaker and her background helps her create the wines. In addition, the couple seeks consultants' help and advice in the winery and vineyards.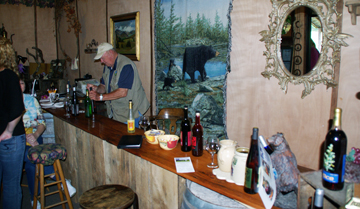 Facilities
A separate building on the property is set aside for the winery and winemaking lab. The outside of the winery painted by a local artist features grapes and a bear. Nearby a barn, built perhaps 80 years ago, is used as a tasting room and a large event room. Both rooms offer a country ambience with a delightful eclectic selection of antiques and other unusual items available to browse.
The small tasting room has a large 1800's piece of furniture that was originally in a Texas drug store. Wine bottles are set on the bureau for display. Other antiques including a small organ add to the unique displays.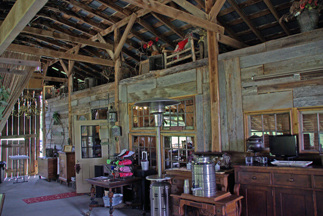 The event room has a large sloping roof. Three large gold chandeliers in addition to ceiling fans adorn the ceiling. An old Singer sewing machine table, a piano and other artifacts add to the rustic ambience that blends well with the countryside. Two wood burning stoves provide heat when needed.
Blue Ridge Vineyard Events
The event room with vast amounts of open space provides an area for large events. Numerous events including music are planned from April through October. Private events can be scheduled at the winery. Watch for the Annual Blue Ridge Vineyard Jazz Fest each year. The first Jazz Fest is/was May 28, 2011. The winery donates a portion of the proceeds to Grown Locally, Inc. This organization supports local produce providers and artists. Private events can also be scheduled at the winery including weddings, corporate events or reunions.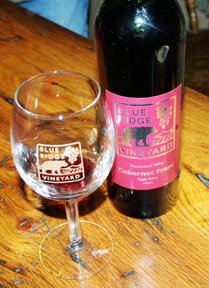 Blue Ridge Vineyard Wines
Gewürztraminer was a light straw color. The aroma was spicy while the taste had floral and spice notes. The finish was crisp. Traminette was a light straw color. The aroma was floral. The taste was reminiscent of a fruit salad and the crisp finish was slightly sweet. Big Bear Red was a blend of Cabernet Franc and Merlot. This ruby wine had an earthy aroma. Black fruit and spices were on the taste. The finish had mild tannins. Cabernet Franc was ruby with plum and spices on the aroma and taste. The crisp finish had tannins and fruit yielding to pepper.
Enjoy a visit to Blue Ridge Vineyard. Pack a picnic lunch to enjoy on the expansive field with the Blue Ridge Mountains in the background.
Blue Ridge Vineyard
1027 Shiloh Drive
Eagle Rock, VA 24085
N37º 37.780' W79º 44.969'
For more information
---
Visit these Virginia wineries and wine tour groups that partner with Wine Trail Traveler.