Fox Meadow Vineyards
by
K.L. Sullivan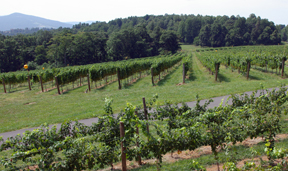 As soon as we stepped inside the tasting room at Fox Meadow Vineyards, we received a friendly greeting from Cheryl and Dan Mortland. Before arriving we had visited their website and we were eager to find out the story behind the name Fox Meadow. We arrived at the winery at an elevation of about 1800 feet and a meadow did not seem to be quite the way to refer to this vineyard at the top of a mountain. Cheryl and Dan smiled as they recalled the first time they had visited this property and seen several foxes playing in the area. They also mentioned how large boulders needed to be removed before planting could take place.
Today the vineyards are enclosed with "invisible" fencing which helps to keep the area animals out including deer, groundhogs and foxes. Also visible in the vineyards were large beach ball type spheres, waving in the air to keep birds away. These balls have "eyes" of predator birds gleaming and that discourages birds. Sparkling ribbons waving in the breeze also discourage birds.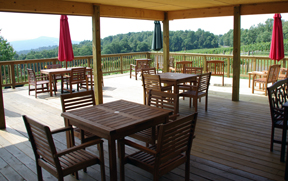 Fox Meadow benefits from its high elevation. In the spring, warm weather is a few weeks behind the valley and prevents bud break from occurring too early. In the fall, the weather stays warmer for a few weeks longer and enables the grapes to reach a higher sugar level.
The Mortlands enjoy the location of their vineyard, which they described as being landlocked in a good way. On one side is a large preserve, on another a monastery is being built.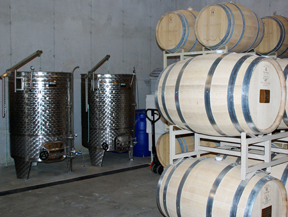 The focus at Fox Meadow is quality wine. Dan is proud of the classification of the Fox Meadow Vineyards. It is a Class A Farm Winery. Few wineries in Virginia have this distinction. At Fox Meadows, they concentrate on producing high quality wines with the right kind of presentation. They have no desire to produce a low cost bottle of wine. When you visit the winery, you will find that most of the wines have extended oak aging. Typically aging will be 16 to 30 months.
Dan does not believe that it is in the best interest of wine to be transported long distances. He feels that there is a direct relationship between the quality of the wine and the time between harvesting and processing. If you let the extent of time get too long between harvesting and processing, there will be deterioration.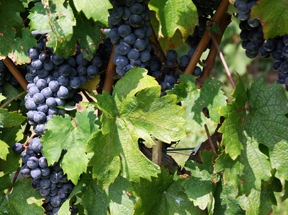 Today, with nine acres on site Fox Meadows grows five varietals including Pinot Gris, Chardonnay, Merlot, Cabernet Franc and Riesling. They also lease two acres and purchase fruit from others in the area.
Dan and Cheryl purchased the property in 2002 and prepared the soil. In 2003, grapevines were planted and the first harvest was in 2005. In 2007, they expect to have 1950 cases and eventually reach 3500 cases.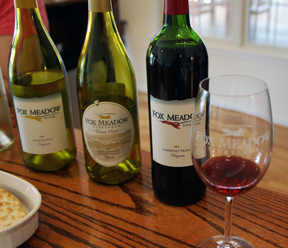 Before we departed, we tasted Fox Meadow wines. Pinot Gris was paired with white Stilton cheese with apricot. The wine was crisp with a nice acid and long aftertaste. The Fox Meadow Chardonnay had a fruit taste. This is a combination of 95% Chardonnay and 5% Pinot Gris. The Estate Series Chardonnay was oak aged for nine months in new American oak barrels. This had 95% Chardonnay and 5% Riesling. It had fruit flavor, butter on mouth feel and smooth butter aftertaste. Cabernet Franc has aged 16 months. It had a fruit bouquet and was fruit forward. It paired with horseradish cheddar. The Cabernet Franc Estate won Gold and best of competition. It had fruit and oak tastes. It was smooth with butter and very unique wonderful fruit taste and buttery mouth feel and aftertaste.
In the final analysis, Dan and Cheryl want the public to see Fox Meadows as a small destination winery with small-scale events. It is a unique sensory experience. Their business card says "Great Wine-Great Views-Great Times." What more could anyone want?
Fox Meadow Vineyards
Linden, Virginia
GPS: N38° 056.163' W 078° 02.745'
---
Visit these Virginia wineries and wine tour groups that partner with Wine Trail Traveler.