Veramar Vineyard
K.L. Sullivan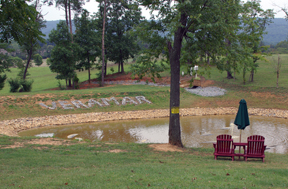 To arrive at Veramar Vineyard, one drives along a winding stone driveway through a wooded area. Exiting the abundant trees, visitors are pleasantly surprised by a wide-open area sloping downward towards a large pond. The word Veramar is "written" with stones on the slope near the pond. In the distance, one views mountains.
Beautiful landscaping decorates the area near the tasting room. The lawn and garden are well maintained.
Veramar Vineyard was established in 2000 and the first vintage was 2000; the first grapes were planted in 1996. Today with 7.5 acres of grapes, plans are to plant more grapevines. Veramar leases property and purchases grapes from other vineyards in Virginia. For 2007, Justin Bogaty, the winemaker, hopes to produce close to 6000 cases of wine.
As Justin carefully watched the current batch of grapes being crushed, we learned about his early introduction into the world of wine. Justin discovered the craft of winemaking from his grandfather but went on to study enology at the University of California at Davis. Justin believes that producing wine is an art and a science.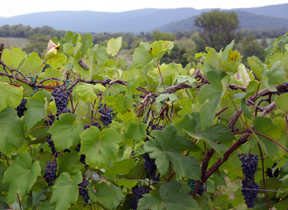 Standing outside the winery, we watched the threat of light clouds casting a mist over the mountains in the distance. Veramar Vineyard focuses on creating quality wine and Justin believes it is essential for the Virginia wine industry to continue increasing the quality of its wines. Competition increases wine quality. Justin put it this way, "The rising tide floats all ships." For Veramar this means limiting their focus to a few varietals. Varietals include Norton, Cabernet Franc, Chardonnay, Traminette and Seyval.
Producing a bottle of quality wine is hard work. Justin said, "If they (consumers) had any idea they wouldn't look at wine the same way." He believes that producing wine is an art but that one needs to understand the process and science of producing wine.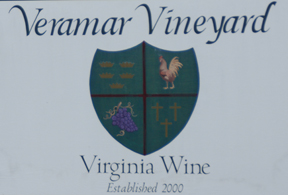 When you visit Veramar Vineyards, you will see a code of arms. The crowns are for the five members of the family, the grapes represent the vineyard, the three crosses indicate the Father, Son and Holy Spirit and the colorful rooster symbolizes Veramar's Tuscany roots.
Inside the tasting room, we met Rita Friese a lively, friendly and passionate winery representative. Rita quickly greets visitors and allows them plenty of time to enjoy their wine tastings while conversing with them.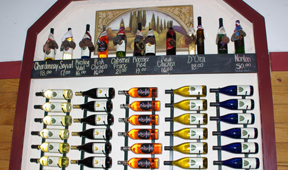 Behind the tasting counter is a colorful display of wines. These bottles are horizontal to the wall and make a delightful color scheme with each row down being a different color.
Tables in the room are black wrought iron with round woven mats. The countertop is ceramic tile and windows are decorated with cranberry-red drapes. Just outside the tasting room is a large seating area, which will accommodate many people.
Gifts and accessories are available in the tasting room. A lovely cheese board was available. Aprons with wine sayings are on a wall. One apron said, "If you don't like the food, have more wine." Rita believes that visitors like to have different accessories in each tasting room they visit.
Wines to taste include Chardonnay with an apple and slight grapefruit and oak on the nose. This wine has a medium body with a fruit and acid balance and oak on the finish. The Seyval has a fruit citrus nose, acid and fruit balance with a crispness that cleanses the palate. Riesling/Vidal is a blend of 25% Riesling and 75% Vidal. This wine has a fruit nose and is creamy with a sweet fruit taste but is not syrupy. Cabernet Franc has a red fruit nose, with acid/fruit balance and a long dark fruit finish. The Rooster Red is a blend of Cabernet Sauvignon, Cabernet Franc and Merlot. This is a light easy drinking red. D'Ora is a late harvest Vidal. It has a peach-apricot nose with a sweet taste but acidic enough to cleanse the palate. With 5% residual sugar, it is not overly sweet. The V2 line of wines were produced to be distributed in stores, however it is doing so well that the wine is selling out in the tasting room.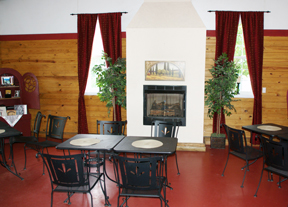 The tasting room is comfortable and sells not only Veramar wines but also original pieces of art including charcoal sketches, watercolors and photography. At the time of our visit, we saw an elegant 18th century handmade antique for sale.
For those interested, Veramar has an Estate Club. Contact Veramar Vineyard for details.
Veramar is a lovely destination spot, with quality wine and friendly people.
Veramar Vineyard
Berryville, VA
GPS: N 39° 07.092' W 077° 54.890'
---
Visit these Virginia wineries and wine tour groups that partner with Wine Trail Traveler.