Third Hill Winery
by
Kathy and Terry Sullivan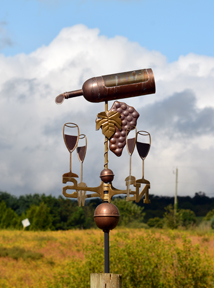 Summary: Third Hill Winery is a warm, friendly winery with views of numerous vineyards close to the tasting room. Plan to visit Third Hill Winery for an array of wines and a relaxing visit in a Shenandoah decorated-style tasting room.
The winery and vineyards were developed by Ed and Wendy De Mello. They lived in Northern California and chose to move to the Shenandoah Valley to start a second career when they retired. In California, Ed was in precision metal works, and Wendy was a surgical technician in labor and delivery. In the beginning they were bi-coastal, and frequently, while in Virginia, they visited with nearby Muse winery owners Robert and Sally Cowal. The Cowals inspired the De Mellos to plant a vineyard.
We met Ed and Wendy at their Third Hill Winery tasting room, a two-story structure built for enjoyment and comfort. Ed finished the entire interior of the two-level tasting room. Visitors will notice that Wendy has done a marvelous job decorating the large tasting room with artifacts from the Shenandoah Valley region. It was Wendy's intention to give the tasting room a Shenandoah feel. Near the tasting counter, there is an old kitchen wood/coal cooking stove. Several tables and other seating arrangements are available for quiet conversations.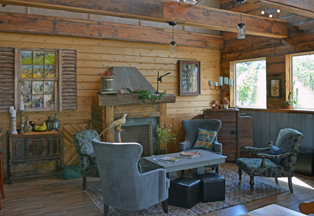 Close to the tasting room, a large pavilion has been added to the property. This is a perfect spot, on a warm day, to enjoy the Third Hill wines, conversation and good weather. There are two levels to the tasting room. On the first level there is a comfortable sitting area near the fireplace (pictured). Throughout the large room there are tables and chairs settings. The tasting counter fits wonderfully in the Shenandoah theme. On the second level, there is a small tasting counter. The large space has several table and chairs settings. Wicker furniture is near the second floor fireplace. A section of the second floor is open overlooking the first floor. From the second floor, there are wonderful views of the vineyards as well as a neighbor's vineyard in the distance. No matter where you are in the tasting room, you will have a homey, comfortable feel.
Ed and Wendy explained the name of the winery. During the Civil War, Third Hill was a signal station. From Third Hill, one could see five miles north and five miles south. Wendy liked the name for the winery because it tapped into the history of the region. She noted that everyone knows of Third Hill.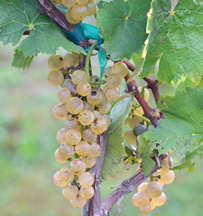 Vineyards
The De Mellos purchased the property in 2005 and in 2006 began planting grapevines. Originally they only wanted to plant one acre of grapes for themselves. but they were advised to plant three acres. At this point they planned to sell the grapes, but Ed started making wine with his grapes. Today, they have six acres under vine, and plan to plant an additional one and a half acres in 2017. Grape varieties in the vineyards include Vidal, Riesling, Cabernet Sauvignon, Cabernet Franc and Petit Verdot. They also source Cabernet Franc from neighboring vineyards, one within eyesight of the tasting room. At the time of our visit, the Vidal was just days away from harvest.
The future is bright for the De Mellos, although they want to continue to stay small and offer an intimate atmosphere.
Third Hill Wines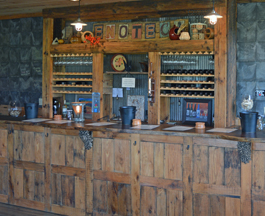 Traminette was a semi-sweet wine produced with grapes from less than a mile away. The wine had less than 1% residual sugar and was produced in stainless steel. The wine was a very pale yellow color with a very fruity aroma. The taste was semi-sweet with a sense of lip quenching. The wine had notes of apple and citrus. The aftertaste lingered. This is a food friendly wine. Suggested food pairings included Asian, Mexican and Mediterranean spiced foods. Chardonel 2015 was a light yellow color. The aroma was light with notes of melon and white flowers. This light-bodied wine was dry and crisp. Suggested pairings included chicken salad with grapes, cod with pureed spring peas and tacos. Viognier was a very pale yellow color. The wine offered an aroma of fruit and spice. This full-bodied wine was fruity with notes of apple and pear. Suggested pairings included grilled salmon, crisp fried shrimp and a mango peanut salad.
Rosé 2015 was a blend of Cabernet Sauvignon, Cabernet Franc and Petit Verdot. Later a Seyval was added to lighten the color. The wine was a very pale red color. The Rosé was dry with fruit notes especially red raspberries. The finish was dry.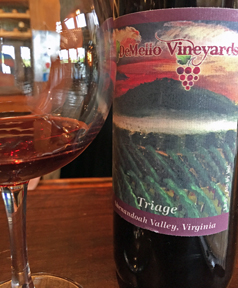 Chambourcin 2012 was produced with grapes sourced form the nearby Reveille Vineyards, that is only one mile away. The wine was a translucent red color with a pink hue. The aroma was fruity with red berry fruits. There were notes of strawberry, raspberry and mild tannins. The finish was crisp. Cabernet Franc 2012 was a translucent red with a sienna hue. The wine offered notes of dark fruits, spice, cloves and some bell pepper. The wine had tannins and a spicy finish. Triage 2012, a blend, was produced with Cabernet Sauvignon, Cabernet Franc, Petit Verdot, Syrah and Merlot. The color was a translucent ruby with a sienna hue. The wine had notes of dark fruits especially blackberry and black raspberry. The wine had medium tannins and finished with fruit and spice notes. Cabernet Sauvignon 2012 was a barely translucent dark ruby color. The wine offered notes of blackberry, blueberry, spice and tannins. This was a full-bodied wine with a finish of spice and fruit. Petit Verdot 2012 was an opaque dark ruby color. The wine offered a wide variety of notes including violets, blueberries, blackberries, a bit of baking spice and tannins. The full-bodied wine had fruity and spicy notes on the aftertaste.
Today the De Mellos say that their goal is "to pay the bills and have a good time." Be sure to stop by Third Hill Winery to try the wines and enjoy the Shenandoah atmosphere.
Third Hill Winery at DeMello Vineyards
1702 Quicksburg Rd,
Quicksburg, Virginia 22847

GPS N38 42.158 W78.41.525
Article written Otober 2016

---
Visit these Virginia wineries and wine tour groups that partner with Wine Trail Traveler.