Valhalla Vineyards
by
Kathy and Terry Sullivan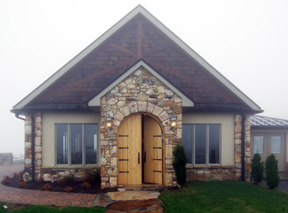 Summary: Valhalla Vineyards offers a relaxed atmosphere where people can come, relax and de-stress. People travel for hours to visit Valhalla for the estate wines and for the mountain top views of Roanoke, Virginia. If you have a word in with Mother Nature, try to visit on a clear or sunny day, when the views from the tasting room will be wonderful.
Jim and Debra Vascik, who have medical backgrounds, own Valhalla Vineyards. Debra has lab experience and added to her wine knowledge by taking courses at Virginia Tech. Jim is the viticulturist and Debra is the winemaker and business manager. Both are lovers of opera and chose the name Valhalla from one of Wagner's operas.
Vineyards
Valhalla Vineyard in the North Fork of Roanoke AVA is located on a former 200-acre peach orchard that was successful for 35 years. Today the vineyards some at 2,000 feet elevation occupy 20 acres. Grapevines were planted in 1995, 1996 and 1997. The varieties included Chardonnay, Viognier, Cabernet Sauvignon, Cabernet Franc, Merlot, Syrah, Petit Verdot, Malbec, Sangiovese and Alicante Bouschet. Jim and Debra use an open lyre trellis system and all work in the vineyards is done by hand. During our late March visit, the vineyards were shrouded in a blanket of fog. The fog provided an interesting view of the vines that may not quite be ready to wake up from a winter's rest.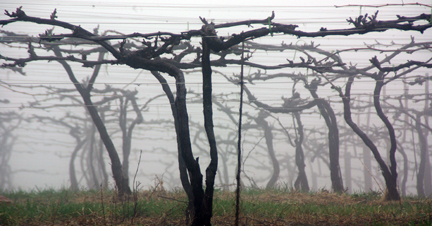 Valhalla Vineyards' wines are 100 percent estate grown and bottled. Jim and Debra are interested in producing classic wines. Debra wants to use the "best quality fruit I can get." At the elevation of the vineyards, it is possible to lose a crop due to an early freeze. If this happens, the winery will not produce a wine for that season. The Vasciks insist upon producing only the best wine possible from their vineyards. The first estate vintage for the winery was in 1998. After bottling, wines are aged for a year. Currently the winery produces 2,500 cases per year.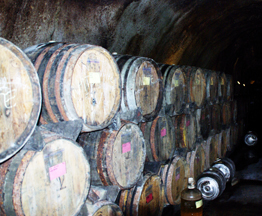 Wine Cave
The winery is in another building on the property. A 200-foot wine cave was created by blasting through rock. It is in this cave that barrels age wine for years. At 60 feet below the surface, the cave maintains a constant temperature and humidity. The darkness also contributes to the perfect environment to age wine. Up to 300 barrels from four vintages can line the span of the cave. While excavating the cave, a Budda statue was unearthed. It is interesting to speculate as to how a Budda statue came to be in this place.
Tasting Room
The tasting room is located at the top of a hill with vineyards spreading out below. Roanoke, Virginia is also visible on a clear day as well as Peaks of Otter. The room is delightful with large windows to allow wonderful views on clear days. Inside, circular round tables with glass tops are available for anyone who would like to sit and enjoy a bottle of wine with friends. A stone circular tasting counter provides a lovely tasting area for visitors. A fireplace helps to take the chill off the room on cold days. Behind the fireplace another fireplace is built on a covered outside deck. The deck has a seating area around the fireplace and provides a comfortable area to enjoy a glass of wine and view the landscape during times when there is just a chill in the air.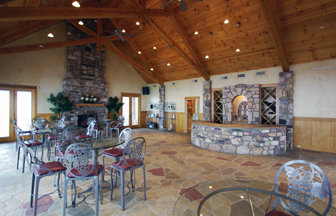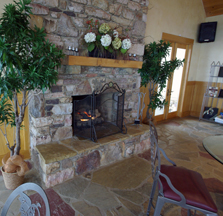 We tasted four wines from the Valhalla portfolio.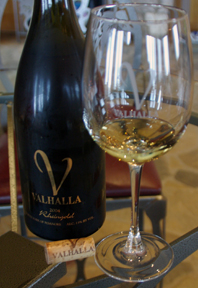 White Wine
Rheingold Chardonnay 2004 was fermented and aged in French oak for two years. The color was a light gold. The aroma had caramel and apple nuances. The taste was of apple and citrus with a hint of mineral. The finish was crisp and fruity.
Red Wines
Cabernet Sauvignon 2004 was aged four years in French and American oak. With a ruby color, the aroma and taste of this wine were of blackberries and cherries. The crisp finish was fruity with tannins. Valkyrie 2004 was named for the five maidens guarding the gates to Valhalla. This wine was aged in French and American oak for two years. There were layers of blackberries, plum and black cherry on the aroma and taste. The crisp finish had light tannins with fruit nuances and a hint of minerality. Syrah 2004 was aged two years in French oak. The color was red with a very light red rim. There were cedar and pepper nuances on the nose while the taste had notes of pepper and dark fruit. The crisp finish was fruity with mild tannins. Syrah is the wine most people associate with Valhalla Vineyards.
To discover the Valhalla wines, visit the winery. Some local Krogers also carry the Valhalla wines. The winery ships to states that accept wine shipping.
When visiting Roanoke or Lynchburg, Virginia be sure to save time to visit Valhalla Vineyards.
Valhalla Vineyards
6500 Mt. Chestnut Road
Roanoke, Virginia 24018
GPS: N37º 13.407' W80º 03.226'
---
Visit these Virginia wineries and wine tour groups that partner with Wine Trail Traveler.