Muse Vineyards
by
Kathy Sullivan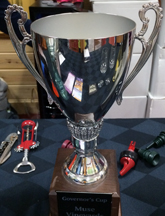 Summary: Muse Vineyards is a boutique winery and vineyard located in the outskirts of the delightful town of Woodstock, Virginia. The owners have made amazing progress in a short time having won the Governor's Cup with their 2009 red wine. Since their opening, the owners have increased the size of the production but want to stay small.
A visit to Muse Vineyards takes you a short distance outside of the delightfully, quaint village of Woodstock, Virginia. Wine lovers will travel tree-lined, backroads, crossing a river by way of a rustic bridge to reach the winery.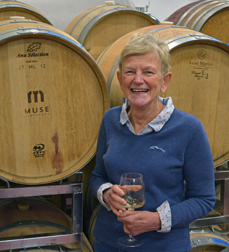 We quickly met Sally Cowal, an enthusiastic, friendly owner of Muse Vineyards. In 2003, she and her husband Robert, from Washington, DC saw an ad for a vineyard for sale by a Canadian diplomat. Prior to developing Muse Vineyards, Sally and Robert knew they wanted to own a "good vineyard." The couple drove to the vineyard location and realized that it was more of a hobby vineyard with only 600 grapevines planted in 1992. Despite the small size of the vineyard, they made an offer on the property which was accepted.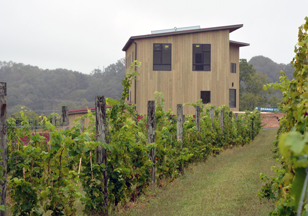 Since that auspicious moment, they have continued adding acreage and planting more grapevines. The winery was built in 2011. Today, Muse Vineyards has 30 acres of vineyards. The intention is to produce wines with estate grown grapes.
Robert is a lawyer and Sally was a former diplomat now with the American Cancer Society. They traveled extensively and enjoyed wine. Sally noted that their journey to owning a vineyard and winery was thought out. They read and took coursework to guide them along the way. She also commented, that they "didn't realize that once you own a vineyard, it owns you."
Sally related their story about their first wine. It was a 2009 Bordeaux blend with some of the grapes from the original property vineyard and 2006 planted vineyard. They named the wine Cleo, one of the muses. They debated whether to enter their wine for the Virginia State Governor's Cup. Eventually Sally entered the wine, and was pleasantly shocked when the wine won the Governor's Cup. She said she had to sit down to hear the good news.
The Tasting Room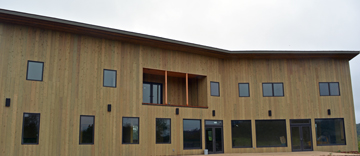 At the time of our visit, we enjoyed tasting the Muse wines in a room in the winery production building. However, in the fall of 2016, Muse will open its new tasting and event room (pictured under construction) sitting delightfully in the middle of thriving grapevines.
Designed by Robert and Sally, the new two-story tasting room features a one-of-a-kind walnut tasting counter. The walnut for this long, elegant tasting counter was sourced from their property. Large windows provide delightful views of the vineyards and countryside. A floor to ceiling stone fireplace adds to the ambiance of the room. Solar panels are used for heat and hot water. A second room is set aside as a reserve tasting room. Floors are warmed with radiant heating. This new tasting facility will become a destination site for many wine enthusiasts.
Muse Wines
Currently Muse Vineyards is producing 1,500 cases of wine. Their goal is to produce 3,000 cases. We enjoyed tasting the wines while talking with Sally and the winemaker.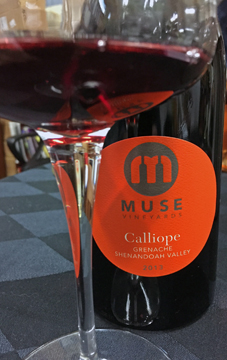 The Sauvignon Blanc 2015 was produced in stainless steel. It was a light yellow color and offered tropical notes of peach and melon with a touch of minerality. The finish was crisp. Chardonnay 2014 was fermented and aged in French oak. This dark yellow colored wine had a soft mouthfeel and notes of apple, pear and butterscotch. The wine was full-bodied. The finish was crisp with an oak hint on the aftertaste. Thalia 2014 was a blend of Marsanne, Roussane, and Viognier. It was co-fermented in French oak. The dark yellow colored wine offered floral and citrus notes. The mouthfeel was very smooth. This full-bodied wine had a crisp finish with fruit yielding to mineral.
Rosé 2014 was produced with a free-run Gamay. The winemaking protocol included the grapes on skins for 24 hours. The result was a rosé wine with an orange color. The aroma was of red berry fruits and the taste included notes of strawberries and raspberries. Minerality was also noted. The wine had a crisp finish.
Calliope 2013 was a blend of Grenache with a splash of Syrah. The wine had a translucent dark ruby color with a sienna hue. The wine offered dark fruit notes especially blackberry, spices and pepper. The wine was full-bodied with some tannins. The Clio Bordeaux Blend 2011 was a blend of Petite Verdot, Cabernet Sauvignon, Cabernet Franc and Merlot. This was an opaque dark ruby colored wine. The wine offered dark fruit notes and tannins. This was a full-bodied wine with a fruity aftertaste. The Clio Bordeaux Blend 2010 was a blend of Petite Verdot, Cabernet Sauvignon, Cabernet Franc and Merlot. The wine was an opaque dark ruby color with a purple hue. There were notes of blackberries, cassis, blueberries, black raspberries, licorice and leather. The full-bodied wine had tannins. The aftertaste was fruity.
When traveling to the beautiful Shenandoah Valley of Virginia, be sure to stop by Muse Vineyards to experience a wine tasting within view of the vineyards.
Muse Vineyards
16 Serendipity Ln,
Woodstock, Virginia 22664
GPS: N38º 51.300' W78º 30.095'
Article written Otober 2016

---
Visit these Virginia wineries and wine tour groups that partner with Wine Trail Traveler.