Barren Ridge Vineyards
by
Kathy and Terry Sullivan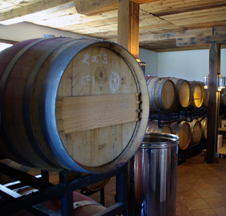 Summary: Barren Ridge Vineyards is a delightful winery to visit. With picturesque views of the vineyards and mountains in the distance, a visit will delight wine lovers. Only four miles from I-64 and I-81 in Virginia, this is a wonderful winery to visit often or stop at as you are passing through on the Interstates.
The Barren Ridge Vineyards tasting room was created in 2008. The location in Virginia's countryside is convenient to I-81 and I-64 as it is only four miles to either interstate.
John and Shelby Higgs, owners of Barren Ridge Vineyards, located the tasting room and modern winery in a building originally constructed for apple packing and cold storage. Beneath the cold storage were canals filled with water. These could be used to regulate the amount of humidity. John and Shelby were able to preserve the original building's structure and wood beams. John added new floors and a large stone fireplace.
Tasting Room
A comfortable seating area is arranged in front of the fireplace. Wine lovers can view the barrel room adjacent to the tasting tasting room. Seeing barrels from the tasting room offers a nice touch to the wine experience. The wood tasting counter offers plenty of room for visitors.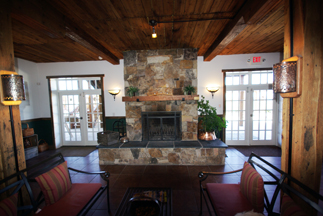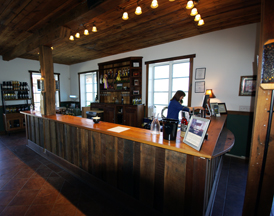 A large patio is just outside the tasting room and provides views of the countryside with vineyards and distant mountains. Several tables are available. Another large stone fireplace on the patio can offer some outside warmth during evenings when there is a chill in the air. From the patio, one can also see winery equipment. Consider purchasing a glass or bottle of wine and enjoying it outside.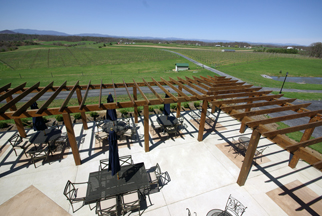 Event Room
Upstairs from the tasting room, a stairway leads to a large event room with a balcony overlooking vineyards and mountains. Another large fireplace adds to the ambiance of this event room. This room can accommodate 175 to 200 people. With its view of the country, vineyards and mountains this may be perfect for a wedding or other large event. Outside the event room is a balcony that has views of the countryside. It faces west and throughout the year offers views of amazing sunsets. John etched on a piece of wood the location of the sunset on the winter and summer solstices.
Vineyards
In 2007 the Higgs and friends planted an acre of vinifera vines. More vines were planted in 2008. The vineyards now consist of Chardonnay, Traminette, Vidal Blanc, Viognier, Petit Verdot, Merlot and Chambourcin. John expects to continue to plant vines for a total of ten acres. Grapes are also sourced from the Shenandoah Valley AVA. Currently the winery produces 4,000 cases. The wine portfolio is balanced between 50 percent reds and 50 percent whites.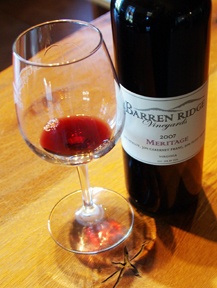 White Wines
Vidal Blanc 2008 offered peach, melon and mango notes. The finish was crisp. Suggested pairings included chicken, seafood and pasta dishes. Chardonnay 2008 had fruit notes of apple and pear. The finish was crisp This wine was fermented in new French oak and neutral oak. Consider serving it with scallops. Viognier 2008 had nuances of fruit layers that included grapefruit, pear and apricot. The fruity finish was crisp.
Red Wines
Cabernet Franc offered notes of plum and pepper. The wine finished with plum nuances and tannins. Serve with spicy ethnic foods. Meritage 2007 was a blend of Merlot, Cabernet Franc and Petit Verdot. The wine had earthy, spice and black cherry notes on the aroma and taste. The finish had noticeable fruit and spice nuances with tannins.
Dessert Wine
Christof 2008 was an ice wine style dessert wine produced from a blend of Viognier and Vidal Blanc. The aroma offered apricot and honey nuances. The wine was smooth, heavy bodied and sweet. Suggested pairings were Stilton cheese, fruit or over vanilla ice cream.

Barren Ridge Vineyards is definitely a winery to visit. They are unpretentious and offer a wonderful wine experience. As John said, "it's more than just the wine." Visit the winery and discover the wine and the experience.

Barren Ridge Vineyards
984 Barren Ridge Road
Fishersville, Virginia 22939
GPS: N38º 08.036' W78º 57.334'
---
Visit these Virginia wineries and wine tour groups that partner with Wine Trail Traveler.