Fincastle Vineyard & Winery
by
Kathy Sullivan
Summary: Fincastle Vineyard & Winery is a small local farm winery that wine lovers should visit in order to experience Fincastle wines. Seventy-five percent of the wines produced here are estate wines. Watch for the summer concert series. Consider purchasing the "make your own picnic basket opportunity" or bring your own picnic basket and enjoy the beautiful setting just minutes off of Interstate 81. Located in Fincastle, Virginia, the winery is only 20 minutes from Roanoke and a half hour from Lexington.
The winery tasting room at Fincastle Vineyard & Winery is located in a quaint stone cottage addition added to a large early 20th century farmhouse. There is a high ceiling with wood beams. A large stone fireplace and wood floor lend themselves to the tasting experience. A relief wall map provides interest for visitors as they taste wines.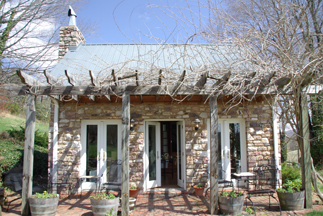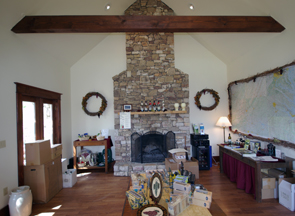 Wine accessories and gift items are available in the tasting room. Look for pewter bottle stoppers, picnic wine carry bags and ceramic "grape" plates. Choose from an assortment of edible snacks and create your own picnic basket to enjoy on the grounds. Items for the basket includes your choice of nuts, snack crackers, beef summer sausages and cheeses. Of course, remember to add a bottle of wine. Return the basket after you have enjoyed your picnic.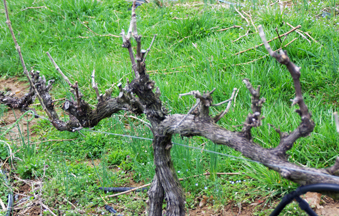 In 1995 Richard Classey, winemaker, and his father, David Sawyer, viticulturist, began tests planting grapevines. They were interested in learning which vines would do well in their area of the Shenandoah Valley. They tried many varieties. After three years they were able to rule out many of these test varieties. Pinot Noir was ruled out because the grape grows tight clusters that hold moisture. In 1998, five acres of vineyards were planted that included Cabernet Franc, Cabernet Sauvignon, Chardonnay, Chardonnel, Vidal Blanc, Chambourcin and Traminette. Most of the plants in the vineyards are 10 to 12 years old.
Today the winery produces 1,000 to 2,000 cases and they would like to be at 2,000 cases. Seventy-five percent of the wines produced at Fincastle Winery are estate wines.
Events
Fincastle Vineyard & Winery has a summer concert series. For 2010, tickets are only $10 each, non-tasters $5 and children under 12 are free. This can be a lovely outing especially for those living in the Roanoke and Lexington areas.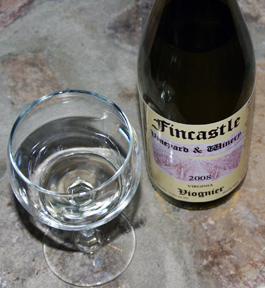 White Wines
Chardonnay 2008 was aged in American oak for four to six months. The aroma and taste had notes of oak, caramel and apple. The crisp finish had apple nuances. Viognier 2008 was aged on sur lees. The aroma and taste were of oak, toast and citrus.
Red Wines
Cabernet Franc 2006 offered aroma and taste nuances of plum. The wine was a ruby color. There were mild tannins and fruit notes on the finish. Cabernet Sauvignon 2005 was a sienna color. There were blackberry nuances on the aroma and taste. The wine was light bodied with a crisp fruity finish with tannins.
Rosé Wine
Rosé 2008 produced from Chambourcin was an orange rose color. The aroma and taste had light red fruit notes. There were hints of strawberries and red cherries. The finish was crisp.
Enjoy a visit to Fincastle Vineyard & Winery, located in Virginia's countryside. Taste wines, enjoy picnics and summer concerts.
Fincastle Vineyard and Winery
203 Maple Ridge Lane
Fincastle, Virginia 24090-3243
GPS: N37º 26.860' W79º 49.217'
---
Visit these Virginia wineries and wine tour groups that partner with Wine Trail Traveler.