Vignoble Domaine Bresee
by
Kathy Sullivan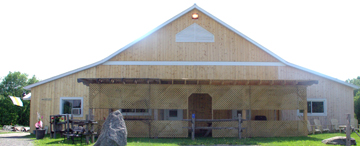 Summary: Enjoy a visit to a vineyard and winery in Montréal's countryside where wine grapes are growing prolifically. In addition to a variety of wine styles, visitors will discover beef from pasture raised Charolais available. Consider carrying a picnic basket to enjoy on the grounds.
Arriving at Vignoble Domaine Bresee visitors will discover the tasting room set back from the road by a long curved driveway. Travelers are greeted by vast views of vineyards with trees beyond. In the distance two wind machines are available for use to prevent spring frosts from harming the primary grape buds.
We met the owner, viticulturist and winemaker Rick Bresee. Rick's wife, Stacey does the marketing for the winery. Rick also wears several other hats including husband, father and beef farmer. He appears laid back about all of his accomplishments. We came away with the feeling that he should be pleased if not proud of his feats. Today Vignoble Domaine Bresee produces 40,000 bottles. While talking with Rick, he noted that he had started all of this from nothing.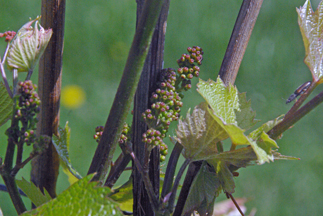 Vineyards
The onsite grape varieties include St. Croix, Seyval Noir, Gamay, Vandal-Cliché, Vidal Blanc and St. Pepin. For winter protection some of the grape varieties are covered with geotextile, others are covered with hay. The vineyards, first planted in 2001, now cover seven hectares (17 acres).
Rick noted that his father had lived in the area. At the age of 18, Rick left home and bought a farm. His brother, friend and friend's father helped Rick to rebuild the house on the farm. Later on, Rick sold his share of the property and bought the current property where he built an off-the-grid cottage. In 1999 he bought 40 acres that had been overgrown. His idea was to plant a vineyard and sell the grapes to other wineries. Rick said, "Every year is different" in the vineyard. In the 4th year raccoons and skunks wiped out the vineyard. In year five, he trapped 55 raccoons and skunks. During the 6th year he teamed up with two other vineyards to form a winery co-op. It took a long time to get a permit for his winery but it finally was granted in 2007.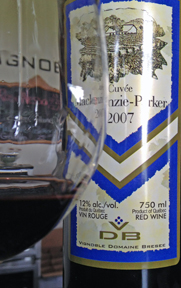 Wines
Rosé Nessa 2011 was named for Rick's and Stacey's daughter Nessa. This red wine was a blend of St. Croix and Seyval Noir. The wine offered an aroma of red berry fruit and a taste of raspberries. The finish was slightly sweet and fruity. Bressoc White 2011, a white wine was a blend of St. Croix, Vandal-Cliché, Vidal and St. Pepin. The straw colored wine had floral and yellow stone fruit notes. Bressoc Red 2011, a ruby color, was produced with St. Croix. This earthy, dark fruit wine had a hint of leather. The finish offered mild tannins and was fruity.
Cuvée MacKenzie-Parker 2007 was a dark ruby color. The aroma and taste had tobacco and dark fruit notes. The taste also had hints of licorice. The finish had tannins and fruit nuances.
Gavin 2009 was a late harvest Vidal. The wine, a yellow color, had floral nuances on the aroma. The taste was of tropical fruits with a touch of citrus.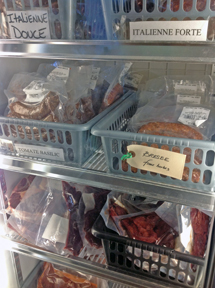 Beef Available
Another enterprise of Rick's is providing pasture, raised beef for consumers. Available in a refrigerator/freezer in the tasting room, consumers can choose from many cuts of beef. The beef from the Charolais breed is free from added antibiotics and hormones.
Remember to have a picnic basket with you and plan to spend a few hours in Quebec's beautiful countryside.
Vignoble Domaine Bresee
303 Draper Hill
Sutton, Québec, Canada J0E 2K0
GPS: N45º 08.931' W72º 36.801'
Article written June 2013
---
Visit this Winery/vineyard travel agency and Canada winery that partner with Wine Trail Traveler.