Vignoble Sainte-Petronille
by
Kathy Sullivan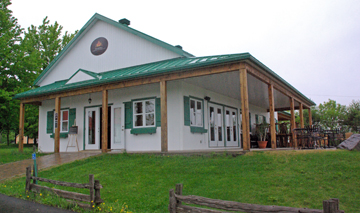 Summary: Vignoble Sainte-Petronille located on the Île d'Orléans produces wines with grapes grown on the island across from Quebec City. Tourists on holiday or vacation visit the island to relax and enjoy tasting wines in the tasting room.
Nathalie Lane and Louis Denault are the owners of Vignoble Sainte-Petronille located on Île d'Orléans. They purchased the winery after seeing it available for sale. For Nathalie this was a career change and she noted that it was "love at first sight." Despite three to four feet of snow in the area, Nathalie said, "Yes it is possible to grow grapes in Quebec!" In addition to still wines, the winery produces late harvest and Icewines. All fruit is grown in the onsite vineyards or sourced from vineyards on the island.
A large sign makes it easy to locate the winery. At first sight, the tasting room with green shutters and a green roof may remind visitors of Prince Edward Island's Anne of Green Gables house. Inside, the tasting room is country-style with a wood tasting counter.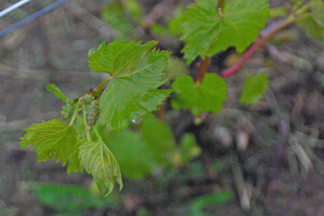 Vineyards
A gentle rain fell during our late May visit. Primary buds were on the vines. The vineyard has six hectares (15 acres) with 17,000 vines. Located on the island in the St. Lawrence River, the large body of water helps to keep the frost away from the vineyards. Wine grape varieties include Vandal-Cliché, Vidal, Riesling, Frontenac Gris and Frontenac. Grapevines were planted in 1998 and 2012. The vineyard soil is a mixture of silt and fine gravel.
At the side of the tasting room a small area with a fire pit overlooks the vineyard and is available for visitors to enjoy a glass of wine. Behind the tasting room, the owners have added a deck. They partnered with a small restaurant and the deck is used for restaurant seating.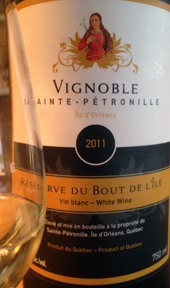 Wines
Réserve du Bout de L'ile was produced with Vandal-Cliché. The wine was a straw color with a floral aroma. The taste was floral with a hint of citrus. The finish was crisp and floral with a bit of vanilla and a long aftertaste. Voile de la Mari, a food friendly wine, had a pale yellow color with fresh, white fruit notes. Suggested pairings included fish, seafood, poultry and delicatessen.
Bouquet d'Oléans was produced with St. Croix. The wine was a dark orange to red with a taste of floral and berry notes. The finish was crisp.
Dessert Wines
Vandal Vin de Glace, an Icewine, was a blend of Vandal-Cliché and Vidal. The taste was similar to a mouth full of honey. This wine was lip smacking good and the taste tended to linger. Suggested pairings included fois gras and strong cheeses. Vin de Glace Rouge 2011 was also produced with St. Croix. The ruby wine offered floral and dried fruit notes. It may remind one of strawberry rhubarb pie.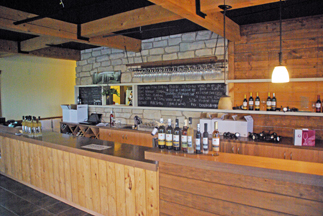 Insula, made with Vandal-Cliché was produced with a blend of grape must with French brandy. The wine is aged for one year in stainless steel and for three years in oak. The result was a wine with nuts and citrus on the aroma. The wine was slightly sweet and with 17 percent alcohol, there was no heat on the taste. A long taste of hazelnuts was on the aftertaste.
When visiting Quebec City, enjoy a visit to Vignoble Sainte-Petronille on the Île d'Orléans.
Vignoble Sainte-Pétronille
1 Chemin du Bout de l'Île
Sainte-Pétronille,
Québec, Canada, G0A 4C0
GPS: N46º 51.740' W71º 06.962'
Article written June 2013
---
Visit this Winery/vineyard travel agency and Canada winery that partner with Wine Trail Traveler.