Cidrerie Du Minot
by
Kathy Sullivan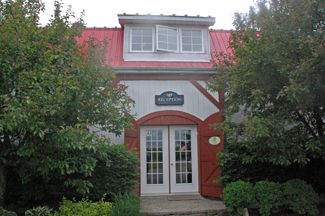 Summary: Cidrerie Du Minot is a family owned and operated cider mill where visitors will discover a delightful selection of still, sparkling and ice cider. Quebec is home to Cidrerie du Minot in Hemmingford, just a short distance from the New York border. The cidery specializes in low alcohol ciders and sparkling ciders.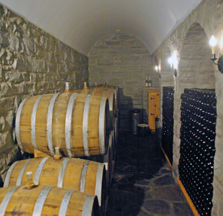 Tasting Room
Visitors arrive at the large farm where the tasting room, with pine wood walls, is bright and cheerful. The walls are decorated with large barrel ends. One side of the tasting room has gate-enclosed petite wine caves. Two small wrought iron chandeliers add ambiance to the tasting room.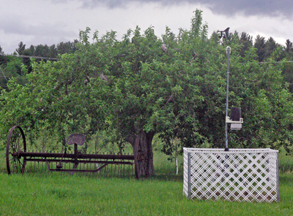 Orchards
The orchards have 14,000 apple trees on 25 hectares. In addition to the eating apple varieties, they also grow specialty apples to create better ciders. Apple varieties include McIntosh, Cortland, Empire, Liberty, Trent, Lobo, Geneva and Mont-Royal.
Cider Mill
One of the newest pieces of equipment includes a stainless steel press with several rollers. This is used to crush the frozen apples. We learned that in order not to break the press, they only insert one frozen apple at a time.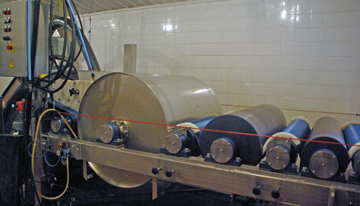 Current cider production at Cidrerie du Minot is 600,000 bottles (50,000 cases). The emphasis at the cider mill is on quality and low alcohol ciders. They like to start with the fruit and turn it into a magnificent product. Some of the ciders have 2.5 percent alcohol.
History
The Cidrerie Du Minot was started back in 1987 by Robert and Joëlle Demoy who moved to Quebec from Brittany. The cider mill received the first permit in Quebec for producing artisanal hard cider. Now, the operation of the cidrerie is under the direction of Alan and Audrenne Demoy.
Museum
In a nearby barn, a small cider museum has been established. A wall display explains cider making. Vintage machines for producing ciders are on display including a large wood press. A video is also available explaining the apple cider process.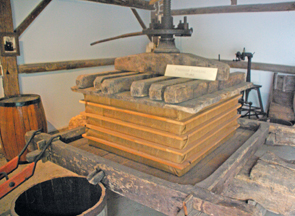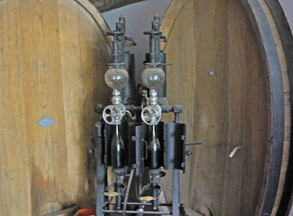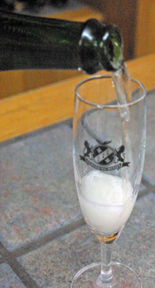 Ciders
We tasted several ciders. LaBolée du Minot Reserve was produced with McIntosh, Lobo and Cortland apple varieties. The straw color cider was very appley with a sweet crisp finish. The residual sugar was six percent. Crémant de Pomme, a sparkling cider with 2.5 percent alcohol was made with McIntosh apples using the Charmat method. Crémant de Pomme Rose was a mix of Geneva and Mont-Royal apples. The cider with 2.5 percent alcohol was a salmon color with strong notes of apples. Du Minot Brut, a blend of McIntosh, Lobo, Cortland and Empire varieties was a straw color and had seven percent alcohol. The cider was similar to a Chardonnay sparkling wine.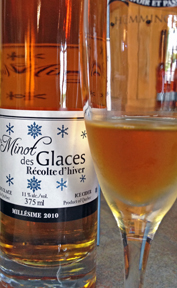 Ice Ciders
Minot des Glaces was a blend of frozen apples and apple juice that was left outside in the cold of the winter. The cider was a gold color with nuances of honeysuckle. The taste was smooth with apple and some tropical notes. Crémant de Glace Sparkling Ice Cider was a blend of McIntosh, Cortland, Empire, Liberty and Trent. Apple notes were throughout the cider that had a crisp, bubbly finish. The finish was long with apple nuances. Du Minot des Glaces Winter Harvest 2010 was produced with 100 percent of the apples frozen on the tree. The cider made with Golden Russet apples was a gold color with a taste of honeysuckle. The sweet cider offered jammy fruits, apple, peach and apricot notes.
Fortified Cider
Du Minot Doré was fortified with Minot cider that was sent to a distillery. The dark gold cider was barrel aged for two years. The cider aroma was of apples while the taste was of cooked apples. The aftertaste was like candy.
Enjoy a visit to Cidrerie Du Minot where you can taste low alcohol and sparkling ciders. During your visit, plan to enjoy the museum after tasting Cidrerie du Minot ciders.
Cidrerie Du Minot
376 Chemin de Covey Hill
Hemmingford, Quebec, Canada
GPS: N45º 01.075' W73º 37.326'
Article written June 2013
---
Visit this Winery/vineyard travel agency and Canada winery that partner with Wine Trail Traveler.