Vignoble La Halte des Pèlerins
by
Kathy Sullivan
Summary: Vignoble La Halte des Pèlerins offers visitors a delightful experience that includes countryside views, vineyards, wines, children's playground, a large deck and individualized tasting experiences for returning visitors.
We discovered a visit to Vignoble La Halte des Pèlerins to be a fun and delightful experience. In addition to a tasting room, the winery has a large deck available for visitors to linger on and enjoy the scenery while sipping wines with available snacks. Visitors' experiences are unique. Each visitor experience is tailored to whether it is a first time, second time or third visit. Vignoble La Halte des Pèlerins is a family friendly winery. Within sight of the winery and vineyards a large extended play area is available for children. In 2009 the winery presented a children's show about grapes.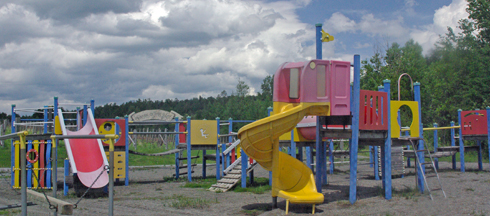 The owners are Genevieve and Marco Corbin. They consider the winery and vineyards to be a combination of passion and folly. Genevieve's father owned the 25-acre property and planned to build homes on it. When the housing market declined he planted trees on it. At dinner with wine one evening, the family discussed the property including the slope and the orientation of the land. Genevieve and Marco decided to begin planting grapevines.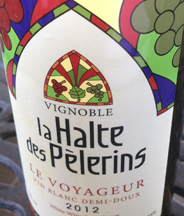 The winery logo is similar to a stained glass window. Genevieve noted that the La Halte des Pèlerins is located close to Shrine of the Sacred Heart at Beauvoir, a shrine that has 100,000 visitors a year. The winery is also located on Chemin du Sanctuaire. Wine labels have the colorful stained glass logo. Check out the names of the wines that relate to religion including Le Confessional and L'Archangel.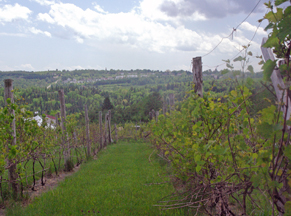 The vineyards, within view of the deck, consist of 15 acres with Vandal-Cliché, Frontenac, Frontenac Gris, Frontenac Blanc, Sabrevois, ES-4-7-25, Prairie Star, St. Croix and St. Pepin.
Marco who was born in Quebec had lived near a vineyard while growing up. He remembers his grandfather having an apple orchard; however, his grandfather decided to sell the property including the apple orchard and farm when Marco's mother and her brothers did not want it. Today Marco has wonderful memories of the time he spent on a tractor with his grandfather.

In 2008 Marco, a construction worker, left his job to work full time in the vineyard. He also wanted to learn to make wine. Along the way he took winemaking courses and experimented with making wines, ultimately opening the winery.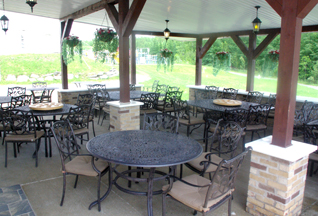 Wines
The Pilgrim was a blend of Vandal-Cliché and Prairie Star. The aroma was fruity reminding one of apple and honeysuckle. The finish was smooth and crisp. Suggested pairings included cheese fondue and chicken. Le Voyageur 2012 was a blend of Frontenac and Swenson White. The dark yellow wine offered notes that were tropical, mineral and sweet.
Rosé 2011 was 100 percent Frontenac. The aroma offered notes of cranberries and cherries. The wine was dry and crisp with fruit notes on the finish.
Le Prestige 2010 was a blend of Frontenac and Sabrevois. The wine offered an aroma of licorice notes. The taste included notes of licorice, smoke and dark fruit. The finish with tannins had almost jammy dark fruit nuances.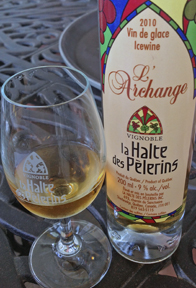 Icewines
L'Archangel 2010, a Vin de Glace, was a gold color with notes of floral, herbal, honey and jammy yellow stone fruits. The wine was made from 100% Frontenac Gris. Le Confessional was a ruby color with 18 percent alcohol. The wine was a blend of Frontenac, Sabrevois and St. Croix. The aroma offered herbal nuances while taste had dark fruit and herbs. The wine finish was of jammy fruits. Le Graal 2010, a Vin de Glace Rouge, was a dark ruby to black color. The aroma and taste had dried black fruits. The finish was sweet with a hint of tannins and dark dried fruits.
Events
Public and private events take place at Vignoble La Halte des Pèlerins. For those planning weddings, receptions, and anniversary celebrations this may a great venue for you. Activities are family oriented. During the summer of 2013, The Secret of the Giant and the Treasure of Alfe offer high quality, outdoor entertainment for the entire family.
A visit to Vignoble La Halte des Pèlerins is a great experience for the whole family. When planning your visit, you may want to include a stop at the nearby Shrine.
Vignoble La Halte des Pèlerins
693 Chemin du Sanctuaire
Sherbrooke, Québec, Canada J1H 0E1
GPS: N45º 26.619' W71º 53.410'
Article written June 2013
---
Visit this Winery/vineyard travel agency and Canada winery that partner with Wine Trail Traveler.