Vignoble Carone
by
Kathy Sullivan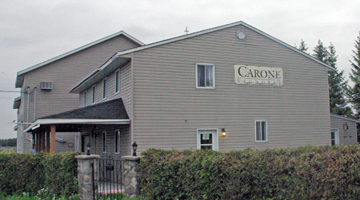 Summary: Vignoble Carone is a family owned and operated vineyard and winery. The winery specializes in red wine production that are highly sought by consumers. Frequently the wines are sold out.
Anthony Carone and Sarah Hoodspith, an enthusiastic couple, are the owners of Vignoble Carone, a winery and vineyard located in Québec. The land has been in the Carone family since the 1980s when Anthony's father Peter purchased the land. Peter began experimenting by planting vinifera and hybrids wanting to see what would do well. With the resulting grapes he made wine for his family. Growing up in an Italian family, Anthony recalled helping to make wine when he was five years old. Today Anthony is passionate about producing and marketing Carone wines.
The winery established itself as a commercial winery in 2000. The Quebec wine industry took off in the mid 2000s when many wineries were established and vineyards were planted.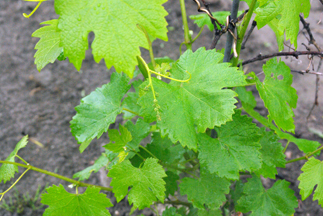 Vineyards
In 2013 the vineyards have several grape varieties including: Frontenac, Marquette, Pinot Noir, Sangiovese, Cabernet Severnyi, Nebbiolo, Landal Noir and Landot Noir. Cabernet Severnyi is a European hybrid that was developed in Russia where it is widely grown.
Located near the St. Lawrence River and in a valley, the vineyards receive some protection from frosts. In late fall, soil is mound over the vines. The soil is removed in April and beginning of May. Unfortunately in late May of 2013 a frost killed many of the primary buds. Anthony noted that they cannot tap into the underground water to spray the vines for frost protection. Production is dependent upon the severe weather in the area. It can be up to 75,000 bottles or as little as 25,000 bottles.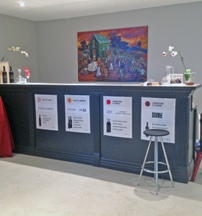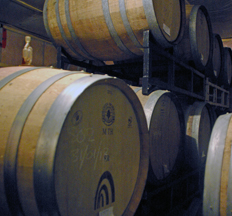 Tasting Room and Winery
A tasting counter is at one end of the tasting room. Tables and chairs afford a sit down tasting experience. White book cases display photos, books and wines. The room is bright and modern.
The winery has several different size and shaped stainless steel tanks. A pneumatic press is used for pressing the grapes and must. Wine was aging in barrels in the barrel room.
Wines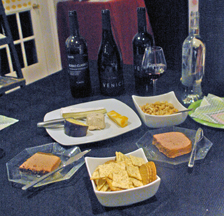 When tasting Carone wines, visitors will find wines paired with foods. Anthony and Sarah believe that food pairings are the only way to taste wines. Our degustation included an assortment of crackers, cheeses, pâtés and nuts. One of the owners' goals is to reach out to the modern Quebecer. The winery has four wine brands: Classico, Venice, Double Barrel and Bin33. The use of the Venice name is an effort to make a European connection.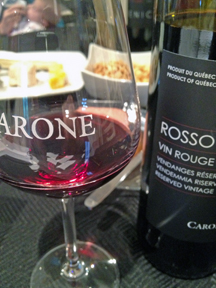 Rosso Classico 2011 was a red/ruby color. The wine was a blend of Frontenac, Landot Noir, Landal Noir, and Cabernet Severny. The wine was fruity with notes of red fruits. The finish was crisp and fruity with mild tannins. Venice Pinot Noir 2010 was produced with Pinot Noir and a bit of Landot Noir, and Cabernet Severny. The red wine offered cherry notes. The finish was crisp with mild tannins and fruity. Venice 2011 Cabernet Severny produced with 100 percent Cabernet Severny offered notes of eucalyptus, cherry and raspberry. Double Barrel 2009 was a blend of Cabernet Severny and a touch of Sangiovese. The wine was a dark ruby color with notes of tobacco and dark fruits.
Agritourism
Anthony and Sarah are proponents of agritourism. In addition to attracting consumers and tourists, they also work closely with local theatres and restaurants.
When Prince William and Kate visited Québec they had dinner paired with wine from Vignoble Carone. The Carones' noted that Quebec has a food culture.
Enjoy a visit to Vignoble Carone where you will meet a friendly couple who are concentrating on producing the best red wines possible in the Lanaudière region of Quebec.
Vignoble Carone
75 rue Roy
Lanoraie, Quebec J0K 1E0
GPS: N45º 58.153' W73º 12.920'
Article written June 2013
---
Visit this Winery/vineyard travel agency and Canada winery that partner with Wine Trail Traveler.