Vignoble Le Nordet
by
Kathy Sullivan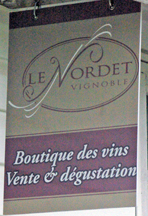 Summary: Vignoble Le Nordet offers a boutique tasting room setting with a large event facility. The owner and winemaker enjoys wine and had the property to plant a vineyard and start a winery.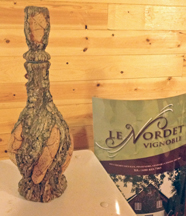 Small and down to earth, Vignoble Le Nordet offers several styles of wine in a comfortable atmosphere. As one wanders through the small tasting room, they may spy a unique bottle shaped object. Inquiring as to this unusual piece of art, Carl Bourget noted that it was a wine bottled covered with bark from a cork tree. This unique bottle was a gift he gave to his mother when he was 14 years old.
Carl became interested in wine and had a friend who used to tell him he wanted to start a vineyard. At the end of a day after visiting and attending a clinic by specialists, Carl tasted Quebec wines and said, "these are real." Since he had the land, he decided to plant a vineyard in 1997. He took coursework and started making wine. However, he learned to make wine from a consultant, which was like "drinking his words." Today he has many roles including as a wine judge.
Carl wants visitors to know that this is a winery that focuses on the quality of the wine rather than the quantity.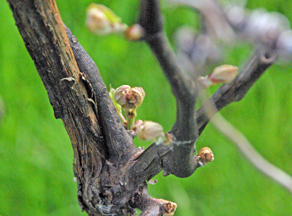 Vineyards
The vineyards of four hectares (ten acres) include St. Pepin, Prairie Star, Okanagan Riesling, Radisson and Sabrevois. At the time of our late May visit, buds were just pushing out.
Each year, heavy amounts of snow are expected. Grapes for Icewines are harvested by the Quebec method of cutting the grape clusters after a freeze and placing the grapes in the nets until the temperatures reach the required -8 degrees Celsius. For Vignoble Le Nordet this method is successful except near the edges of the vineyard where more snow accumulates and the netted grapes are occasionally below the snow.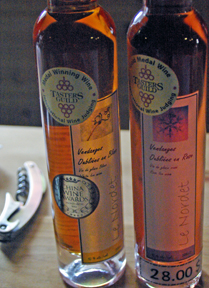 Wines
In good years, Carl is able to produce 22,000 bottles. In the winery, grapes from onsite vineyards and other Quebec vineyards are used.
Cardinal was a blend of Sabrevois and Radisson. The wine was a dark ruby color with dark fruit. The taste offered licorice and dried black fruit. The crisp finish had tannins and dark fruit nuances. Vendanges Oubliees en Blanc Forgotten Harvest Icewine 2010 was a dark orange. The wine was produced with Okanagan Riesling. The taste was smooth with citrus and tropical notes. The crisp finish cut the sweetness of the wine. Vendanges Oublieese en Rose Icewine 2011 was a dark burnt orange color. The aroma had notes of strawberry. The taste of the wine was smooth and crisp. The wine had a long aftertaste of fruit with some cherry and cherry pits. Solstice d'hiver, a dessert wine, was a blend of St. Croix and Sabrevois. This dark ruby wine was smooth and offered dried, dark fruit notes with a touch of citrus. The finish was crisp and fruity.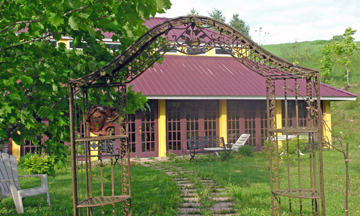 Event Facility
Recently a large event room was built for private events including receptions, weddings, family celebrations and more. The yellow with a maroon roof facility is located in a peaceful country setting beyond the tasting room. French-style windows add to the ambiance of the building. This would be a delightful location to host a special event.
Enjoy a visit to Vignoble Le Nordet and if you are planning an event check out the event facility.
Vineyard Nordet
991 Chemin des Iles
Pintendre, Québec, Canada G6C 1B5
GPS: N46º 43.492' W71º 07.787'
Article written June 2013
---
Visit this Winery/vineyard travel agency and Canada winery that partner with Wine Trail Traveler.