Vignoble de la Rivière du Chêne
by
Kathy and Terry Sullivan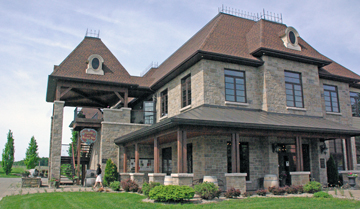 Summary: From a distance Vignoble de la Rivière du Chêne reminds one of a new world-style structure. The promising view is followed with a delightful visit and wine tasting.
From the distance we saw the grand new world-style structure of Vignoble de la Rivière du Chêne, a dramatic stone building with two floors. We discovered the tasting room located on the first floor. The second floor is for special events.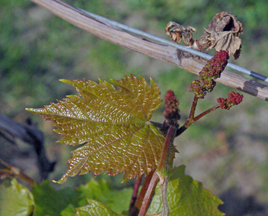 Vineyards
The vineyards with 16.5 hectares of grapevines is planted with Vandal-Cliché, Vidal Blanc, St. Pepin, Marechal Foch, Baco Noir, Marquette, St. Croix, Frontenac, Seyval Noir, Sebrevois and De Chaunac. There are also plantings of Pinot Noir and Chardonnay. Geotextile material covers the vinifera grapes during the winter to protect them from the cold. The mostly limestone and clay soil is also comprised of smaller amounts of sand and silt.
Growing wine grapes in Quebec does have its challenges. A mid-May freeze caused damage to some of the primary buds. This will likely reduce the 2013 yield for harvest. Like other wine regions in the world, there are also exceptional years like in 2012.
Winery
The modern winery blends stainless steel,wood and concrete to make an appealing view of the facility. Below the gleaming stainless steel tanks and curved stairway is the barrel room. Barrels aging wine are stacked two high and line the cement walls of the room
Currently production for the winery is 160,000 bottles (13,000+ cases). The greatest challenges for the winemakers include: the quantity of grapes, the young vines and wines, and letting grapes express themselves and their terroir. Some white wines are aged 12 to 15 months and red wines are aged 12 to 18 months.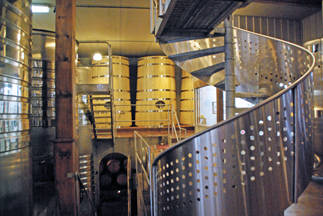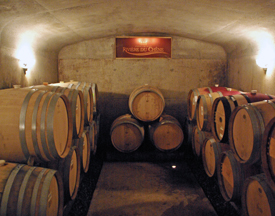 Owner of Vignoble de la Rivière du Chêne
We met the owner, Daniel Lalande briefly. He remembers his father working in agriculture and he loved the grapevines. When he was young Daniel had fun playing on a tractor. While talking with him, he mentioned that the day he decided to start a winery was the same day he met his wife. Regarding ownership of a winery, "It's a work in progress to be a winery owner."
Daniel talked about the challenges of winegrowing and winemaking in Quebec. He mentioned that it is an effort to get consumers to recognize that good wines are made in Quebec. Some people feel that Quebec is too cold to produce wine grapes; however, in 2012 they had 1300 hours of sun, enough to ripen many grape varieties especially the varieties grown in Quebec.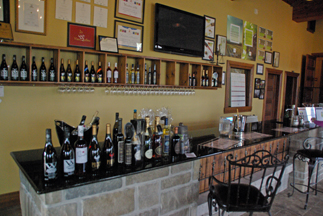 Wines
To receive Quebec certification, Quebec Certified Wines, 85 percent of the grapes must be from Quebec and 50 percent from the winery. In 2014 the law will change so that 100 percent of the grapes must be from Quebec.
Rosé Gabrielle was a blend of Seyval Noir, Sabrevois, Frontenac Red and De Chaunac The light red wine offered red berry fruit notes. The wine was crisp and fruity with a touch of sweetness.
William Blanc was a blend of Vandal-Cliché and Vidal Blanc. The light yellow wine had floral notes and was crisp.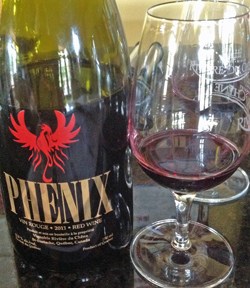 William Rouge, a blend of Marechal Foch and Baco Noir, was a dark purple with a ruby hue. The wine aroma offered hints of tobacco. The taste had notes of pepper, tobacco and dark fruit. The finish had tannins and spice with a long aftertaste. Phénix Rouge, a blend of Marcehal Foch, Frontenac, Baco Noir, St. Croix and Lucie Kuhlmann offered notes of dark fruits and mild tannins. The wine was very fruity. The Phénix Rouge was named for Greek mythology's rising of the Phoenix, a reference to the recovering of the winery from a destructive fire in 2007.
L'Adélard was produced with white wine and maple syrup. The result was a dark yellow wine with floral notes. Cuvée Glacée des Laurentides was a Vidal wine produced with the second press of the puck. The first press is used for producing Ice Wine. This dark gold wine had honeysuckle and dried fruit especially apricot notes. Éraportéross was produced with Marechal Foch and maple syrup. This was a very dark ruby to black wine. The wine had dried fruit notes including prunes and raisins.
Private Events
Vignoble de la Rivière du Chêne offers space for a multitude of events beginning with weddings, birthdays, anniversaries and business meetings. Outside events can also be planned at the winery.
Be sure to stop by Vignoble de la Rivière du Chêne to taste a variety of their specialty wines. Enjoy the experience and consider this winery's option for hosting private events.
Vignoble de la Rivière du Chêne
807, Rivière Nord

Saint-Eustache, Québec, Canada, J7R 0J5
GPS: N45º 33.808' W73º 58.530'
Article written May 2013
---
Visit this Winery/vineyard travel agency and Canada winery that partner with Wine Trail Traveler.