Domaine Neige (formally La Face Cachée de la Pomme
)
by
Kathy Sullivan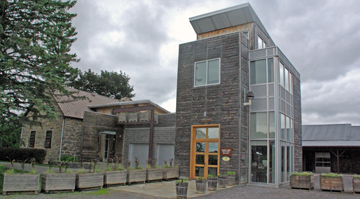 Summary: Le Face Cachée de la Pomm with extensive apple orchards created the world's first ice ciders for commercial use. The owner François Pouliot was in the music video and movie world when he started his hobby as a lifestyle in Quebec's countryside.
François Pouliot wanted to make a vin de glace (Icewine).  In order to do so, and keep his activities in the film industry, he purchased a property south of Montreal with an historic 1842 stone house and an old apple orchard. François could have planted a vineyard and make Icewine, but he settled on making ice cider. François wanted to make something that would emphasize what Quebec has best to offer: apples and the winter cold. Ice cider made sense. In 1994 he produced his first 100 bottles of his ice cider NEIGE. Since 2000, the hobby became a full time hobby. La Face Cachée de la Pomme is the location where ice cider has been developped and was the first to commercialize ice cider also known as apple ice wine.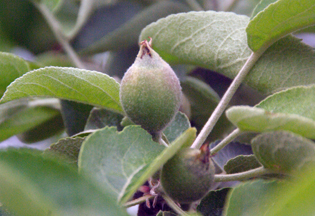 Orchards
Over time, 16,000 additional apple trees have been added to the property. New orchards are added based on recent research that determined that planting apple trees closer together and trellised increases earlier apple production. François believes that the positive aspects of planting the orchards this way outweigh the additional expense of the planting techniques. Some apples are picked frozen at -15 degrees Celsius.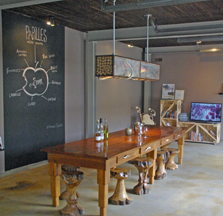 Tasting Room
The tasting room at Le Face Cachée is small with an elegant style. The boutique tasting room provides a bright, light filled experience. Stöltz stemware is used for the tasting. Creativity has been used in creating ambiance. Realistic style apples are used in an overhead decoration. A golden wall with several perfect circles holds bottles of ice ciders awaiting purchase.
Just beyond the tasting area, a second area is available for additional tastings. The long table has several very unusual wood stools that rest on polished apple tree trunks. Both rooms are bright with windows facing the cidery.
Over the years several sections of the buildings have been added creating an interesting mix of styles and colors. The tasting room is located in a glass building. Visitors can view other areas of the facility and the orchards. Numerous informational signs designed for visitors are placed in different areas including the orchard.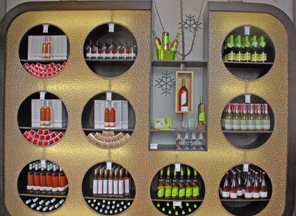 Ciders
Currently Le Face Cachée is producing 300,000 bottles of cider. Their ice ciders NEIGE are distributed to 25 countries. Some of the bottle labels have a removable label over a fixed label with information including the name, vintage, tasting notes, potential aging and apple varieties. This label is ideal for consumers as they can pull off the label to keep for reminding them of the cider they enjoyed.
Bulle Rosé 2011 was a sparkling cider made with Geneva apples that had five percent alcohol. The light orange cider offered floral and apple notes. The finish was cleansing with apple yielding to melon. Bulle de Neige, a sparkling cider, was a straw color with 7.5 percent alcohol, and produced with McIntosh apples. Apple notes were throughout the cider. The finish was crisp. Dégel was a yellow cider produced with McIntosh and Spartan apple varieties. Apple nuances were on the aroma. The taste was smooth and dry and the aftertaste had notes of apple. The Dégel is produced when spring is near. The remaining sugar, trapped in the ice (after the late extraction for Neige Première ice cider), is utilized for the production of Dégel.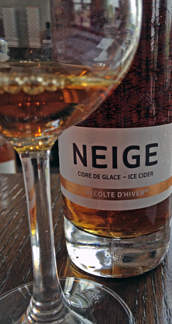 Neige (Snow) Ciders
Neige Premiere was a blend of McIntosh and Spartan apples. This ice cider was gold with notes of apples. The taste was smooth with apple and some tropical notes. This apple ice wine was started with a harvest during the fall. Once winter arrives, the fruit is pressed and the juice obtained is placed outside in the intense January cold. The extracted must is then placed in stainless steel tanks where it ferments at least six months at low temperatures before being bottled.
Neige Winter Harvest 2009 was a dark gold color with eight percent alcohol. The apple varieties for this included: Fugi, Golden Russet, Honey Gold, Honey Crisp and Pouliot. Floral notes were on the aroma. The taste offered honey, dried apricot and dried pineapple nuances. The finish was sweet with dried fruits.
Neige Noir Québec Amber was an amber color. This cider was aged in oak barrel for nearly five years. It was a blend of Neige Premére, Neige Winter and apple brandy that was distilled at a distillery. The color was a dark gold. Alcohol notes were on the aroma. The cider had some heat. Notes included dried fruits, apricot, pineapple and dried citrus. The cider had a long, dried fruit aftertaste.
Enjoy a visit to an apple ice wine facility where you will have the opportunity to learn about apple ice wine production as well as tasting several cider styles.
Domaine Neige (formally La Face Cachée de la Pomme)

617 Route 202

Hemmingford, Québec, Canada
J0L 1H0
GPS: N45º 02.743' W73º 34.189'
Article written June 2013
---
Visit this Winery/vineyard travel agency and Canada winery that partner with Wine Trail Traveler.