Domaine Les Brome
by
Kathy Sullivan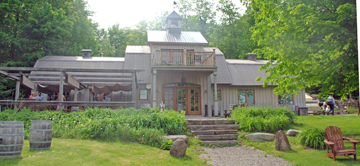 Summary: Domaine Les Brome is about an hour and a half from Montreal. Located in a renovated and enlarged old sugar shack, the winery offers wines and maple syrup products. Visitors are welcome to enjoy the picnic area on the porch or lawn.
Arriving at Domain Les Brome visitors will notice that the tall wood building reminding one of what could be an elegant barn. Originally a sugar shack, Domaine Les Brome was renovated and enlarged. The original building is at least 150 years old. Leon Courville, owner, purchased the property in 1981. Now the winery building is set back among trees and has a balcony on the second floor. On the lower level a large porch with tables and seating is available for visitors. Adirondack-style chairs offer a warm welcome on the lawn. The pinnacle of the facility is decorated with a goose weathervane.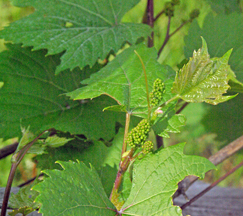 Vineyards
During our early June visit, the small grape clusters were just pushing forth. The prolific vineyards reach towards the blue water of Lac Brome and distant mountains. In 2013 the winery has 18 hectares of grapes that include vinifera and French hybrids. Grape varieties include Riesling, Pinot Noir, Chardonnay, Marechal Foch, Seyval, St. Pepin, Geisenheim, De Chaunac and Vidal Blanc. The top layer of soil has stones, limestone and sand.Three to four feet below the soil the ground is clay.
Several types of frost protection are used in the vineyards including geotextile and hay. They believe it is best to cover the canes with soil.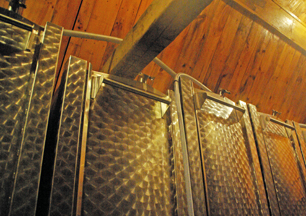 Winery
In the tasting room we met Leon who provided us with his thoughtful views of wine. "Wine is an unstable chemical product." Wine evolves. It doesn't like air but it needs air in small quantities.
Wines at Domaine Le Brome are produced using gravity flow with the only exception when racking to the barrels. The winery expects to sell 69,000 bottles of wine this year.
Stainless steel tanks are square shaped that use less space and energy in the winery. Some of the tanks are tall reaching towards the roof while others are smaller and stacked.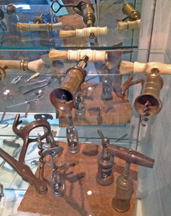 Tasting Room
In Les Brome's tasting room, visitors amble towards the side and back to reach the aged wood tasting counter. With wines behind the counter, a blackboard offers the list of Les Brome wines available. Nearby is a white and black vintage stove that might have appeared in an early 1900s kitchen.
A must stop on the way to the wine tasting is at the glass enclosed collection of corkscrews. While wines have changed over the years so has the sophistication of corkscrews. Leon has also set up a creative sensory wine section in the tasting room. Give it a try while visiting. Another area has a French description of the aromatics of wines.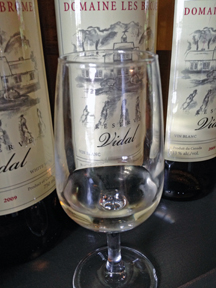 Wines
St. Pepin 2011, a straw color, offered an aroma of caramel and floral. The taste reminds one of mandarin oranges, mineral and caramel. The crisp finish had caramel and some spice nuances. Riesling 2010 had floral notes with a touch of vanilla. The taste was of floral, mineral and lime. The finish was crisp with hints of lime. Vidal 2010, a light yellow, offered an aroma of peach and floral. The taste had notes of minerals, floral and peach with a hint of sweetness. Vidal Oaked 2009 had aromas and nuances of stone fruit and floral. The taste was floral with white peach. The finish had a faint hint of tannins.
Cuvée Julien 2012 was a dark ruby wine produced with Marechal Foch. The wine offered dark fruit notes. The finish with tannins was very fruit forward. XPII was a blend of De Chaunac 2006, 2007 and 2008. The aroma reminded one of cigars and black fruits including prunes and dates. The taste was of dark fruits and coffee. The finish was fruity with tannins.
Icewines
Riesling Vin de Glace 2009 with a light gold color had honeysuckle and apricot notes with a smooth taste. The finish was sweet and lingered for a while and then dried. Vidal Vin de Glace 2007 was a dark gold color that offered an aroma of honeysuckle. The taste was smooth with notes of honeysuckle, peach and apricot.
When planning to visit Domaine Les Brome, pack a picnic lunch to enjoy on the porch or on the lawn with a glass of Domaine Les Brome wine.
Domaine Les Brome
285 Chemin Brome

Ville de Lac Brome, Quebec, Canada 
J0E 1S0
GPS: N45º 15.568' W72º 35.528'
Article written June 2013
---
Visit this Winery/vineyard travel agency and Canada winery that partner with Wine Trail Traveler.