Domaine St. Jacques
by
Kathy Sullivan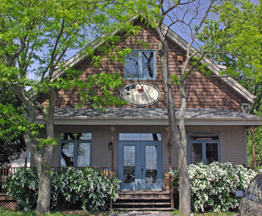 Summary: Domaine St. Jacques is within a few minutes of the border at the Interstate 87 Canadian crossing. Look for wines produced with vinifera and French hybrids.

Domaine St. Jacques is a winery and vineyard in the southern area of Quebec. The winery is easy to reach from Auto Route 15 just 15 miles from the Canadian/United States border.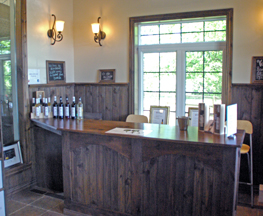 Tasting Room
On the day of our visit the weather was sunny and breezy. The white flowers of the spirea were nodding in the breeze in front of the tasting room. Walking up a few steps to a porch with oak barrels, we stepped into the tasting room. The boutique tasting room has windows providing views of a portion of the winery production area. The barrel room is below the tasting room and winery.
The husband and wife team, Yvan Quirion and Nicole Du Temple, purchased the property in 2005. Yvan had been interested in grapevines even as a young child. He remembers when he was very young and reaching for the grapes in a vineyard. Yvan met his future wife Nicole when he was 15. Yvan is a civil engineer, inventor and assistant president of the Quebec Vintners Association.
Eventually Yvan decided his goal would be to have a vineyard in France. Before taking that step he started a vineyard in southern Quebec for practical experience. After starting the vineyard, Yvan realized that this location was very good for growing wine grapes and decided to stay in Quebec and plant additional vineyards.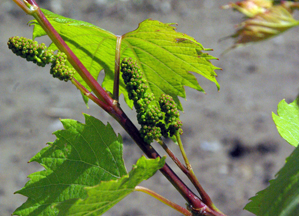 Vineyard
Yvan wants to focus on using only the primary buds for producing fruit. Grape varieties include vinifera and French hybrids. He has planted vinifera grapes including Pinot Noir, Pinot Gris, Gewurztraminer, Riesling and Chardonnay. The most plantings in the vineyards include Lucie Kuhlmann, Marechal Foch, Baco Noir, Vidal and Seyval. Yvan noted that Lucie Kuhlmann is 94 percent vinifera and Marcehal Foch is 90 percent vinifera.
Despite the cold winters that can reach -23 degrees Celsius, Yvan does not protect the vines by covering them with soil in the fall. He prefers pruning the vines in November and December and covers them with geotextile fabric. Yvan was involved with helping to create the geotextile fabric that he uses in his vineyard, which is now available to other viticulturists. The geotextile helps stop wind damage to the vines and builds up heat from the soil. It can be reused up to five or six years.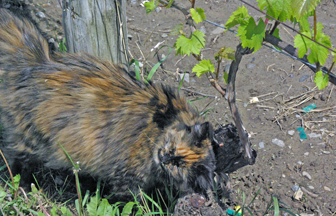 At the time of our late May visit, the vines were putting forth the new growth with primary buds. A multicolored cat wandered into the vineyard and used a vine's trunk to scratch its head.
Icewines
Yvan is a strong supporter of Ice Wine production in Quebec. After the vines become dormant the grapes are harvested and placed in nets above the vines until the temperature drops to – 8 degrees Celsius. The freezing is done naturally. According to Yvan the "exchange" between the vine and grapes stops once the vines are dormant and he noted that research has backed this up. By cutting the grape bunches and placing them in a net above the vines, the grapes do not get covered with snow. Snow covered grapes stay warmer and are more difficult to locate in the deep snow.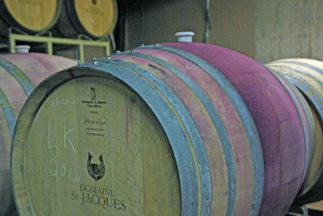 Winery
Current production at Domaine St. Jacques is 6,000 cases. Yvan is expanding the winery building and production. He noted that his wines are becoming sought and he does not always have enough wines for the entire year.
Wines
Classique 2012 was a blend of Vidal and Seyval. This light yellow wine had an aroma of pears. The taste was crisp and dry with apple and pear notes. The finish was crisp and lingered. Suggested pairings included fish and poultry. Rosé 2012, a blend of Marechal Foch and Lucie Kuhlmann was a beautiful light color. Yvan noted that this wine was almost a claret. The wine offered nuances of summer red fruits including raspberries and strawberries.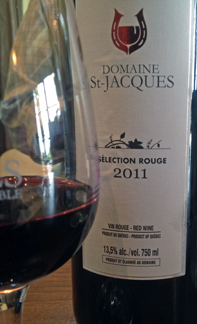 Selection Rouge 2011 was a blend of Lucie Kulhmann, Baco Noir and Marechal Foch. The color was a dark purple with a deep reddish pink rim. The wine offered notes of dark fruits. The finish was crisp and fruity with tannins. Reserve De St. Jacques 2010 was a dark purple. The wine had dark fruit notes with licorice, leather and tobacco hints. The wine finish was chewy with tannins, fruit and oak notes.
Vin de Glace De St. Jacques 2010 was an Icewine blend of Vidal and Vandal-Cliché. This gold color wine offered an aroma of floral and dried fruits. The taste had notes of honeysuckle and apricots. Consider serving this wine with soft cheese. Vin de Glace De St. Jacques 2010 was an Icewine blend of Lucie Kulhmann and Marcehal Foch. The ruby wine had floral notes with dark dried fruits. The wine was crisp with a hint of tannins and fruit. Pair this wine with sharp cheeses or chocolate.
Enjoy a visit to Domaine St. Jacques. Discover the wines made from French hybrids and vinifera grapes.
Domaine St-Jacques,
615 Boulevard Edouard VII
St-Jacques-le-Mineur, Quebec
GPS: N45º 13.919' W73º 26.395'
Article written May 2013
---
Visit this Winery/vineyard travel agency and Canada winery that partner with Wine Trail Traveler.