Le Cep d'Argent
by
Kathy and Terry Sullivan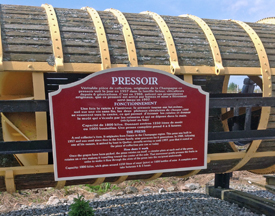 Summary: Sparkling wine and Champagne enthusiasts will want to check out Vignoble le Cep d'Argent that produces sparkling wines by owners who are from the Champagne region of France.
We arrived a bit early for our appointment, so we headed to the vineyard noticing a pathway to the vines. A wooden pathway leads you along a row of Saint Croix vines. At the end of the row a sign in both French and English give the reader information about the grape. The path continues to an old press that was built and used in the Champagne region of France. In 1988 the press was brought to Quebec and used at the winery for another ten years.
When the rest of our group arrived we met Jean Émond who gave us a tour of the vineyard, winery and conducted our wine tasting.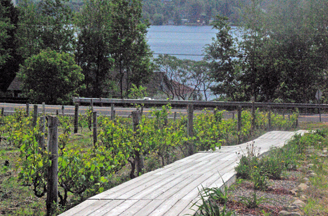 Vineyards
Signs about the grape varieties are scattered among the vines. A wood picnic table partially made from an oak barrel with benches sits out in the vineyard, a perfect place for a lunch amongst the vines.
The vineyards of Vignoble le Cep d'Argent consist of 13 hectares (32 acres) and in the future another 13 hectares are planned. Currently they have 60,000 grapevines in the vineyards. Varieties include St. Croix, Seyval Blanc, Marechal Foch, De Chanauc, Frontenac, and they are experimenting with Pinot Noir and Chardonnay. The vineyards are located in a microclimate of Quebec.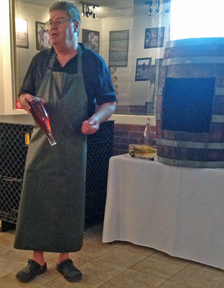 History
Two brothers, Jean-Paul and François Scieur, are the passionate owners from Champagne where they learned their winemaking skills in a 6th generation winemaking family. Today their brother continues the French winery. When phylloxera became a problem in France, the family used Seyval Blanc to make Champagne. Eventually two of the brothers came to Quebec and started a vineyard with Seyval Blanc. One reason Jean-Paul and François fell in love with Quebec was, "We can make wines the way we want." François is the skilled winemaker and Jean-Paul's expertise is viticulture.
Today Vignoble le Cep d'Argent produces 100,000 to 110,000 bottles each year.
In the winery riddling of sparkling wines is done by hand. Bottles are placed on a riddling rack. Disgorgement is done by hand one at a time. Dosage and corking is also done by hand. François greeted us and demonstrated how he disgorges a bottle by hand. He is very quick and if you blinked you missed it. François mentioned that a skilled winemaker can riddle 45,000 bottles a day.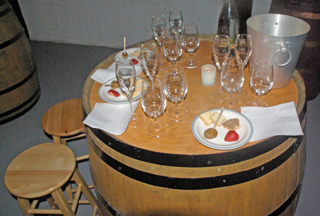 Wines
Our tasting took place in a room near the winery production area. Several barrels served as table tops with stools around the barrels for seating. The candlelit degustation included wines and a small plate of finger foods.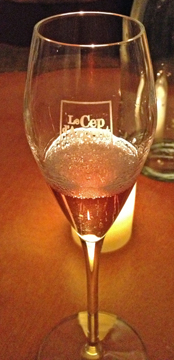 Sélection Rosée 2010 was a blend of Seyval Blanc, Frontenac, De Chanauc, St. Croix and Marcechal Foch. The sparkling wine was refreshing. The 2009 Sélection Blanc de Blancs was a straw color. The wine was made with Seyval Blanc. The aroma and taste were of baked breads, floral and a hint of citrus. The finish was refreshing. Kir Royal 2010 was produced with Seyval Blanc, with a black currant dosage. The color was a rose with an orange hue. The aroma offered floral and black currant hints. The taste offered a very pronounced black currant taste. The finishwas crisp and refreshing.
Mistral 2010 made with Seyval Blanc, apricots, prunes, brandy and grain alcohol. The aroma of this fortified wine offered cooked fruits and jam. The taste was very smooth and sweet with apricot notes. The finish was smooth and jammy. L'Archer 2009, another fortified wine, was made with Frontenac aged in oak. The wine was made with maple syrup and brandy. The wine with 18 percent alcohol was a dark ruby. The aroma and taste had dark fruit and maple notes. The taste was smooth with a long maple aftertaste.
Vin de Glace 2010 was gold with orange hints. The aroma and taste had honeysuckle and apricot nuances. The finish was very pronounced with honey and apricot notes. Le Fluret was a gold color. This late harvest wine was actually a second pressing of the Icewine. The aroma was less pronounced and had honeysuckle nuances. The taste was of honey and apricots. The finish offered a hint of citrus yielding to honey and apricots.
Events
Vignoble le Cep d'Argent offers several event areas of various sizes for special occasions and meetings. Anyone planning a special event can choose to host the event on the deck, terrace, or in Knight's hall, or the Medieval hall.
Anyone who enjoys sparkling wines or Champagnes will want to stop at Le Cep d'Argent for a wine tasting while enjoying the elegant atmosphere.
Le Cep d'Argent
1257 Chemin de la Rivière
Magog, Quebec, Canada J1X 3W5
GPS: N45º 17.469' W72º 03.361'
Article written June 2013
---
Visit this Winery/vineyard travel agency and Canada winery that partner with Wine Trail Traveler.