Welcome! Winetrailtraveler.com is for anyone interested in learning about wine. Winery Reviews offers articles about visiting wineries and vineyards. Wine Simplified is our wine education area. It has modules and guides about vineyards, winemaking and tasting. You will find articles about Wine and Culinary Centers and wine museums. The Recipe menu will take you to our recipe section. The recipes use wine as one of the ingredients. Click on the Blog menu to see what is happening almost daily. The Opinion menu offers editorial articles and articles written by our columnists. Visit our partners in the Partner menu. Our partners are wineries, vineyards, lodging establishments and artists who advertise on Wine Trail Traveler.
News

Since September 2020, because of the world-wide pandemic, we have been writing virtual winery visit articles. In January 2021, our focus has been on Bourgogne, France. Here are our current articles for 2021. New articles are added weekly.
Bourgogne, France
- Domaine des Moirots
- Domaine Céline et Frédéric Gueguen
- Domaine Marc Jambon et Fils
- Domaine Royet
-
Books by Terry & Kathy Sullivan
We added a store on our website that you can use to purchase our books directly from us. If you would like a signed copy visit our book store page.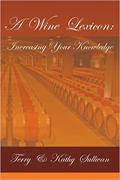 A Wine Lexicon: Increasing Your Knowledge
The fourth book was published in January 2017. A Wine Lexicon: Increasing Your Knowledge is an enjoyable and easy-to-use guide to the unique wine vocabulary with anecdotes gleaned from 10 years of wine experiences. Discover what wine enthusiasts are referring to when they use particular wine words. Numerous wine stories are described.
Among many concepts, find out:
How wine is produced in a Georgian qvevri
How to expectorate (spit) wine like a pro
How to participate in a structured wine tasting
How to clean your wine glasses
How terroir affects wine
How to pair wine with chocolate and other foods
How ice wines and late harvest wines differ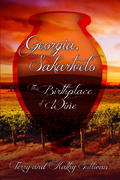 Georgia, Sakartvelo: the Birthplace of Wine
Terry & Kathy published their third book, Georgia, Sakartvelo: the Birthplace of Wine in 2014. The book explores the orgins of wine growing and winemaking. Wine has been continously made south of the Caucusus Mountains for 8,000 years. That is thousands of years longer than in Greece, Italy and France. The book also explores the ancient art of qvevri making and qvevri winemaking. In September 2013, Terry and Kathy traveled to Georgia. While there they helped harvest Rkatsiteli grapes, clean and sanitize a qvevri and fill the qvevri with the Rkatsiteli grapes. During 2014, they returned to Georgia to see how their wine turned out.
Many people are surprised that wine has been made for 8,000 years and had its orgin in what is now the country Georgia. Explore this fascinating country and learn about the exciting wine tourism industry in Georgia, Sakartvelo: the Birthplace of Wine.
Check out the book's webpages.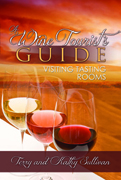 A Wine Tourist's Guide: Visiting Tasting Rooms
A Wine Tourist's Guide: Visiting Tasting Rooms was published in September 2013. Terry & Kathy Sullivan, owners of Wine Trail Traveler, have been busy setting up book signings both informal and formal. This book is ideal for any wine enthusiast who wants to visit winery/vineyard tasting rooms. You will learn about the expectations for a visit as well as the etiquette. Learn the structured tasting of wines and become familiar with ten international grapes that you will experience over and over. The book also presents many misconceptions that people have about wine when visiting tasting rooms.
Check out the book's webpages.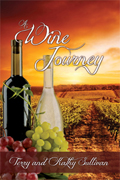 A Wine Journey
While A Wine Journey includes details about the wine journey of Terry and Kathy Sullivan, the book also highlights how anyone can begin making wine at home or at a custom crush winery. Many anecdotes provide a fun look at learning about wine and winemaking and includes fun stories gleaned from visiting numerous wineries. Readers will discover winery heartrending stories of loss and stories of triumph and camaraderie. Enjoy the wine journeys you read about and consider starting or continuing your own intriguing wine journey today. A Wine Journey will start you off in the right direction.

Check out the book's webpages.
---
Wine Trail Traveler Companion Websites
Companion Website on Winemaking
With the fall 2009 harvest, Terry and Kathy made two barrels of wine at two local wineries. One barrel was made at Vint Hill Craft Winery in Vint Hill, Virginia while another barrel was at Tin Lizzie Wineworks in Clarksville, Maryland. Both barrels held Cabernet Sauvignon; however, the winemaking techniques differed. Through the years, their winemaking included additional barrels at Tin Lizzie Wineworks as well as a qvevri wine in the country Georgia. Terry and Kathy brought back to Central Maryland a qvevri from the country Georgia, and are making wine, following an ancient winemaking protocol, in their buried qvevri. You can follow the process on the companion Winemaking site.
Companion Website on Distilling
This site was launched in December of 2016. During the previous decade, along with winery visits, Terry and Kathy also visited distilleries. In 2016 they learned how to make brandy by distilling wine and attended a bourbon workshop. Distillery visit articles are on the companion site along with a gentle education in distilled spirits and recipes calling for distilled spirits as one of the ingredients. Distilling site.
Companion Website on Food
This site focuses on cheese, vinegar and oils including olive oil and grape seed oil. The site includes destination visits and informative articles. The recipe section includes recipes that use cheese, vinegar or olive oil in the recipe. Some of the recipes may include more than one of these focus items. Food site.
Companion Website on Lodging
Wine Trail Traveler created a new companion website on lodging facilities on or near wineries. This website offers lodging reviews, recipes (that do not have wine as an ingredient) and destinations. The destinations list wineries, attractions, restaurants and lodging in different areas. You can use the destinations section of the website to help plan a vacation. New lodging reviews, recipes and destinations will be added to the site on a regular basis. Lodging site
---
Visit these wineries that advertise on the Wine Trail Traveler site.