All the Grape
by Terry Sullivan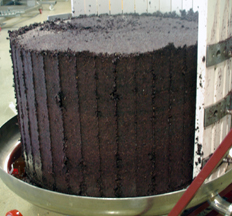 After helping with pressing must at two wineries we noticed a lot of pomace left over after the press. Often wineries will compost these skins and seeds. If a vineyard is nearby the compost is often added to the vineyard. There are however other uses for the pomace that can add additional value to the grape crop.
Our first experience in using most of the grape was at Duplin Winery in Rose Hill, North Carolina. Jonathan Fussell, whose family began the winery in the 1970's, gave us a tour of the winery. He recounted a job he had at the winery while growing up. He was to take the pomace to the compost pile. That task is no longer the job that it used to be since the pomace from Muscadine grapes has other uses. After extracting the juice, grape skins and seeds are used in the manufacture of nutritional supplements and cosmetics.
A second experience in using most of the grape was in Niagara-on-the-Lake Ontario. Joseph Pohorly started Joseph's Estate Winery. Joseph believes in using the entire grape. While working on his doctor's degree he researched the health benefits of grape seed oil. Now at his winery, he makes grape seed oil from the seeds and mills grape seeds and skins into flour. Both the grape skin flour and grape seed oil have several health advantages.
We observed the process of making the grape seed oil. Seeds are collected from the winery and other wineries in the region. The seeds are then dried and put into a grinding machine that extracts the oil. The grape seed oil is placed in stainless steel tanks until needed for bottling.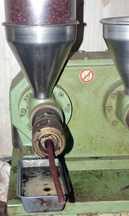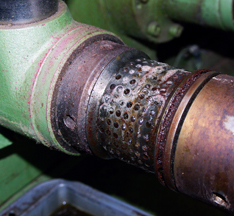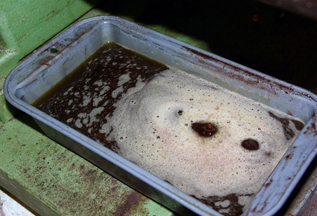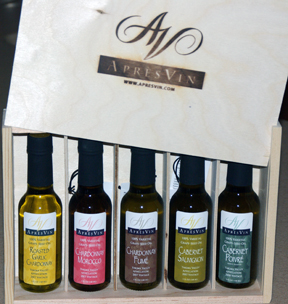 AprèsVin in Prosser, Washington specializes in making single varietal grape seed oils and flours. Pomace is collected from wineries in Eastern Washington. The seeds are separated, dried and cold pressed with European expeller presses. According to apresvin.com, it takes 3,000 pounds of grapes to yield 75 pounds of grape seeds. This is enough to press one gallon of grape seed oil, while making about 300 gallons of wine. AprèsVin, French for "after wine" has a large assortment of both infused and uninfused oils and four varietal grape seed flours.
In cooking, both grape seed oils and flour can go a long way. Little oil is needed for sautéing and grape seed oil can be heated to over 450ºF without smoking. The oil is also excellent for dipping and salad dressings. The flour can be added to white flour in recipes. One to two tablespoons per cup of white flour is a starting point for experimenting.
Visit the AprèsVin website for product information.