5 Ways to Reuse Wine Corks
by
Ann Hawkins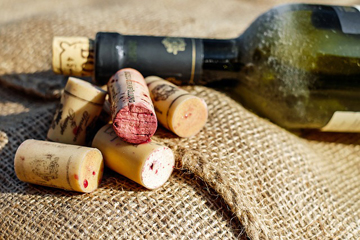 Wine lovers across the world face one common dilemma after emptying their favorite bottles, i.e how to deal with the excessive number of wine corks.
Until now this was just a waste part that used to go straight to the dustbin.
However, the recent time has seen an increase in the trend for designers and true wine lovers to put these once useless pieces to some creative use.
Although there are many things that can be made out of these corks, most of the things require great effort and if you are a lazy bum you might not be so keen to reuse these corks.
So here are 5 easy and creative ways to reuse these biodegradable stoppers once they have served it's purpose:
1. Coasters: One of the easy reuse of wine corks is to make coasters or trivets out of them. There are various DIY lessons available on the internet, but the simplest way to make a coaster or a trivet is to first arrange all the corks in the desired size and shape and then glue each cork to the other with the help of a hot glue gun. A ribbon of your choice can be glued around the coaster or trivet to hold the shape together and to beautify it further.
2. Keyring: Another idea to reuse cork is to convert it into a keyring. Trust me, its very easy to make, all you need is a keychain ring, screw eyes and cork, of course. Put the screw eye on the keychain ring and screw it into one end of the cork. Voila! You now have your very own keyring ready. It can be a nice addition to the return gift goodie bags or as hostess gifts. Don't be afraid to be innovative, you can color these keyrings, put a name on them or personalize them in whatever way you want to.
3. Birdhouse: Another fascinating way to use wine corks is by making a house for your little-feathered friends. Now this here would require a little effort, but trust me it's worth it. You would need a hot glue gun, some corks, two screw eyes and a colorful string. You need to arrange the corks in the shape of a birdhouse and glue them to one another. Once they are properly fixed insert one screw eye on the top front and one at the top back. You can now insert the string into these screw eyes and use it to hang the birdhouse on a tree. Try coloring it further and you'll have a beautiful house for little birdies.
4. Floor mats: This is another brilliant idea if you have a big collection of corks. It might seem like a tough task to you, but trust me its lot easier than it sounds. All you need is a non-adhesive shelf liner, a sharp knife, a hot glue gun and the corks. Firstly, decide on how big mat you want, then measure the size and cut the non-adhesive shelf liner accurately. Now carefully cut each cork in half lengthwise with a sharp knife. It's a good idea to do a trial of arranging all the corks flat side down on the shelf liner before gluing them. Once you have had a trial run, start gluing the corks with the help of the glue gun one by one on the shelf liner. Continue till you have covered the whole liner. You now have a beautiful floor mat which can be used as a bathroom mat too.
5. Make labels for your plants: This is the easiest and cutest way to put the corks to use. If you have a small garden and are un-crafty, ahem! then this might be perfect for you. Just write the name of the plant on the cork and push in the wooden or metal skewer on one side. Push this named skewer into the soil and bingo! you have your plant labeled.
Usually, Cork stopper is the last thing that comes to mind of a wine lover, but it's high time now and this humble little piece needs your attention!
Article written January 2018