Temecula Olive Oil Company
by Kathy Sullivan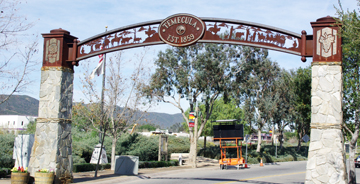 Anyone interested in wine tastings will also be interested in visiting Temecula Olive Oil Company located in Old Town Temecula, California.
After entering under the ornate arches that designate the gateways into Old Town Temecula, discover on-street parking or the spacious parking lot behind Baily's Fine Dining. Take a leisurely walk to the Olive Oil store. Upon entering, a staff member greets visitors. Those interested in an olive oil tasting will be directed to an adjacent area and invited to taste a variety of olive oils.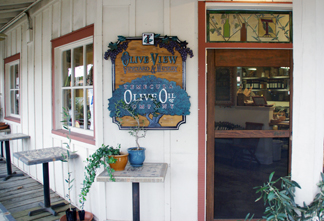 At a tasting counter, visitors use small plastic cups to taste several different olive oils. The olive oil tastings were reminiscent of the wine tastings we had done earlier in the day. As we stood at the counter to taste the olive oils, we learned more about the company.
Temecula Olive Oil Company is family owned. The olive oil they create is from only California olives and the olive oil produced is 100 percent organic. The company uses sustainable farming in their olive groves. In producing the olive oil, they hand press the olives. The result is 100% extra virgin olive oil."

Mission (Late Harvest) 2008 offered a green apple aroma with a smooth and green apple taste. There was pepper on the aftertaste. Rotture di Oro 2007 was blend of four Italian olives. The result was a green apple aroma and taste. The olive oil was smooth and finished with a hint of pepper. Le Capric de Nature 2008 also had a green apple aroma and taste. The taste was smooth and the olive oil finished with apple. Citrus 2008 was a produced by pressing mission olives with blood oranges. This olive oil offered a citrus aroma and an orange taste. The finish was orange with a pepper aftertaste. Fresh Basil olive oil was a result of pressing mission olives with basil. The aroma, taste and finish all had basil nuances. Fresh Garlic olive oil also had an aroma, taste and finish of garlic.
This tasting area also has handcrafted items displayed. Browse everything including special gourmet foods, soaps, and olive wood creations. Look for olivewood wine bottle stoppers, dipping dishes and salt bowls. Staff and local artists make the array of gift items available. Be sure to browse the many items available. In one corner, clothing is embroidery with "May 'olive' your dreams come true."
In 2009, the owners opened their second store located in Old Town San Diego. If you cannot make it to either store, consider shopping at their online store where olive oil in gifts boxes, giftware and gourmet foods are available.
Temecula Olive Oil Company
28653 Old Town Front Street
Temecula CA 92590