27th Annual Vintage Virginia Wine Festival
by Kathy Sullivan
From Wine Trail Traveler Newsletter, June 2008
Sunday, June 1, 2008 dawned bright and beautiful. It was a perfect day to visit the second day of the Annual Virginia Wine Festival. Arriving early in the day, we discovered parking lot attendants waving yellow flags directing parking in a large open field. We followed a long path to the festival site where we presented our online tickets and ID. In return we received a paper bracelet that allowed us to enter and receive a wine glass.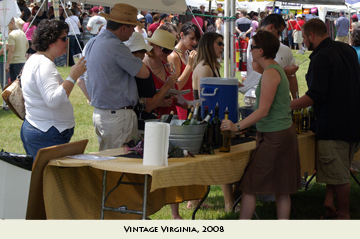 Spread out on a gently sloping area were numerous white tents of all sizes. Several tents were available for visitors to stop and rest and get needed shade. The area was totally in the open and the sun beat down. Wearing a hat was a great idea and if you forgot your hat, there were several vendors selling hats. Festival staff provided water for designated drivers and others may purchase bottled water.
Vintage Virginia provided a venue for wineries, live music, arts and crafts vendors, food vendors and a few home remodeling ads as well as one Inn from Virginia. More than 60 wineries offered wine tastings. As we tasted a number of wines, we noticed that other visitors were there to "taste" wines not just drink. Wine was poured conservatively, especially important when there were so many wines to experience.
As one festival visitor said about visiting wine festivals, by visiting festivals one gets a chance to taste "diversity."
Numerous arts and crafts vendors had a lovely supply of gift items, clothing and more to enjoy browsing. Hudson River Inlay offered wood inlay furniture, tables, mirrors and art. The Happy Turner in Owings created beautiful wood turned items. Is your yard too small for a hammock? Sky Chairs are hanging and swinging canvas chairs.
A tent near the entrance offered wine seminars including a "Sampling Seminar," "Festivals to the Vineyards – the Next Step in your Wine Experience!" On Saturday, a seminar titled "Wine 101 – How to Taste: Wine and Sensory Perception" was offered.
Live music from the Jamie McLean Band, The Crawdaddies, Scythian and Last Train Home played on the main stage. A family tent offered Stilt Walking w/The Monkey Man, The Monkey Man Variety Show w/Django, Juggle This! and Fire Eating & Juggling w/The Monkey Man.
Our favorite question to ask at the wineries we visited was, "What one wine makes you different from the other wineries?" Using this question made it easy to limit the overwhelming number of wines to taste and yet you had a chance to discover new wines to add to your cellar.
Make plans to visit the 28th Vintage Virginia Wine Festival in 2009!