Fermented Grape Juice and Terroir
by Ronald Rens, M.Sc., Wine Master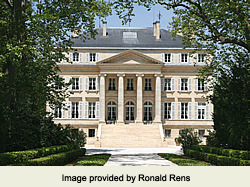 "In the end of the day it is just fermented grape juice!" I remember being shocked by this statement when I first visited Bordeaux some 25 years ago. I had read all the books on Bordeaux, had done tasting courses and taken classes in the technical stuff. As an eager young collector I cherished the first Mouton Rothschild of my collection and dreamed of wines like Margaux and Latour. At the time I was tasting the 1985 vintage at a Cru Bourgeois Chateau, nested deep in the Médoc. The chateau owner, well into his eighties, snorted at my question on the ageing potential of this young vintage: "Wine is made to be drunk, not to be kept forever in a cellar." From this quaint old man with his bad teeth and broken finger nails I learned my first lesson on terroir.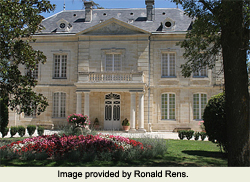 Terroir, I learned had everything to do with the soil quality and the gravel content. Further more he told me that terroir had to do with drainage, whether the vineyard was on a slope and how it was oriented towards the sun. He went on about the microclimate and how vineyards need to be protected by the pine forests against the strong winds. The old man then lowered his voice and looked at the door to see if an enemy secret agent was eavesdropping. "That and another 80 secret ingredients make up for terroir and this terroir is unique for Bordeaux". He was right, as I discovered driving through the world's largest fine wine producing area, the wines change in character from one appellation to another and even between neighbouring properties. "But in the end of the day it is just fermented grape juice!" the old man added when I was leaving his property carrying a few cases of his delicious 1985. This fermented grape juice became the basis behind my life long passion for the beautiful Bordeaux region and its intriguing wines.
I remember driving around this first of many times in this region and I felt like a child in a candy store. Look here, this is Margaux! And now we are in Saint Julien! I remember being awed looking through the gates of the impressive First Growth Chateau Margaux. I felt proud to have a bottle of wine in my cellar that had been produced at this Palladian palace. Little did I know that less then 20 years later I would be living in this region, owning a smaller version of Chateau Margaux and organising wine tours to Bordeaux…
The Bordeaux Beauty Contest
In my classes and books I had learnt about the appellations and classifications of Bordeaux. It is true; the French at first appear to have done everything possible to make this system incomprehensible to us mere mortals. Classifications on top of Appellations; it is an entire new language to learn. An appellation is like the pedigree of a wine. The appellation is ruled by a law that tells you where the wine has to come from but also handles constraints like yield restrictions, pruning and of course which grape varieties a wine grower can use. Bordeaux alone has 57 of these appellations. On top of that there are the Classifications (Grand Cru Classé in French). A classification is like a beauty contest for wine (but to win this contest you have to stay beautiful for centuries…). In the Médoc there are two classifications. One that changes every so many years, and one that hasn't changed any of its five levels since 1855, with of course one exception (Mouton Rothschild). By the way there is another exception: one chateau in another appellation was included in the 1855 Médoc system (Haut Brion). The same classification was applied to the sweet wines from the Sauternes region south of Bordeaux. Here the beauty contest allowed for only two levels. Again with one exception of course, this time for a super beauty (Yquem). Bordeaux offers two more of these beauty contest classifications; one in the Pessac-Léognan, South of Bordeaux and one in Saint Emilion on the left bank of the Garonne River. Enough to dazzle any novice wine lover. Visiting the region still remains the best way to get a feel for all of this.
Visiting the Sleeping Beauty
After my experience with the old wine maker I was ready to visit one of the famous First Growths: the five chateaux that have been at the top of the wine world for over a century and a half. The first sleeping beauty obviously didn't want to be disturbed. The gates of this chateau were closed and a welcoming sign said: no visits! After trying to find it for over an hour and getting lost several times, we managed to find another member of this elite clique. Here the gates were open and after ringing at the doorbell, somebody actually showed up. They didn't send the dogs after us, but it was the next-best thing. A smartly dressed woman in her mid-thirties looked at us as if we were something the cat had brought in. In a very condescending tone she explained to me that the property wasn't open to the public and that you needed an appointment which sometimes would be granted if one could provide the proper introductions. And if this wasn't enough refusal, she added that the chateau was closed in August anyway. Could I then just take a few pictures? That wasn't possible either, she replied, it was approaching lunchtime and she would be closing the gates in a few minutes. Wine tourism was a long way off in these days.
More information on Bordeaux Wine Tours: The Bordeaux Wine Experience