Discover Virginia Food and Wine Festival
by
Terry and Kathy Sullivan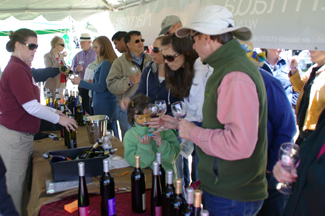 The 6th Annual Discover Virginia Food and Wine Festival held on April 16th and 17th certainly was a discovery of Virginia weather. Saturday's early turn out was sparse as rain pelted tents and people frequently coming sideways. There were gaps in the rain though allowing the handful of wine tasters to travel from one tent to another. The benefit of attending a wine festival on a bad weather day is the opportunity to taste and talk. One can learn about each winery and their wines. One pourer commented that bad weather brings out the true wine enthusiasts. Several wineries and most food and art vendors did not set up on early Saturday. At times the wind was so strong that we helped prevent the wine bottles at the Gabrielle Rausse Winery tent from flying off the table.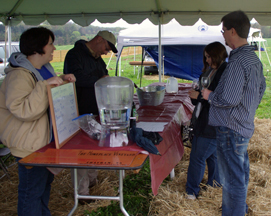 Sunday was beautiful. Bright sunshine helped dry out some of the grounds and temperatures in the mid to upper 60's made for a splendid setting to taste wines. The crowds were certainly there. The parking lots at the Ruckersville Elementary School were just about full and patrons parked on the side of Rt 33 for at least a ½ mile in both directions to the entrance of the event. When we arrived a band was playing and people were beginning to assemble in front of the stage.
Family Oriented
Many families attended on Sunday and children had the opportunity to ride a barrel train, have their face painted and see/pet alpacas. The train consisted of eight colorful barrels pulled by a small tractor. The barrel train traveled the inside perimeter of the grounds. The alpacas are beautiful animals that captured the attention of both children and adults. Knitted wine woosies made of alpaca yarn were available for purchase.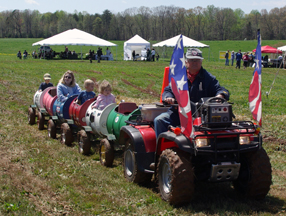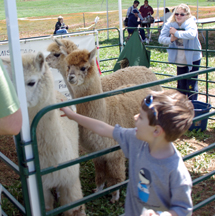 Wineries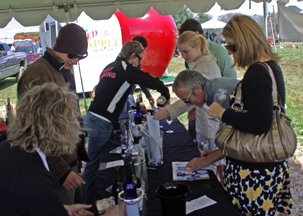 The Gabriele Rausse Winery produces 1,500 to 2,000 cases of wine. Since they do not have a tasting room, one of the easiest places to taste and purchase their wines is at a festival. Tim Rausse now helps his father make the wine. Several wines were tasted while helping to keep the bottles from blowing over on Saturday. The Chardonnay Reserve was a straw color and offered apple and pear on the aroma and taste. The smooth wine had nuances of smoke and caramel on the finish. The Rosso made from Merlot was a light red color. The aroma and taste had cherry with hints of earthiness. The finish had mild tannins and a light red fruit aftertaste.
DelFosse Vineyards and Winery in Faber, Virginia had a wine called Grand Cru Olivier made from a blend of Cabernet Sauvignon, Touriga and Petit Verdot. The light ruby colored wine had red fruit nuances on the aroma and taste and finished with tannins and red fruit. The Homeplace Vineyard from Chatham, Virginia had a Viognier that was a light straw color. There were floral and tropical fruit notes on the aroma. The taste was of roses, melon and tropical fruits. The finish was crisp and fruity. Villa Appalaccia Winery in Floyd had a Cabernet Franc and Sangiovese blend called Toscanello. The light red colored wine had dark red fruit on the aroma and taste and finished with mild tannins and spice. At the DuCard Vineyards tent a Petit Verdot was tasted. The wine had a dark purple almost black color and there was dark fruit on the aroma and taste. The finish had bold tannins. Narmada Winery had a dark red Bordeaux-style blend called Yash-Vir. This blend of Merlot, Petit Verdot, Cabernet Franc and Cabernet Sauvignon offered dark fruit and spice.
Arts and Crafts
On Sunday, a small variety of arts and crafts were available to browse. Jewelry was available to purchase at two tents. Molly's Jewelry Box offered a variety of sterling silver products including stunning pendants, earrings and bracelets. Agape Pearls as its name implies featured lovely jewelry items created with pearls. Keswick Candles featured hand poured soy candles and natural bath products. Another nearby tent had an array of unusual picture frames. The styles were basically the same but the colors varied. Thousand Oaks Barrel Company had a stand displaying many different types of small oak barrels. Nearby another tent had products ranging from natural bath items to door toppers. One door topper said, "Good morning! This is God, I'll handle your problems today!"
Festival Food
Festival food is always another great part of a festival. Who couldn't resist a bit of chocolate from the Fudge Stand. Yes! They even make sucrose free maple fudge. Anyone who enjoys barbecue sauce would want to stop at Jerry's Backyard Barbecue tent. Very delightful to see was a very large red apple where fairgoers could purchase cotton candy, snow cones hotdogs, soda and candied apples. At another location Chocolate Occasions made available handmade gourmet chocolate. Horse and Hound Gastropub offered BBQ Platters.
The next time you visit a wine festival, look for wines, music, arts & crafts, food and works of art. Every wine festival offers different things and you will want to return every year.