Wine Tastings
by
Meghan A. Sullivan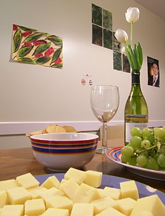 A green wine bottle holding white tulips in water adorns a table. Surrounding the bottle are bowls of cubed sharp and mild cheese, as well as dark chocolate, milk chocolate, green grapes, and crackers. In the center of the table stand three bottles of white wine: a Blossom Hill Chardonnay from California, a Frontera Sauvignon Blanc from Chile, and a Pinot Grigio from Italy. Any onlooker would expect to see adults in tuxes and high heels milling about, but in walk college students in jeans and tennis shoes.
Wine drinking is becoming more popular among young adults, especially in European countries where the drinking age is lower than it is in the United States. College students, who are typically interested in alcoholic beverages, are becoming more and more curious about wine.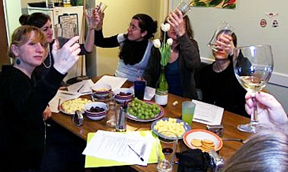 During a semester abroad in Wales, I organized two wine tastings with fellow students. Students from America, Canada, England, France, Spain, and Germany sampled white wine at the first tasting. We began by watching the wine tasting video on the Wine Train Traveler website. Then, with tasting forms in hand (also available from the website), we went through the three main steps of tasting: look, smell, and taste. Accustomed to drinking cheap white blends and sparkling whites, the students delighted in the classy task of correctly tasting valuable wines. The Chardonnay, a semi-sweet wine with touches of vanilla and berries, was well liked by all. The wine-tasters-in-training also enjoyed the Sauvignon Blanc, which contained citrus traces. The Pinto Grigio was drier and lighter and was the last bottle to be emptied.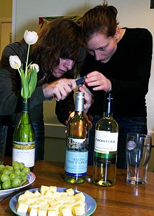 The second tasting, which included the sampling of a rosé and two red wines, was attended by Canadian, English, Spanish, and German students. The rosé was a strawberry sparkling wine, and the two reds included a 2005 Chianti and a 2005 Cabernet Sauvignon. Most of the students preferred the rosé and the Chianti, some students even detecting spicy overtones in the Chianti. Two of the students liked the Cabernet Sauvignon best, both of them professing to enjoy dry red wines over sweet whites. Other students appreciated the Cabernet Sauvignon more after matching it with dark chocolate.
Besides giving young adults a chance to improve upon their knowledge and experience of tasting wine, the best thing about the tastings was their international flavor. The Canadians described how popular wine is among young adults in Quebec. Two sisters from Germany discussed their father's wine collection. A student from Spain taught me how to make a Spanish concoction similar to Sangria, mixing red wine, citrus fruit, and lemonade.
If you are looking for a relaxing evening activity, try organizing your own wine tasting. All the materials you need are available at your local wine and grocery stores, as well as right here on the Wine Trail Traveler website.