Charlie Barra Celebrates his 65th Harvest
by
Terry Sullivan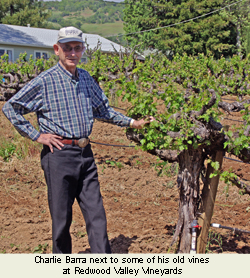 A harvest is always a good reason to celebrate. There are so many challenges in a vineyard that if one can make it to harvest, a party is required. In 2009 we lost our crop of Niagara grapes to rot. This year was different. We harvested 13 pounds of grapes and made less than a gallon of wine. Oh, but what lovely wine it is. The Niagara is a golden yellow color with a very floral aroma. It is dry with a typical Niagara taste. The wine is already clear; it is kept in the refrigerator. Plans are to sweeten it a bit and have it on Christmas Day. This is the first harvest and first wine made from a harvest. It is a time to celebrate. Imagine the celebration for Charlie Barra, who in 2010 is enjoying his 65th harvest.
We met Charlie and Martha Barra in May of 2010. We had the wonderful opportunity to stay in their guesthouse for several days and experience their hospitality. Charlie has a twinkle in his eye and doesn't mind some gentle teasing. While at a restaurant he ordered wine for dinner. The waitress brought one of his wines and not knowing that he made it proceeded to mention some of the wine's characteristics. Charlie smiled and told her that he made that wine. A long drawn out "Oh!" ensued.
Touring the vineyards we quickly discovered that Charlie is a walking encyclopedia about wine grapes. After explaining our problem in 2009 with the grapes rotting, he suggested a product that helped us have a harvest this year. Sixty-five harvests are a lot of experiences. Charlie has solutions for many challenges growers encounter. He told us his method of controlling turkeys that enjoy grapes just prior to harvest. Charlie believes that it is not the turkeys fault that they like grapes. So instead of killing and eating them, he feeds them. Prior to harvest he will place turkey feed near the vineyards. Over the next several days, he slowly moves the feed further away from the vineyards. By the time the grapes ripen, the feed and turkeys are a distance away and the turkeys leave the grapes alone. Charlie's experiences are not just devoted to diseases and animals though, if he envisions a piece of equipment that will make a task easier, he'll make it.
Charlie's maternal grandfather emigrated from Piedmont, Italy to Mendocino in 1906. Both sides of Charlie's family worked in vineyards in Italy since the mid 1800's. In 1945, as a high school student, Charlie had an opportunity to lease a vineyard. Not wanting to lose Charlie, who was a good student, the school worked out his schedule so that he could attend classes in the morning and work in the vineyard during the afternoon. For decades Charlie worked in vineyards.
Now, Martha, Charlie and their children own and operate the Barra of Mendocino winery and the vineyards. The Redwood Valley Vineyards were planted in 1950 and Charlie purchased the 175 acres in 1954. These vineyards have organically grown grapes including: Chardonnay, Muscat Canelli, Pinot Blanc, Pinot Grigio, Cabernet Sauvignon, Merlot, Petite Sirah, Pinot Noir, Sangiovese and Zinfandel. The Redwood Valley Cellars Vineyard was planted in 1976 and has Cabernet Sauvignon and Zinfandel grapes. Their third vineyard is a hilltop vineyard overlooking the valley below. The Russian River runs along the edge of the property and Charlie pointed out that this is an ideal climate for grape growing. His grapes are certified organic.

On November 13th 2010 plans are made to celebrate Charlie's 65th harvest at the Annual Wild Mushroom dinner. This dinner is an ultimate sensory experience in the art and science of good eating.