Black Ankle Winery Builds Green Tasting Room
by
Meghan A. Sullivan
from September 2008 edition of the Wine Trail Traveler Newsletter
Black Ankle Winery, located in Frederick County, Maryland, has embarked on an adventure that is "fun and different." The winery's new tasting room, which will open this month, is a "green" building. The idea to build a green tasting room sprang from owners Sarah O'Herron and Ed Boyce's desire to be a true estate winery. "We wanted," Sarah explained, "to build as much as possible from things we could find on our farm."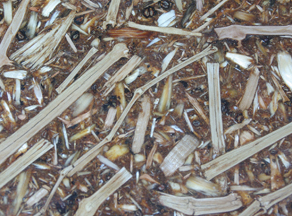 Eight years in the planning, the tasting room is a composite of many natural resources found on the estate. Perhaps the most innovative design is the tasting bar countertop, made of crushed grapevines, skins and seeds. This countertop model may be the only such design in the world. The new green building also features a window seat and chimney made of sand, water, straw and clay from the property. Most of the structural wood used in the building also comes from the property.
The implementation of natural resources gives the room earthy tones and a novel and exciting, yet comfortable, feel. The walls, constructed of dirt, sand, water and clay, are thick enough to encase bales of straw. Visitors can view one of the bales through a "truth window," which provides an educational glimpse of straw's usefulness as an insulator. The walls, tasting counter, chimney and window seat contain a significant amount of thermal mass, which means that they can hold large amounts of heat. The structure has been designed as a passive solar building, meaning that more heat from the sun's angle will reach windows during the winter. A masonry heater, designed to burn warmly and cleanly, will also provide heat during the winter. During the summer months, plants on the living roof will cool the rooftop by 10%. The plants will also absorb rainwater and serve as an insulator.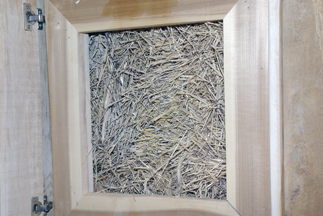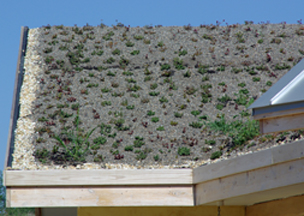 The U.S. Green Building Council defines a "green" building as one that provides a healthy environment while "saving energy, resources and money." Black Ankle's tasting room will be LEED-certified, following guidelines created by Leadership in Energy and Environmental Design to use sustainable, renewable, and recycled products. Sarah hopes that attaining platinum certification (the highest level of certification) will help show others that sustainable building is a good thing to do. Buildings that are LEED-certified benefit the environment by reducing waste and greenhouse gas emissions and conserving water and energy.
Sarah and Ed also apply their green ideas to their vineyard, where they grow grapes mostly organically and do not use chemical fertilizers. Building a green structure fits in with Black Ankle's philosophy. "Where the wine is coming from – that sense of place – is important to us," Sarah said. "The biggest factor in how good your wine is going to be is where it comes from."
Despite the fact that Sarah and Ed are extremely excited about the new building, they maintain that their real focus is the wine. "We hope people come and think, 'Wow, this is really great wine,' and everything else is in support of that."
Black Ankle sells dry wines. The tasting room is open Wednesday through Sunday. There is a charge for tasting.