Thornton Winery
Champagne Jazz Series
by
Terry Sullivan
When traveling to Temecula wine country one has a choice of wineries to visit. Other than visiting tasting rooms, there are many wine related activities to choose. Two must activities if available during the time of your visit are a hot air balloon flight and Thornton's Winery Champagne Jazz Concert.
2010 marked the 22nd Annual Thornton Winery Champagne Jazz series with a lineup of guests worth traveling to Temecula to experience. General admission tickets have seating in front of the stage. One can also purchase gourmet meal tickets and enjoy wine, food and music. On a recent visit, we experienced the gourmet meal package and were pleased with all aspects.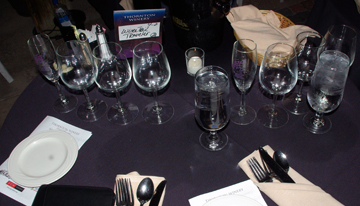 Upon arrival you are directed to a parking area. It was a short walk from where we parked our car to the tent to pick up our will call ticket. We were then directed past the general seating area to a podium where we were escorted to our table. Three wine glasses and a champagne flute were set up on the table. A red wine was opened on the table and a white wine was in a bucket of ice. Immediately we were served the Thornton Brut Reserve. This palate cleansing sparkling had apple and citrus notes. It was a delicious prelude to the evening's wine, food and music.
Mr. Thornton and his wife and son joined him onstage to welcome everyone in attendance. He asked the United States military and veterans to stand. They received applause in recognition for their service to the country.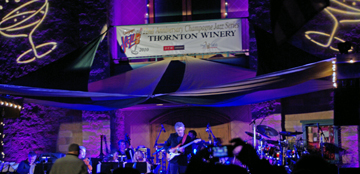 The opener for the evening was Chris Standring, a classical guitarist from London who moved to Los Angeles in 1996. Chris was joined by his group that included two violinists, a viola, cello, base, keyboard and percussion. Chris played several songs each of which he related the song's connection to his growing up in England.
During Chris's performance, the first course was served. A crab and mango salad was paired with 2008 Thornton Riesling. The generous amount of crab was sweet and matched the sweetness of the wine. The wine had mineral and roses on the aroma and its tropical fruit taste gave way to roses and mineral on the finish. One is not rushed at this concert. There is plenty of time to enjoy the match of the course and wine without missing a beat of the music.
The second course was served near the end of Chris Standring's performance. This course did demand a bit more from one's senses and gave the performers a time to break down and set up for the next performing group, Fourplay. The second course was a hoisin glazed beef short ribs, mirin roasted vegetables and sweet potato cake. These generous proportions were matched with 2006 Cabernet-Merlot. The wine had a blackberry and cocoa aroma and taste. The bold tannins were milder when accompanied by the short ribs that melted in your mouth.
By the end of the second course, the group Fourplay began their performance. This contemporary jazz quartet has been performing for nearly 20 years. They have had several compositions that climbed to the top of Billboards Contemporary Jazz Album charts. The group includes guitar, base, keyboard and percussion. They played several selections from their new CD "Let's Touch the Sky" to be released on October 25th, 2010. In addition to wonderful musicians, they also are entertainers who have fun while performing.
The third course not only was paired with wine but also did a nice job matching the music. A red berry tart with ginger crème anglaise was served with a 2009 Thornton Moscato. Once again there was a generous portion of the tart so one could enjoy the food and wine throughout Fourplay's numbers. The orangeness of the wine matched with the fruit of the tart.
After Fourplay's performance there was not a mad dash to the cars. People ambled to their cars, or remained to talk to friends. Others formed a line to purchase Fourplay's CD while others took this opportunity to purchase wine. Once to the parking area, there was quite an orderly and quick exit onto Rancho California Road.
The evening was memorable. If attending one of the Champagne Jazz Series Concerts consider the gourmet package.
Thornton Winery
32575 Rancho California Road
Temecula, California
951-699-0099
GPS: N 33º 31.172' W117º 05.398'
Thornton Winery article

More information about Thornton Winery
---
Visit these California organizations and wineries that partner with Wine Trail Traveler.