La Cereza Winery
by
Kathy and Terry Sullivan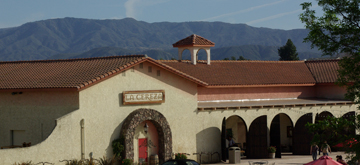 Summary: La Cereza located next door to Maurice Car'rie, are both owned by Buddy and Cherri Linn. The styles of both wineries are vastly different and it is definitely worth visiting both wineries. Visit La Cereza and you feel as though you have been transported to Spain with the rolling hills, beautiful architecture and vineyards. Whether you enjoy an occasional cigar or not, stop by the very special addition to the winery, Hemingway's Wine and Cigar Bar.
La Cereza, Spanish for cherry, is a Spanish style winery. Buddy and Cherri are delighted with owning both La Cereza and Maurice Car'rie. They purchased La Cereza in 2005. The focus of La Cereza is to celebrate fine wine, fine art, great food and music. Inside the tasting room, visitors will discover featured art works that change throughout the year. Many of the wine bottle labels are from works of art. Tastings include a logo glass. You'll want to add this glass to your wine glass collection. The blue stem and base of the glass are incorporated into a single piece yielding both form and function.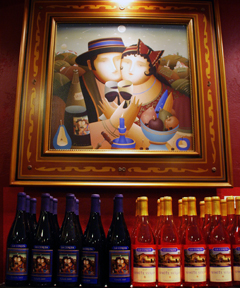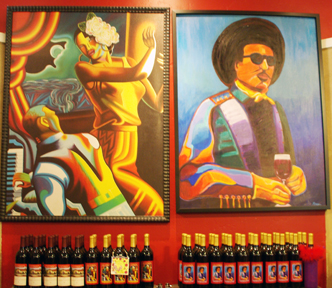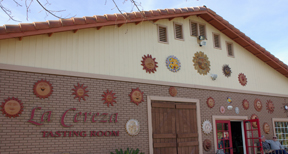 The remodeling of this winery incorporated many Spanish ideas. The outside of the tasting room is decorated with wall sun sculptures of every size and variety. Travelers donate many of these sculptures when they return to the winery. Visitors will quickly learn that La Cereza is a winery where they can have fun. Tastings are fun and the art is fun.
The 27 acres of vineyards include Cabernet Sauvignon, Cabernet Franc, Merlot, Pinot Grigio, Zinfandel, Muscat Canelli and Gewürztraminer. On the day of our visit in late February, the Gewürztraminer was springing forth beckoning the call for a change of seasons. It's not unusual to see a group riding horses mosey along the vineyards and winery buildings. Cherri was quick to welcome them and tell them where they could find water for their horses.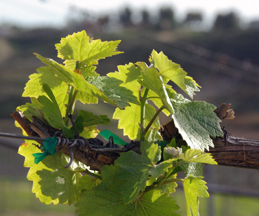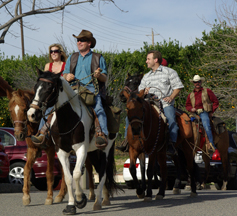 Walk outside of the tasting room and enjoy the vibrant views of the landscape. Buddy likens the area to the vineyards he visited in Spain. About 200 yards from the tasting room, visitors will discover Hemingway's Wine and Cigar Bar. Members of the wine club may taste wines here if they wish. This area is located under a large overhanging roof. The area stretches out into the sunshine where small tables with umbrellas are available. A tasting bar with the opportunity to purchase a cigar is located next to the building. Small fire pits are incorporated into the design. This is a great place to sit and enjoy friends or to sit and contemplate the meaning of life. Behind Hemingway's Wine and Cigar Bar a large area serves as a barrel and stainless steel tank storage room. Barrels provide a decorative perimeter to an event area.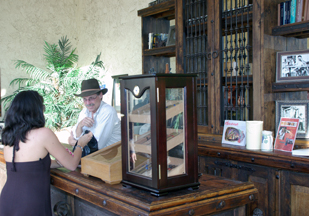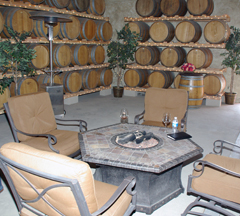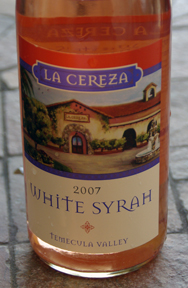 We tasted several wines with Buddy and Cherri sitting in Hemingway's. Pinot Grigio 2007 offered an aroma and taste of grapefruit. There was some tropical fruit on the taste. The finish was crisp and fruity. Viognier 2007 offered a floral aroma and taste with some tropical fruit on the taste. Gewürztraminer had a floral and spice aroma. The taste was floral, reminiscent of honeysuckle and was fruity. The aftertaste was long and fruity. White Syrah 2007 was an orange translucent color. It offered a fruit aroma and the finish was crisp. Grenacha 2005 had an aroma and taste of red cherries. The finish had nice tannins and the aftertaste was of cherry. Tempranillo was produced with fruit from Guadalupe Valley, Mexico. The aroma and taste were of dark berries. The finish had mild tannins with a long fruit aftertaste. Cabernet Franc 2005 offered a dark fruit aroma and taste with mild tannins on the finish. Peach Girls was very peachy with a long peach aftertaste.
Many types of events can be held at the winery. La Cereza has a variety of venues available for private events. Scheduled events can be inside or outside depending upon the number of guests. Since La Cereza is set back from the busy Rancho California Rd, it is quieter for weddings. A separate building is available for the bride and the bridesmaids to prepare for the special day.
Enjoy a visit to La Cereza Winery, a winery that focuses on great wine. Enjoy the Spanish architecture and accessories.
La Cereza
34567 Rancho California Road
Temecula, CA
GPS: N33º 31.862' W117º 03.587'
---
Visit these California organizations and wineries that partner with Wine Trail Traveler.